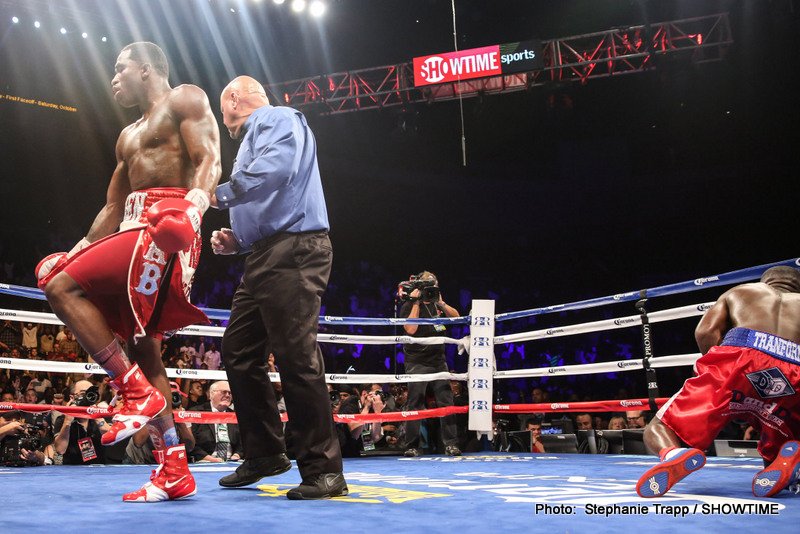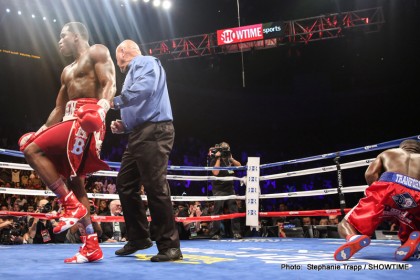 CINCINNATI, Ohio (Sept. 6, 2014) – Adrien Broner and Emanuel Taylor put on a show for "The Problem's" 8,115 hometown fans in attendance at U.S. Bank Arena in Cincinnati, brawling to a close, unanimous decision (115-12, 116-111 twice) for Broner that was arguably one of the best fights of the year.
The main event of the SHOWTIME CHAMPIONSHIP BOXING tripleheader was a tactical, inside fight from the beginning. Taylor (18-3, 12 KOs) was effective in the early rounds, coming out with an aggressive game plan that surprised the favored Broner and had him backing up against the ropes. The fight was even after six rounds, but as Taylor's energy waned, Broner (29-1, 22 KOs) took control of the bout.
With the crowd on its feet in a classic 12th round, Broner closed out the bout with an exclamation point. The three-division world champion set up Taylor with a tremendous flurry then floored him with a perfect left hook for the first knockdown of the night with just 20 seconds left in the fight.
"You have fake champs who don't want to see them in a tough fight, but I'm still pretty," Broner said. "I want to thank Emanuel Taylor for coming to Cincy to fight me. He put up a hell of a fight. I knew he was going to be tough."
In just his second fight at 140 pounds after capturing titles at 130, 135 and 147, Broner was looking to prove that he's still an elite fighter after a tough loss to Marcos Maidana in December 2013.
"I came from the bottom so I know what it feels like to be there. We're still pushing to get back to the top.
"I said my next fight should be Matthysse and he can get it. If it was up to me I'd fight him with this cut on my head tonight."
A massive underdog going in, Taylor put on an impressive performance that earned the respect of his outspoken and colorful opponent.
"I came to his hometown and I gave him a good fight," Taylor said. "In the 12th I just got caught. I was trying to do what I had to do to keep it close and I got caught.
"Everyone underestimated me. Everyone thought I would get stopped in the early rounds, but I put up a good fight. Tonight just wasn't my night and he walked away with the home victory."
On SHOWTIME EXTREME, Michael Perez (22-2, 10 KOs) won a convincing unanimous decision victory over previously once-beaten Jared Robinson (15-2, 7 KOs), scored 98-91, 97-92 twice.
In the opening bout on SHOWTIME EXTREME, undefeated bantamweight prospect Rau'Shee Warren (12-0, 3 KOs) scored a dominating unanimous decision victory (100-89 three times) over veteran Jose Luis Araiza (34-9-1, 25 KOs).
Saturday's SHOWTIME CHAMPIONSHIP BOXING telecast will replay this Sunday at 9 a.m. ET / PT on SHOWTIME® and Monday at 10 p.m. ET/PT on SHOWTIME EXTREME and will be available On Demand and on mobile devices via SHOWTIME ANYTIME®.