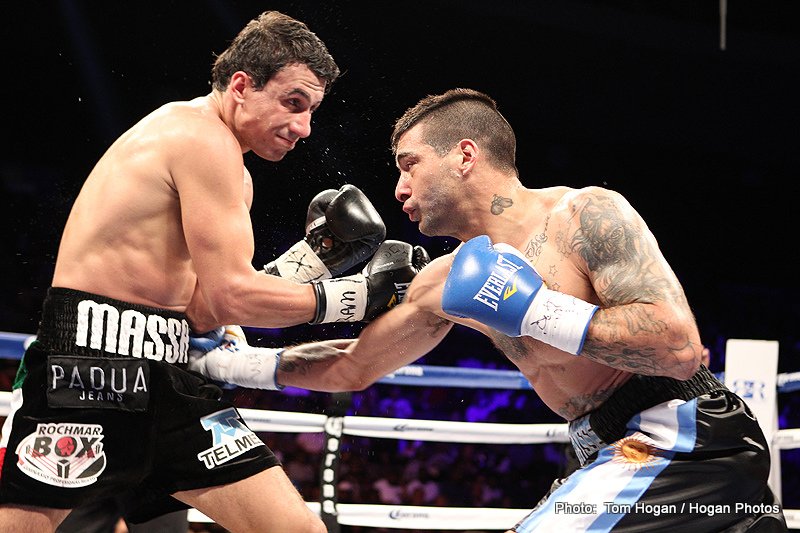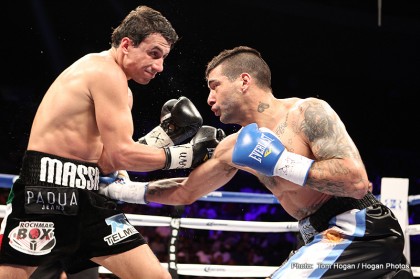 Argentinean power-puncher Lucas Matthysse scored a quick knockout of previously undefeated Roberto Ortiz with a lethal liver shot at 2:45 of the second round.
In an anticlimactic ending to a bout that had the promise of a war, Matthysse (36-3, 34 KOs) landed a short left hook to the body that sent Ortiz to a knee to catch his breath. The Mexican spit out his mouthpiece and appeared to be working the count until the final split seconds. But referee Benji Esteves halted the contest at the count of 10 despite the fact that Ortiz was on his feet and proceeding to stand up straight.
"I did get him really good on the body," Matthysse said through a translator. "But if he was ready to get up I was ready to fight. It was not what I expected, but this is what I have now. And now I challenge Danny Garcia to stop being a chicken, to stop fighting little boxers and come and fight me.
"If Garcia doesn't come then I'll have Adrien Broner. I'll have anybody."
Ortiz (31-1-1, 24 KOs) was clearly disappointed and disagreed with the ref's count.
"I thought I was up at nine," Ortiz said through a translator. "He definitely hit me with a good shot, but I was up at nine. I could have got up at seven. I was just, as you said, milking it. I was in good position to continue this fight and I want a rematch."
SHOWTIME ringside reporter Jim Gray asked Esteves his thoughts on the stoppage. Esteves, who did not want to make a comment on camera, told Gray that he thought Ortiz was OK to continue but that he did not beat the count.