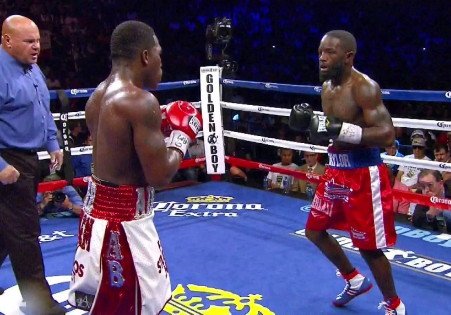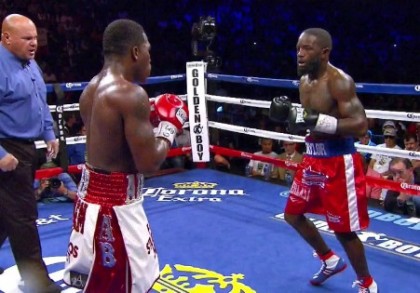 Adrien Broner (29-1, 22 KOs) scored a 12th round knockdown in the process of defeating Emmanuel Taylor (18-3, 12 KOs) by a 12 round unanimous decision in his hometown at the U.S Bank Arena in Cincinnati, Ohio.
Taylor was having a good round in the 12th until Broner connected with a left hand to the head that dropped Taylor on his backside on the canvas in the last 15 seconds of the round. Taylor got back to his feet and the fight ended several seconds later. It was a close affair with both guys taking turns landing big shots.
Like in his fight against Marcos Maidana, Broner spent a lot of time on the ropes covering up and trying to land counter shots. This enabled Taylor to tee off on him in many of the rounds. Broner's defense was sound even when he was backed up against the ropes, but it still didn't look good with him backed up like that.
In the 11th, Broner was cut from a head-butt. After he was cut he took it easy for the remainder of the round and just covered up while Taylor unloaded on him with his full arsenal.
The judges scored the fight 115-112, 116-111 and 116-111, all for Broner.
Broner said after the fight that he'd like to fight Lucas Matthysse next. However, Broner's adviser Al Haymon is the one who makes his fights, and there's likely little chance he'll let Broner fight Matthysse after his pedestrian performance from Broner.
—
In the co-feature bout, Lucas Matthysse (36-3, 34 KOs) halted WBC Silver welterweight champion Roberto Ortiz (31-1-1, 24 KOs) in the 2nd round. Matthysse landed a nice body shot that put Ortiz down on his knees. Instead of getting up, Ortiz waited until the count of 8 to start rising. He made it to his feet before the count was over but the referee stopped the fight anyway. Unfortunately there was an instant replay to fix what appeared to be a huge blunder by the referee in stopping the fight at the count of 9.
Ortiz came into the fight with an unbeaten record at 31-0, but he didn't look nearly as good as Matthysse's last opponent John Molina. That fighter was arguably a lot better than Ortiz. It just makes you wonder what kind of guys Ortiz has been fighting for him to have come into the fight with such an inflated resume.
Andre Berto (29-3, 22 KOs) defeated Steve Upsher Chambers (24-4-1, 6 KOs) by a 10 round unanimous decision in a so-so performance. Berto hadn't fought in over a year, and he looked good at times but very average as well. The judges scored it 99-91, 99-91 and 99-91. Berto looked good only after Upsher stopped throwing a lot of punches after the 2nd round.
Before that, Berto was getting hit a lot and not fighting well when he was under attack. Fortunately for Berto, Upsher's work rate disappeared almost entirely from the 3rd round on. It was really strange because Upsher didn't look tired, but he just stopped throwing a lot of punches. Had Upsher been able or willing to fight to stay busy for three minutes of every round then I believe he would have beaten Berto.
—
Other fights on tonight's card:
Rau'shee Warren UD 10 Jose Luis Araiza
Robert Easter KO 1 Roberto Acevedo
Raynell Williams UD 4 Evan Woolsey
Javonte Clark TKO 1 Matt Montalvo
Lamont Roach Jr MD 4 Rocco Espinoza