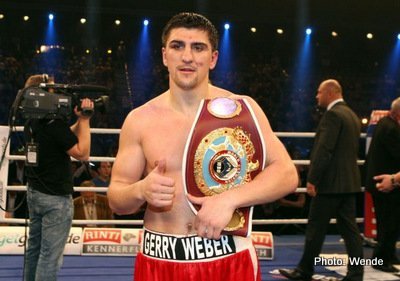 By Joseph Herron – With the prospect of Denis Lebedev defending his WBA Cruiserweight title against former Heavyweight title challenger "Fast" Eddie Chambers in 2013, many fight scribes and boxing fans alike have been pondering the possibility of potential opponents for WBO Champion Marco Huck.
Trainer Abel Sanchez recently visited "The Pugilist KOrner" and made an intriguing declaration concerning the hard punching German based title holder.
"My fighter, Ola Afolabi, will be facing Marco Huck for a third time on March 2nd in Germany," insists Big Bear Lake based fight trainer. "I just spoke with Tom Loeffler of K2 Promotions and he stated that the deal is 99.9% completed."
Seven months ago, the two powerful Cruisers met in the ring for a second time and treated the fight fans in attendance to an entertaining slugfest and fight of the year candidate. Because the competitive sequel ended with an inconclusive majority draw verdict, most die-hard fight fans have been clamoring for third pairing between Huck and Afolabi.
Abel Sanchez is hoping that a third fight will indeed be the charm for Ola Afolabi.
"Both previous fights were very competitive and entertaining. So it just makes sense to do it again. The first bout resulted in a very close win for Huck, and the second was an entertaining majority draw. So hopefully the third bout will finally end in my fighter's favor."

Although Huck and Afolabi are very evenly matched, the renowned fight trainer believes the separation between the two fighters will come from Ola's preparation for their March 2nd clash.
"The difference in this fight will be that he'll be with me for the entire training camp this time. He'll be training with me in Big Bear for a full and consecutive eight weeks, and he'll be able to take advantage of how we train in my gym for two full months."
The prolific fight trainer's high-altitude facility attracts the best fighters in the world throughout the entire calendar year because of the favorable training conditions in and around Big Bear Lake. The former interim WBO Cruiserweight Champion should receive an abundance of quality sparring at the heralded California training compound in his preparation for the current title holder.
Coach Sanchez is adamant that the difference will be very noticeable on March 2nd.
"Ola will be a different fighter in the third bout. He will not only beat Marco Huck this time, he'll do it decisively