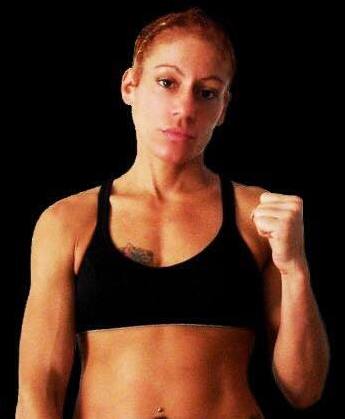 Stacey Reile has a New Year's Resolution for 2016 and that is to be an active boxer again. Despite not having a fight in about four years, Reile still trains and says that she is in the best shape of her life. She has been told by matchmakers and promoters that she is being avoided because of her boxing ability. With punching power in both hands and tremendous athleticism, the ambidextrous Reile is one of the most avoided boxers in female boxing. It seems that no one wants to choose her as an opponent unless to give her an offer to fight at a different weight class. Reile said that happened recently when she was offered a fight against Melissa Hernandez at 135 pounds.
Reile stated that she was offered $1,500 to fight Hernandez who is one of the top lightweights in the world. Reile would have had to gain about 15 pounds to move up to the lightweight division and gain weight in a short amount of time. Due to teaching spinning classes, Reile was 120 pounds which was a few pounds less than she usually weighs. The boxing commission did not approve the fight because Reile was unable to gain enough weight to reach 135 pounds, although Reile was trying to make weight. Reile has always been willing to travel to the home city, state, or country of her opponent. She has done so before, even though it is more of a challenge to get a win there.
In just her second pro fight, Reile travelled to Tokyo, Japan to fight Riyo Togo. Togo proved to be a tough opponent, but Reile controlled most of the action by keeping Togo at bay with an effective left jab and straight rights that took their toll. Reile won by unanimous decision and Togo had her first loss as a pro. In her third pro fight, Reile again travelled to Tokyo, Japan to face Ariya. Ariya relentlessly pursued, but Reile thwarted the pressure with rapid combinations and a laser-like left jab to the head and body.
When Reile was undefeated as a pro at 8-0, she travelled to Germany to fight in her first world championship. Reile's first title shot came against Women's International Boxing Federation (WIBF) and World Boxing Council (WBC) featherweight champion Ina Menzer. Menzer is now retired, but was considered to be the best female featherweight boxer at the time. All of Reile's fights can be viewed on the Internet, either on YouTube or Vimeo, except for this one. When Reile first uploaded a video of the fight, it was one of the more popular women's boxing videos on YouTube and received over 10,000 views before eventually being blocked by Universum Box Promotion for viewing. Universum is a German based company and Menzer was a part of their stable of boxers. Apparently, Universum does not want people to view the fight any longer. Other fights run by their promotional company are still able to be viewed, but not this one. Reile was doing well for the first three rounds, landing hooks to the head and body of Menzer. Reile was knocked down in the fourth round, but got up immediately. The fight was stopped and it did seem to be premature because Reile was standing at the time of stoppage. The referee did not even ask if she was all right. The fight was just stopped after Reile rose to her feet. A detailed article about the shenanigans Reile had to deal with before, during, and after the fight was published by East Side Boxing in 2008. A rehash of the entire article would be too long here. It suffices to say that if you read the article, you will have a full understanding as to why Universum would not want anyone to watch this fight with the possible exception of the boxing fans in Germany. A link to this archived article titled From a Dream to a Nightmare: The Ordeal of Stacey Reile is here: https://www.boxing247.com/weblog/archives/121989
Reile does not believe that her loss to Menzer was legitimate. It was more of a learning experience and boxing politics. Even after this loss, Reile still had trouble getting fights in the featherweight division. Reile had to wait nearly a year until she received an offer to fight super featherweight contender Crystal "Choo Choo" Delgado who was undefeated at the time. Reile travelled to Delgado's home state of Texas for the fight. Delgado constantly came towards Reile, but Reile was outworking Delgado with combinations as the southpaw Delgado was coming in. Reile knocked Delgado down in the sixth round with a straight right to the body and left hook to the head combination. Delgado rose before the count of ten, but the referee decided that Delgado could not continue and waved off the fight. Reile got the win and rose to No. 2 in the BoxRec ratings at featherweight which was just after No. 1 Ina Menzer. Reile was now rated higher than the other featherweight champions except for Menzer. However, Reile was not given a title shot after she won by knockout against Delgado. When you are too good for your own good, even the world champions do not want to fight you. A video of this fight is on YouTube.
Reile's next fight happened during difficult circumstances. Reile's mother was diagnosed with Stage 4 lung cancer and had only about a month to live. Most boxers would probably not want to fight when dealing with something like this, especially when the opponent was one of the best pound for pound boxers in the world: Ada Velez. Velez was previously a world champion in the bantamweight and super bantamweight divisions. She won the International Boxing Association (IBA) and Women's International Boxing Association (WIBA) belts in both of those weight classes. Reile had to lose a few pounds to fight Velez in the super bantamweight division. That was one disadvantage that Reile had because Velez was used to being at around 122 pounds and was a former world champion in that division. Also, Reile had just fought a southpaw in Delgado and now was fighting another one in Velez. Reile uploaded a video of her fight with Delgado on YouTube, so Velez would have been able to watch that fight and help her to prepare for Reile. Reile did not have any video of Velez's fights to watch. The fight was in Miami, Florida which was near Reile's hometown of Miami Beach. However, it may have felt like another country to Reile. The crowd, referee, and judges seemed to favor Velez who is originally from Puerto Rico. Reile said that she was intentionally headbutted by Velez which caused Reile's nose to bleed. Reile stated that the waist protector worn by Velez covered most of her torso which made it more difficult to land punches on. The eight round fight went the distance and Velez won by unanimous decision. The fight was a lot closer than that though and you can see the fight for yourself on YouTube. Scorecards from the Florida Boxing Commission revealed that at least one judge scored the fight in favor of Reile in four of the eight rounds. The fight arguably could have been a draw. Reile's mother Barbara Reile died about a month later on April 1, 2010. The lung cancer and the adverse side effects from the chemotherapy were too much to overcome. Reile wanted to have her mother go to the Gerson clinic in Tijuana, Mexico where they provide non-toxic treatments for cancer, but the expenses for this would have been thousands of dollars and insurance does not cover it. Reile did not have enough money to pay for it. Like Reile's mother, former 1976 Olympic boxing champion Howard Davis Jr. also died of Stage 4 lung cancer a few days ago. Most people are unaware of Gerson therapy, so please go on their website at gerson.org to learn more about this safe treatment for cancer and other diseases instead of radiation, chemotherapy, surgery, and drugs.
After the loss, Reile was undeterred and was not giving up on her dream of becoming a world champion. A few months later after her loss to Velez, Reile was given a title shot by the Global Boxing Union (GBU) for its vacant featherweight title against Elina Tissen of Germany. It was another tussle for a title in Germany. Reile remembered what happened before in Germany in her first title shot against Menzer who was the champion. This fight was different because no one was the GBU featherweight champion. The title was vacant. Reile receiving a title shot made sense because she was a legitimate top ten contender. On the other hand, Tissen never beat anyone with a winning record prior to receiving this GBU title shot. According to BoxRec, six of Tissen's past opponents were making their pro debut. Tissen lost to one of them, but that was Nadia Raoui who eventually became a world champion at flyweight. In addition, four other opponents of Tissen had losing records. Tissen's trainer Maiki Hundt wanted Tissen to fight Reile because he obviously felt that Tissen could win a decision in Germany. It is well known that the judging in Germany can often be biased in favor of the German boxer. Reile was ranked in the top ten at featherweight by BoxRec, so Tissen would be ranked in the top ten by BoxRec if she won. Tissen was ranked very low in the BoxRec ratings prior to facing Reile. It is evident that the Germans care about the BoxRec ratings. When Jeannine Garside became the No. 1 featherweight on BoxRec ahead of Ina Menzer who dropped to No. 2, Menzer wanted to fight Garside in order to reclaim the top spot. Garside defeated Menzer by unanimous decision, but the judges' scores made it seem like it was a close fight with two judges scoring it 96-94 in favor of Garside. It wasn't that close. Garside should have won every round.
Reile was a contender, but having to contend with Germany is a tough task for any visiting boxer. Reile's hotel room in Rietberg, Germany was across the street from a bell tower which rang every hour. Having Reile stay in a hotel near a bell tower was probably done on purpose in order for Reile to not get adequate sleep. Reile also claims that she could not get warmed up before the fight. Reile said that she had to wait in a cold room. Then, she had to walk over a fire escape outside in the freezing cold before the walk-in to the ring. Reile also was not provided a stool to sit on, so she had to stand in the ring corner during the one minute break between rounds. Make sure to bring your own stool if you are going to fight a German boxer in Germany! In spite of this, Reile showed that she could still be the better boxer even with all these disadvantages. In the tenth and final round, Reile landed a left hook to the head which caused Tissen to bend over and both of her gloves touched the canvas. Instead of the referee ruling it a knockdown which is what he was supposed to do, he intervened and then let the fight continue without doing a 10 count. Reile believes she should have won almost every round. The judges ruled in favor of Tissen by unanimous decision. The Germans were proud of Tissen's accomplishment. One of the German articles was titled "Tissen is in third place" (translated from German) which referred to her new and high BoxRec rating because of her undeserved victory. Since this fight, Tissen's title defenses have usually been against mediocre opposition. Tissen now also holds the WIBF featherweight title, the same title that Menzer possessed before she lost to Garside. Menzer was usually fighting legitimate contenders when she held the WIBF belt, but not Tissen. It is appalling that the GBU and the WIBF allow Tissen to repeatedly defend these featherweight titles against women with losing records. The GBU and the WIBF also allow Tissen to have rematches against these inferior opponents. She defended her title against Doris Koehler twice and Jasmina Nadj twice. Both of them have losing records. Tissen is currently rated among the top ten featherweights on BoxRec at No. 8, but that is because of Tissen getting the win against Reile. Tissen is fit and can take a punch, but Reile definitely hurt Tissen with those punches. A video of this GBU title fight is on Vimeo at this link: https://vimeo.com/26389047
A few months later, Reile received another title shot. In 2010, the International Boxing Federation (IBF) did something it had never done before. The IBF began sanctioning world championships for women's boxing. As is usually the case when a vacant title is on the line, two of the top contenders were matched up against each other. Reile of Miami Beach, Florida was selected along with Dahiana Santana of the Dominican Republic. Santana had more pro boxing experience than Reile, with more than double the amount of professional fights. Santana previously was a world champion and had held the interim GBU bantamweight title. This inaugural IBF female featherweight championship was a close fight, but Reile said that was because of the headbutts and holding by Santana. The third title shot was the charm for Reile as she won the first IBF female featherweight title by split decision. Reile was finally a world champion, seven years after her pro debut. It was also on the one year anniversary of her mother's death. Reile was happy to win the IBF title, but she still thought about the losses in Germany to Menzer and Tissen. Reile believes that if those fights were judged and officiated fairly that she would have won both of them. A video of this IBF title fight is on Vimeo at this link: https://vimeo.com/35429549
Reile made her first title defense several months later against Santana in a rematch. Santana won by unanimous decision, but this fight was not without controversy. The referee for this fight was Joe Cortez who is now retired. Cortez's famous catchphrase is "I'm fair, but I'm firm." He might as well have said "I'm firm, but I have no hair." Reile landed a left hook to the belly of Santana in round nine. The video proves that it was not a low blow because Santana's trunks were high. Santana was hunched over and Cortez paused the fight to allow Santana to recover instead of ruling it a win by TKO for Reile. A video of this IBF title defense is on Vimeo at this link: https://vimeo.com/35755415 Santana's last title defense was against Claudia Andrea Lopez. Lopez had been a world title holder at featherweight and super featherweight. Lopez is a southpaw and was by far the toughest title defense for Santana. Depending on your viewpoint, some or most people may think that Santana should have lost her fight against Lopez. Certainly, Lopez did as she raised her arm just before the announcer said who won by unanimous decision. Santana was announced as the winner and Lopez looked to be in a bit of disbelief. The IBF title became vacant when Santana fought for a belt of another sanctioning body. Jennifer Han won the vacant IBF featherweight title and is the current champion.
Reile wants to continue her boxing career that started over a decade ago and become a world champion again. After moving from New York to South Florida, Reile developed her fitness and won second place at the Miss Fitness South Florida competition in 1999. Reile also began training for boxing in the late 1990s under the tutelage of trainer Luis Lagerman and Women's International Boxing Association (WIBA) President and Chief Executive Officer Ryan Wissow. Reile had only two scheduled amateur matches. The first was to take place in the 126 pound division at the Florida State Golden Gloves tournament in 2000. Reile's opponent did not show up, so Reile won by a walkover. Reile also won her second amateur bout by defeating Vanessa Ramos. Although this was Reile's last fight as an amateur, Reile decided to delay becoming a pro boxer and instead honed her craft in the gym for the next four years. Reile made her professional debut in 2004.
Reile's professional boxing record is 10-4, but really should be 13-0-1 because the fights in Germany and her rematch against Santana should have been wins for Reile. Reile has worked with world-renowned trainers throughout her career such as John David Jackson, Carlos Gamboa, Orlando Cuellar, Eric Castanos, and Jorge Rubio. When Reile was an active boxer, she was ranked among the top ten contenders in the world by most of the sanctioning bodies for female boxing. She also was ranked in the top ten on the computer ratings of BoxRec. She hopes to be ranked by the sanctioning bodies again and get offers for fights as there is greater awareness that her boxing career is not over. She trains regularly and spars men. Reile is never in a boring fight. All of her fights have been action-packed. Watch her fights and training videos on YouTube and Vimeo. She trains and fights with passion for the sport of boxing and would be an asset to any fight card. All of Reile's pro fights can be viewed on YouTube except for the fight with Menzer which was removed by the promoter. Reile has many videos of her sparring, training, and also her two appearances on the reality television show Miami Ink. On one episode of Miami Ink, Reile decided to get angel wing tattoos on her hips and became known as "The Fighting Angel" which is one of her nicknames. Her other nickname is "Stay Lo" which is derived from her first name Stacey and middle name Louise. Reile is currently employed as a lead trainer at a five star resort spa. Reile is grateful to her fans for supporting her and following her boxing career. She welcomes new fans to view her videos, photos, and to show their support on her Facebook, Twitter, and Instagram page. You can find her on Instagram at www.instagram.com/champstaylo