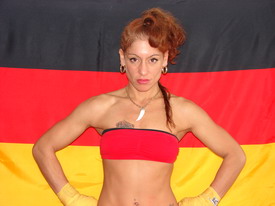 21.11.08 – By Ron Scarfone – On May 31, 2008, Stacey Louise Reile was one win away from fulfilling her dream of becoming a world champion, but her dream turned into a nightmare. Ina Menzer, the female featherweight champion, holds the WBC and WIBF versions of the titles and Reile was so excited to have an opportunity to fight Menzer for the world featherweight championship. Reile is currently ranked in the top ten at featherweight by those sanctioning bodies as well as the WIBA, IFBA, and GBU. Before I elaborate on Reile's fight against Menzer, I would like to begin by explaining how I first became acquainted with Stacey Reile.
There are people in sports and entertainment who make their living as talent scouts. These are people who have to be able to recognize aptitude and the potential for greatness. I am not a talent scout, but when I saw Stacey Reile fight for the first time, I knew that I was looking at someone who had the potential to be a world champion. It was December 2006. I was the editor and a writer for Boxing Tribune.com, a website that is now defunct.. I attended the weigh-in the day before Reile's fight against Delia Hoppe of the Dominican Republic. Reile was accompanied by her trainer who at the time was Orlando Cuellar. The most recognized boxer that Cuellar trains was and still is former light heavyweight champion Glen Johnson. Reile's fight was in the super bantamweight (also known as the junior featherweight) division. I observed Reile and Hoppe as they stepped on the scale. The weigh-in is a time when people form their own opinions as to who they think is going to win. I knew that Reile was undefeated and Hoppe was not. However, even if I did not know their boxing records, I knew that Reile would win. I could see how fit and strong she was and her glowing confidence. Reile has defined muscles, but still retains her femininity.
Hoppe was certainly no match for Reile's superior speed and strength and Reile won by unanimous decision. I attended the event to write an article about all the fights on the card, but Reile was the boxer that stood out the most in my mind. I wanted to do an interview with her to learn more about her than just what was in the press release provided by the venue. I learned that Reile was a licensed massage therapist, so I made an appointment with her for a massage so I could talk to her. While at her place of business, I found out that Reile is ambidextrous. She has unusually strong hands, especially for a woman, and she pressed her fingers into the trigger points of my neck and back which alleviated my soreness and tension. Her hands were previously hurting a woman from the Dominican Republic and now they were healing me.
Reile is Italian, but her last name does not seem to be of Italian origin and there is a reason for that. Reile's grandfather had to change the family name from Reale to Reile in order to make it sound like an Irish name. The Irish and Italian immigrants in the United States at the time were competing for jobs and her grandfather wished to assimilate better with the Irish who controlled many occupations initially. Her last name Reile is pronounced "Real" and not "Riley" like some people mistaken it to sound. Her nickname is "Stay Lo," an abbreviation of her first name Stacey and middle name Louise.
From the information I gathered about her during the massage, I interviewed her where she trained at Miami Fight Gym in January 2007. I also filmed her working out with her trainer Orlando Cuellar using the focus mitts. When Cuellar asked Reile to throw a left hook, she nearly knocked him over when she hit the mitt he held up. Cuellar said that Reile is one of the hardest hitters in women's boxing. Reile also trained on the double end bag which is a small bag attached to the floor and ceiling by tether rope. As Reile repeatedly hit the bag, it sounded like a drummer beating with his drumsticks, sometimes hitting in a rapid fashion and then changing the tempo by pausing a little in between punches. After Reile worked on the heavy bag, she took off her boxing gloves and told me to put my head near the bag. She wanted to show me her left hook to the head by letting me hear it hit the bag. Without any gloves, Reile threw a beautiful arcing left hook that powerfully thudded against the bag. I knew that if she hit my face instead of the bag, I would have required extensive dental surgery to repair my teeth. Whoever made up the phrase "hits like a girl" never saw Stacey Reile punch.
In September 2007, Reile informed me of a reality television show that she was possibly going to be a part of. The name of the show was Million Dollar Lady, also known as MDL. I remember how happy she was about this potential opportunity. Reile knew that it was important to be recognized in order to further her boxing career. Sergio Mora would have never attained the fame and fortune he did without The Contender TV show. Reile felt that this would be her chance to become a household name which is difficult to do for male boxers and even harder for females. Although the show's producers showed interest in Reile being a contestant on the show, they were hesitant to select her because they felt she was just too good. The minimum requirements to be on the show were that the contestants could not have had more than five professional fights on their official boxing record. At the time, Reile had seven fights, but two of them were unsanctioned bouts in Japan. Therefore, she was officially 5-0, so she could not have another sanctioned pro bout on her record or else she would not meet the requirements. The show gave her a lengthy application to fill out and wanted her to send them a training video.
Reile told me that she was no longer training at Miami Fight Gym with Cuellar. She was now at Xtreme Boxing Gym in Hialeah, Florida and her new trainer was Jorge Rubio. I filmed Reile doing pad work with Rubio wearing the focus mitts. The pad work was too fast and intense to send to MDL because they were already apprehensive of having her compete on the show against fighters with far less ability than her. As a result, Reile had to redo the pad work, albeit in a toned-down version. Had MDL seen the other pad work, Reile would have definitely not been chosen. Reile then sparred with an amateur male boxer. I would characterize it as more of a light exhibition. Reile usually trains with men that try their best against her. They have to lest they be beaten themselves. Reile is simply too good to spar against women, so she needs to spar men who give her a challenge. Reile had to hold back because this footage was being sent to MDL. Reile has beaten male boxers in sparring before and I would like to film that, but most guys probably would not want to be videotaped while being thrashed by a woman. The training videos from January and September of 2007 are all on youtube.com.
Reile waited and waited and waited. Ultimately, Reile decided that she could not put her career on hold forever for a television show that may never be on. It was a good decision because MDL has still not been on TV yet. In January 2008, Reile was finally an active fighter again. This time, her opponent was another woman from the Dominican Republic named Maribel Santana. Santana had challenged for world titles three times, but lost all three of those title fights. Reile's bout against Santana took place in Miami Beach, so this was Reile's first fight in her hometown. Reile won by unanimous decision in a near shutout.
A few months later, Reile informed me that she was going to fight for the title. Being that she was in the super bantamweight division at the time, I immediately thought of Lisa Brown who is a world champion in that division. However, Reile was moving up to a heavier weight class to fight featherweight champion Ina Menzer of Germany. When she first told me, I said "Ina who?" I thought Menzer was Jewish because her name looks similar to Meltzer. Menzer had a successful title defense against Santana in 2006. Santana took a barrage of punches to the head from Menzer in round three and Santana subsequently quit on her stool before round four began. However, Santana did not quit against Reile probably because she was trying to impress the Latino fans she has in Miami. I believe that Reile was chosen to fight Menzer because of Santana, a common opponent between them that Menzer had a win by stoppage against while Reile won by decision.
There was only one fight of Menzer that could be viewed on youtube.com and that was her fight against Sandy Tsagouris of Canada. It was revealing in that Menzer won by a close, controversial decision. There was an inadvertent clash of heads which caused Menzer to get a huge gash over her right eye, but Tsagouris could not capitalize on it and the fight went to the judges' scorecards. I felt that Tsagouris did enough to win the fight. Seeing this fight gave Reile more confidence because it showed that Menzer is not the superior champion that the Germans would like the world to believe. Menzer is portrayed by the German media as marvelous, magnificent, and mesmerizing. In other words, the Germans feel that Menzer is the greatest thing since sliced strudel and they want the rest of the world to accept this as true. I was not convinced and wanted to see more of Menzer. I was curious to see how she responded to a variety of opponents. One fight did not provide me with enough information about Menzer and I wanted to help Reile come up with a good strategy.
Women's boxing is not televised that often in the United States. Menzer's fights are televised, but are seen only in Germany and possibly some neighboring countries. ZDF is the network that broadcasts her fights and the boxing events cannot be viewed on television in the United States. ZDF does show some portions of their TV shows on youtube.com, but none are of any boxing shows. The video of Menzer's fight against Sandy Tsagouris was uploaded on youtube.com by someone else, not ZDF. Fortunately, I found someone on the Internet who has boxing videos from all over the world and I was able to obtain more of Menzer's fights.
Almost all of Menzer's opponents that I saw gave Menzer some problems, but they just did not have the total package. They were unable to take advantage and exploit Menzer's weaknesses because they were not talented enough to do it or because they did not use good strategy. When Menzer gets hurt, she has a tendency to circle either left or right in order to get out of harm's way, change position, and recover, so I told Reile to be on Menzer like flies on dog feces. Menzer is so reliant on her straight right hand that she sometimes tries to put her whole body weight behind it by leaning in, so she leaves herself open and is susceptible to her punch being parried. Menzer throws her left jab mainly as a distraction and will immediately follow up with her straight right hand if she feels she can land it. 40-year-old Laura Serrano was eating straight rights the whole fight she had with Menzer and never got knocked down or out, so Menzer's supposed punching power is greatly exaggerated by the German media. Menzer tends to swell above her eyes more rapidly than the average boxer when she is hit and I believe that is why she holds her hands high, but doing this leaves her open to hooks to the body. The biggest flaw of all that I noticed is that Menzer's cardiovascular conditioning is poor. Menzer breathes hard in her corner even just after the first round and the rounds are only two minutes in duration. It was so frustrating to watch her opponents not be proactive. They were reactive, reacting to Menzer instead of taking charge, and that is why they lost.
My advice to Reile was to apply constant pressure and do not allow Menzer to recover. Keep a fast pace and make Menzer's fatigue increase after every round. Menzer gets her punching power when her opponents are at the end of her straight right, so you have to be close to her so she cannot throw that punch. Tsagouris did not stay on the outside like Menzer's other opponents did. The others got hit a lot because they were in range of her jab on the outside and they were sometimes hit by the straight right. It is also important to use lateral movement against Menzer so that she has to punch a moving target. Hook her to the body and perhaps a left hook will find her liver. If not, at least the hooks will make Menzer's hands go down and then you can start directing more punches at her head. I also told Reile to try to avoid getting knocked down because I was concerned that the fight would be stopped prematurely after seeing Menzer's fight against Kasha Chamblin. Chamblin got up after being knocked down by a straight right, but the referee stopped it and I felt that Chamblin could continue. I also was concerned about foul tactics from Menzer because Chamblin said to her cornerman during one of the breaks between rounds that Menzer is "dirty on the inside."
It is well known that Germany is the most biased country in the world when it comes to boxing and it is a reputation that is well-deserved. It is difficult, if not impossible, to win by decision there if you are a boxer from another country and are not allied with one of Germany's two major boxing promotional companies. After my analysis of Menzer's fights, Reile was not at all worried about Menzer. However, Reile was worried about the biased judges because it was something that she could not control. I felt that she had nothing to worry about because I believed that Reile would cause Menzer to tire quickly to the point where she could not continue. I thought that the fight would not go past five rounds if Reile stuck to the game plan and pushed Menzer to her limit because Reile is in much better shape and more athletic than Menzer. Before the fight, Menzer and her trainer Michael Timm described Reile's fighting style as unorthodox, but Reile actually does use an orthodox stance. Reile does not fight southpaw. What they were really trying to say is that Reile is unpredictable because Menzer's fighting style is as predictable as the sun rising in the east and setting in the west. It is a common view among German boxers that anyone who does not fight like them, like a predictable robot, is considered to be unorthodox.
Seeing the movie Million Dollar Baby affected my view of how much money female boxers earn for their fights. The main character named Maggie (played by actress Hilary Swank) fought for the welterweight championship against Billie "The Blue Bear" (played by former boxer Lucia Rijker). The total purse was a million dollars, hence the title of the movie was Million Dollar Baby. In the movie, the champion and challenger split the purse evenly, so they each received $500,000 for the fight. I do not believe that any female boxer has ever come close to making that kind of money for one fight, even when Holly Holm fought Mary Jo Sanders on pay per view. That is one reason why the movie is so far removed from reality: if female boxers made that kind of money for title fights, more trainers would be willing to train them, unlike Frankie Dunn (played by actor Clint Eastwood) who initially rejected Maggie's repeated requests to have him train her.
I usually do not refer to boxers by just their first name when I write an article, but I am going to make an exception in this case. Stacey and I have known each other for about two years. Jeff Lacy said he was "insulted" by the $550,000 offer to fight Jermain Taylor and was considering retirement rather than fight for that sum of money. If Stacey was ever offered that amount of money for a fight, that would be like winning the lottery. I think one reason why women make less money than men in boxing is because the rounds are only two minutes in duration instead of three. Even if this changed, there still would be a huge difference in the amount of money that male and female boxers earn. I feel that the time length for rounds in female boxing should be extended to three minutes because female boxers should be able to fight for three minutes per round. Well, maybe Menzer can't, but most female boxers can. Women compete in other sports and have to do what the men do, so why is it different for boxing?
Stacey's trainer Jorge Rubio is not a United States citizen. If he was, a U.S. passport would have been all that he needed to enter Germany. However, since he is a citizen of Cuba and Cuba is not one of the countries that Germany will accept just a passport from, Rubio needed a letter of invitation as well. Stacey received an email from Beate Poeske who is an employee of Universum. Poeske needed information about Rubio so that the letter of invitation could be sent to him by Universum in order for Rubio to obtain a visa. Stacey provided everything that was asked of her, but the letter was never sent. It was like a Catch-22 situation for Stacey. Universum said they would not buy airline tickets for Rubio until he got a visa, but Rubio never received the letter of invitation in order to get the visa.
As a result, Stacey had no choice but to find another trainer that could replace Rubio on short notice. She needed someone who only needed a valid passport to enter Germany, so it had to be someone from a country that Germany has an agreement with to accept their passports and no other paperwork would be required. The United States is one of those countries, but there are several others including Canada and Mexico. Stacey chose Mark Vaz to be her substitute trainer because she knew no one else who was able to go on such short notice that had experience working in the corner. Vaz used to be the manager of Jermain Taylor and, according to Stacey, has worked as a cutman and matchmaker. I do not know to what extent that Vaz has experience as a trainer.
Soon after her arrival in Germany, Stacey felt that Vaz was getting a little too chummy with the employees of Universum. Because of this, Stacey believed that Vaz was not loyal to her. Stacey also felt that Universum intentionally did not send the letter of invitation for Rubio so that her regular trainer would not be able to be in Germany. Stacey claims that Vaz insisted that he go to the rules meeting without Stacey. Stacey's boyfriend and father accompanied Stacey in Germany, but they did not attend the rules meeting either. Despite Stacey's requests for Vaz to go over the rules with her prior to the fight, Vaz never did. Stacey and I emailed each other during the week before the fight. I wrote words of encouragement to her, but she still had anxiety about the judges. This anxiety was exacerbated by the fact that Stacey now had to have a trainer in her corner for the most important fight of her career that she did not trust at all.
When there was an open workout for the media leading up to the fight, Menzer hardly did any pad work. However, Vaz did a few rounds of pad work with Stacey. Of course, Menzer and her trainer Michael Timm do not want to reveal too much. As I stated earlier, ZDF does not put any of Menzer's fights on youtube.com. All of Stacey's fights, including her two unsanctioned bouts that occurred in Japan, are on youtube.com. When Stacey did train in the gym throughout the week, someone from Universum filmed her without her consent and Universum did not give Stacey the option of filming Menzer in training.
Universum provided Stacey with food vouchers which allowed her to eat the food in the hotel restaurant for free. Before she left for Germany, I told Stacey not to eat any German food unless it is in sealed packages or fresh fruits and vegetables from a supermarket. I was concerned about someone poisoning the food, but I never thought that the food in Germany is so bad that it is nearly inedible. You don't have to take my word for it. Just watch rapper Snoop Dogg in his TV show Father Hood. There is one episode in which Snoop Dogg is getting ready to perform in Germany. His family is with him and they go out to eat at a nice restaurant. Dogg and his family just looked at the food and were repulsed by it. Dogg was so frustrated that he had his personal assistant go out on the streets of Germany to search for chicken wings so that he could cook the food himself. Needless to say, his assistant could not find any, so Dogg had to have chicken wings flown in by plane. I believe that athletes should eat food that they are used to, food that isn't "weird." If you go to Germany, try to find restaurants that have franchises throughout the world. At least the food is standardized and there is quality control. Also, bring sports bars or energy bars so that you have something to satisfy your hunger in between meals. Stacey's boyfriend and father regrettably ate the food in the hotel thanks to the food vouchers that Universum was so kind enough to provide. Stacey believes this was done so that she would be more inclined to eat the food from the hotel. Stacey is a world-class athlete, so her body was better able to digest the disgusting food, but I think eating it did adversely affect her. Her boyfriend and father had to spend prolonged periods of time on porcelain thrones during their week long stay in Germany.
The hotel that Universum had Stacey stay in was about an hour drive from the arena, so it was not a convenient distance away. Also, the hotel was above a bar and near a school. The room that she stayed in did not have any working air conditioning, so she had to open the window to get air. According to Stacey, it was very noisy outside because of the bar and school. Opening the window to get some air raised the noise level in her room and consequently Stacey did not have restful and proper sleep while in Germany. Stacey provided me with the phone number to her hotel room and I called her the day before the fight to wish her good luck. I then told her to leave the phone off the hook during the night because I was concerned that someone would try to call her to disrupt her sleep. I also called her the morning of the fight. "Did you get a good night's sleep?" I asked, knowing how important this was to her performance. "Yeah," Stacey replied groggily. I sighed. "Okay," I said. I knew from the sound of her voice that she did not sleep well, but her fight was at night and I hoped that she could take a nap during the day. It is a common ploy among unscrupulous promoters to make the visiting boxer and his or her team as uncomfortable as possible so that they are not at their best on fight night.
Her fight against Ina Menzer was on May 31, 2008. I could not see the fight live because I live in the United States, so I went on ZDF's website. ZDF allows people to vote on who they think won each round and about 80% of German boxing fans felt that Menzer won every round. That sounds about right. I would say about 80% of German boxing fans are biased. The other 20% are not biased because they observed the fight objectively and voted that way. Then, a statement appeared on the website that stated Menzer won by TKO in the fourth round. I was in shock and disbelief. I felt like Luke Skywalker did when Darth Vader told Luke that he was Luke's father. "No. That's not true. That's impossible!" Then, I searched on boxrec.com and knew it to be true. "Noooooooooo! Nooooooooooo!" I sat there looking at the result, blankly staring at the computer screen for about a minute. Then, I came to my senses and thought to myself, "How did this happen? How does Stacey feel after this?"
I then sent an email to Stacey, still having not seen the fight yet. I wrote to her that life is a learning experience and that defeat is more instructive than victory. Hall of Fame boxers have been knocked out, but still had great careers. American Joe Louis got knocked out by German Max Schmeling, but Louis won the rematch by knockout. Stacey sent me an email describing what had happened: "I got hit in the ear. It messed with my equilibrium. Then, I got caught again. She never hurt me. If my trainer was there, he would have told me to hold or move." I searched for other information about the fight on the Internet to find out more, but most of it was from a biased point of view. I could only find one article that was truthful to some degree. The article stated that Menzer could not cope with Stacey's "speed advantage" in the first round. It also stated that Stacey had "blazing fast combinations and this seemed to shut Menzer down" in the second round and that Stacey was "outworking Menzer" in the third round. There were still some erroneous statements in this article because the writer stated that it was the referee who made the decision to stop the fight while Stacey was down when in actuality the referee stopped it after Stacey got up due to the actions of Vaz who quickly ran up the steps and frantically waved his arms which forced the referee to stop the fight.
The German media are supposed to be truthful, but they just function as publicists for what I call The German Gravy Train and its goal is to derail the visiting boxer's career. In addition to the German media, the promotional companies, ZDF television, the biased German boxing fans, and even the German photographers at ringside are all a part of the gravy train and they have a hidden agenda that is not so hidden anymore. They want the world to know that German boxers are the best boxers in the world. It is all part of the propaganda that they use when they give a false description and portrayal of the fights in Germany. I envision them having a meeting to discuss their plan: "Zee Americans vill never see zuh fight, heh heh heh." "Ve can say vhatever ve vant, heh heh heh." The German media thought that they could rewrite boxing history because they believed that no one would be able to see the fight outside of Germany, but they were wrong because now it is on youtube.com.
Before the fight, the German media acted like they adored Stacey. The people in the audience cheered for her when the ring announcer said her name. However, when the fight started, they all wanted her to lose to keep the gravy train going. One journalist on the Internet wrote that Menzer was "the scientist" and Reile was "the student." Doctor Menzer? Maybe he has her confused with Doctor Mengele. I guess he blinked every time Stacey landed her punches. Of course, he lied about the punch that Menzer threw after the bell to end round three as being "right on the bell." The German photographers only released photos of Menzer landing punches and none that Stacey did. Finally, one photo must have been inadvertently leaked out that Stacey was able to find on the Internet, so Stacey put it on her myspace page which is myspace.com/staylo4real. The photo shows Stacey landing a left uppercut to Menzer's head. Surely, there must be more photos like this, but they are being kept a closely guarded secret by the Germans. Speaking of uppercuts, Menzer does not throw them. She prefers to just throw left jabs and right hands and will throw hooks sometimes, but I have never seen Menzer throw an uppercut. I think the reason for this is that Menzer prefers to keep a certain distance from her opponents and an uppercut could only be landed if she was at close range. The German fans are willing participants in this grand propaganda scheme. One German fan recorded the fight from his seat in the audience, but he only uploaded the fourth round on youtube.com. This fan must have recorded the whole fight, but did not want the world to see the first three rounds in which Stacey did well and certainly not the punch that Menzer threw after the bell to end the third round that ruptured Stacey's eardrum.
I think it is a conflict of interest when Universum, the promotional company hosting the fight, is owned by Klaus-Peter Kohl who is also Menzer's manager. Only one judge was from Germany, but that is not a reliable indicator of whether a judge is biased. Not one judge gave any round to Stacey. Basically, Menzer could have frolicked around the ring holding two beer mugs like the St. Pauli Girl and the judges still would not have given Stacey one round. Even the ZDF commentator Gunter-Peter Ploog (Yes, that is his real name) scored every round for Menzer. After three rounds, Ploog and the judges (Arno Pokrandt of Germany, Sergio Silvi of Luxembourg, and Roger Tilleman of Belgium) scored it 30-27 in favor of Menzer. Moe, Larry, and Curly of The Three Stooges could have done a better job than these three judges. I wonder what would have happened if Stacey had knocked Menzer down. Ploog would have probably scored it a 10-8 round…for Menzer! Then, someone would have had to tell him about the error he made and he would say, "Silly me, my mistake, haw haw haw!" During the breaks in between rounds, ZDF showed replays of the fight in slow motion, but only of Menzer landing punches and none of Stacey. This is just another example of their blatant bias because Stacey was the better boxer during the first three rounds. Stacey also found Menzer's punches to be weak. Menzer is a feather fisted featherweight champion. In her last ten fights, Menzer won seven of those by decision. Only three of them were wins by stoppage. Maribel Santana quit on her stool. Kasha Chamblin got up from a knockdown, but the fight was stopped by the referee. Stacey Reile's fight was stopped because of her cornerman. Chamblin and Reile got up from their knockdowns, so they wanted to continue and they were able to. Menzer could not put away 38-year-old Adriana Salles of Brazil in her most recent fight.
Before anyone accuses me of supporting only American boxers, I would like to share my viewpoint regarding boxing judges. I feel that every fight should be judged impartially, although I know that this is a fantasy. Every country has judges with bias. Even boxers fighting within their own country can be given a bad decision when fighting in the hometown of their opponent. There are three reasons why I believe that it is extremely important for a boxing judge to score a fight correctly. First, boxers sacrifice a lot in their life to box for a living. For many, if not most, it is not their sole source of income. They risk getting permanently hurt. For a boxer to lose a fight that he or she deserves to win, it must be very disheartening. Second, it lowers the integrity of the sport, what little boxing has left of it. It makes people turn to other sports to watch. Keep in mind, however, that this does not apply to Germany because their biased fans just want the German boxers to win no matter what. Third, it fragments the sport by creating distrust and causes boxers to not want to travel to other countries where controversial decisions are rampant. I believe this is why Roy Jones Jr. never wanted to go to Europe to fight Dariusz Michalczewski of Poland when they both were considered to be the top two boxers in the light heavyweight division for several years. I do not care what country a world champion comes from. I understand that boxing is a sport that is worldwide, so I do not expect all the world champions to come from America. I just want to see the best fight the best and I want the fights to be judged and officiated impartially.
After I saw the Reile vs. Menzer fight on video, it was obvious to me that Stacey won the first three rounds. In round one, Stacey was landing repeatedly with a left hook to the body and head combination. Stacey also landed well with the right hook to the body in round two. In round three, Stacey was effective with the left hook to Menzer's head. Stacey told me after the fight that she noticed Menzer breathing hard in the third round, gasping with her mouth open. When that happened, Stacey thought of me because she remembered what I had told her about Menzer's cardiovascular conditioning. I knew that Stacey's limits were far beyond that of Menzer and therefore Menzer would not be able to win if she was pushed to her limits. That was beginning to happen in the third round. It is for this reason that Stacey believes Menzer had no reservations about throwing a right hand to Stacey's left ear after the bell had rung to end the third round. This punch ruptured Stacey's eardrum because it hit her directly on the ear. The ruptured eardrum caused her equilibrium to be off. Stacey staggered and the referee touched her briefly to prevent her from falling down. I believe the referee did that because he knew that the punch from Menzer was thrown after the bell. The referee in this fight, Daniel Van de Wiele, was the same referee who waved the fight off after Kasha Chamblin got up from her knockdown against Menzer. I know that the referee tells the boxers to protect themselves at all times, but maybe there should be an addendum to that statement: "Protect yourself at all times, especially in Germany."
When Stacey returned to her corner, Mark Vaz gave her advice and told her that she was "reaching too much…That's not winning any rounds on the judges' scorecards." According to Stacey, Vaz did not give her any water to drink during the two other breaks between rounds, but finally did so during this one, probably because Vaz knew that ZDF television would show their corner on TV after Stacey got hurt which ZDF did. During the two previous breaks, they only showed Menzer's corner. Stacey's left ear was swollen and reddened, but Vaz did not mention this to Stacey. Vaz did not give her instructions such as to move more or hold in order to recover her equilibrium. In the fourth round, Stacey was not the same fighter that she was the previous three rounds. Menzer threw a left jab to the body in order to divert Stacey's attention from the straight right hand that Menzer directed at Stacey's left ear, the ear with the ruptured eardrum. Stacey got knocked down and the only reason was because the punch hit her left ear. Otherwise, a punch like that from the feather fisted Menzer would not have knocked her down. While Stacey was down, Vaz did not try to stop the fight. I think that Vaz was hoping that she would stay down because it was only until Stacey got up on steady legs that he waved his arms which forced the referee to stop the fight.
If Vaz was so concerned about Stacey's safety, then why didn't he have the fight stopped before the fourth round started and why did he wait until Stacey got up from the knockdown? Also, why would there be a reason to stop it if she got up on steady legs without wobbling? Couldn't Vaz have let the referee make that determination by the referee looking at her and talking to her? How could Vaz even determine whether she could continue or not when he was facing Stacey's back? Stacey claims that Vaz told her not to attend the post-fight press conference, so she did not go. Stacey believes that Vaz did not want her to attend so she would not be able to protest his actions to the media. Stacey reluctantly paid Vaz for his "services" just to get him out of her life. Did Vaz receive any other compensation while in Germany? I do not know, but I know what I believe.
Stacey returned to Florida and was devastated. Stacey felt betrayed by Vaz and dealing with the aftermath of this fight was even more difficult because most of the information on the Internet about the fight such as articles by journalists or publicity by Universum and ZDF were less than truthful. In addition, the haters came out in full force, spewing their venom and vitriol on the Internet. These are people that wanted Stacey to fail and they were eager to make their feelings known. On top of all this, Stacey's ear was still hurting from the ruptured eardrum. I knew that her ear would heal physically, but I was more concerned about how this experienced affected her as a person. She was dejected for a couple of months. I never thought that boxing, a sport that made her feel so good, could make her feel so bad. I grieved as well because it was so unfair how she was treated before, during, and after the fight. The misinformation marketing machine of The German Gravy Train had no more use for Stacey Reile other than to misleadingly portray that Menzer dominated the fight. After that, they discarded Stacey like a used tea bag. Life, like boxing, is unfair.
Even though it is clear that boxing is declining in popularity in America, some boxing fans are not accepting that fact. When a Fight of the Year candidate comes along, they are quick to use that as an example of boxing doing well. That is what happened when Antonio Margarito fought Miguel Cotto. They say, "See? Look at that!" Well, I'll tell you what I see. I go to my local bookstore and see seven mixed martial arts magazines for sale, but only two boxing magazines. I go to my local boxing gym which had two boxing rings, but now has replaced one of the rings with a MMA cage. I go to a local restaurant/bar that shows UFC pay per view events and I ask the hostess if they are going to show any boxing pay per view events in the future and she looks at me like I have a hole in my head. Saying that boxing is popular in America because of one good fight is like saying there is no global warming because of one cold day.
Wrestling, which has become a soap opera on steroids, is on TV in America more often than boxing. It is interesting how one of the companies is called World Wrestling Entertainment. It reminds me of the movie Gladiator when Maximus (played by actor Russell Crowe) shouted to the crowd, "Are you not entertained? Is this not why you are here?" Is boxing as entertaining as it was before? There are always going to be Fight of the Year candidates, but I am talking about the overall health of the sport. The documentary movie An Inconvenient Truth showed two photos of a mountain. One photo of the mountain was taken about a century ago and another photo of the same mountain was taken recently. 100 years ago, the mountain was full of ice and snow and now it has nearly none. To me, boxing is like that mountain and every bad decision by the judges and every incident of corruption melts more ice off of that mountain. It is not as apparent in small increments. However, over a long period of time, it becomes more noticeable how much they have taken their toll on boxing. Boxing used to be a major sport in the United States, but it is no longer shown on free TV in the U.S. and this has caused a decrease in the mainstream interest of boxing in America.
In Germany, boxing judges are supposed to be impartial and promotional companies should be held accountable for the way they do business. However, sanctioning bodies are not going to bite that hand that feeds them, or should I say fees them. The balance of power in boxing has shifted to Europe, but it is possible that MMA will eventually permeate Europe just as it has done in the United States. UFC president Dana White said, "Boxing is in trouble for one reason, and one reason only – greed." I would like female boxers to have better opportunities which would happen if the UFC allowed women to compete in their events. They would be able to earn more money instead of fighting for pitiful portions of paltry purses. They would have to learn new skills, but I think women should have the option of competing in either boxing or mixed martial arts if they want to. I have never seen a bad decision on the judges' scorecards in MMA and it seems that the competitiveness of the fights is more important to the promotional companies than who wins.
In sports, there is such a thing as home field advantage or home court advantage. This is a question that I would like all of you reading this article to consider: When does an advantage in sports become an unfair advantage? Judging in boxing is so significant because the competitors are in combat with each other. It is not like the judging in diving or figure staking where the athletes compete independently of one another. When one boxer knows that he or she has the judges on their side, the boxer does not have to do much to win the round. This means that they can be very defensive and do not have to take chances. They can be conservative. Conversely, opponents who know they have to overcome the judges' bias in order to win have to take risks. This is what happened when Stacey fought Menzer. Is it always going to be a part of boxing that in order to win against the champion in his or her home country, state, or town that you have to knock them out? All Menzer has to do to win a round is flick a few jabs and they don't even have to land. Menzer does not really have to exert herself much during these two minute rounds either because she does not have to do much and she still gets tired. Just imagine if she ever fought in another country where she knew that the judges were not going to show favoritism to her. If Menzer had fought Stacey in America, Stacey would have beaten the bratwurst out of her. I do not care that Germany has become a mecca for boxing. I do not feel deprived because I am not able to watch their events on television. People in Germany can watch the events for free on television. If Germans want to spend their hard-earned money to pay for tickets and see biased boxing at the venue, then so be it. Whatever makes them feel warm and fuzzy inside.
In South Florida, boxing does get some coverage in the local newspapers, but no article was written in the papers about Stacey's title shot against Menzer or the result of it. However, female amateur boxers did get some coverage. There were some articles about the Women's National Golden Gloves Boxing Championships in Hollywood, Florida, so I went because…somebody had to. Seriously, it was in a small ballroom and only about 200 people were there, mostly friends and family of the competitors. There were a few boxing celebrities in attendance. Retired boxer Bonnie Canino and active boxer Yvonne Reis hosted the event. Executive director Leon Margules of Warriors Boxing, light heavyweight contender Glen Johnson, and female super bantamweight contender Alicia Ashley showed their support by making an appearance.
I attended the last day of the event which was the finals for all of the weight classes. These women are among the top female amateurs in the United States. I was impressed by their ability and it made me forget that these boxers were women. Well, maybe that is also because some of them did not look like women! There are a few of them that I think could be successful professional boxers, but I would dissuade all of them from going pro because having boxing ability is not as important as what promoter you are associated with. Warriors Boxing, a major promotional company located in Florida, does not promote women and only has women on their fight cards when it is a cross-promotional event with a promoter who does, so Stacey does not have the opportunities that female boxers in Europe have where female boxing is more accepted. Menzer has a major promotional company backing her, her fights are shown on television in Germany, and she has two featherweight belts, so that is why she has been able to attract better quality opponents than Stacey has. I say this because there are some people who have criticized the quality of Stacey's opponents. I think that her willingness to go to Germany without her regular trainer should put false rumors about her avoiding anyone to rest. Stacey wants to go back to Germany and have a rematch against Menzer. I think Menzer will avoid Stacey like the plague, but hopefully a rematch will happen. For now, Stacey wants a fight against a legitimate contender and is willing to travel to her opponent's home country to do so.
Stacey now has a new trainer named Eric "El Tigre" Castanos who recently trained Jermain Taylor in his win over Jeff Lacy. Lacy got a new contract which made him a better offer than that measly half a million dollars he was offered previously, so he changed his mind and accepted the fight with Taylor. I believe that Castanos will help Stacey to become a better fighter. Mentally and physically, Stacey was not 100% against Menzer and she still would have won had her eardrum not been ruptured. This makes me even more convinced that she will be a world champion in the future. I have had the privilege of filming the workouts of contenders and champions and I have never seen anyone train with more passion than Stacey Reile. This is just my opinion, but it is as close to a fact as an opinion can be and that is that Stacey Reile is the best female featherweight boxer in the world today. She is that good. All she needs is the opportunities to show that. If she does not get another title shot before her career is over, it would be a tragedy. There have been many other boxers worthy of being world champions, but they never became one because either they were avoided by the champions or they lost a title fight by a controversial decision and/or incident. What happened to Stacey with the ruptured eardrum was a fluke and the stoppage of the fight was controversial, to say the least. I do not know if Stacey will ever forgive the people who have betrayed her, but I do know that she will never forget and neither will I. By the way, when Spain defeated Germany 1-0 to win the Euro 2008 soccer championship, it made me feel warm and fuzzy inside.