Matchroom Boxing boss Eddie Hearn says they're leaning in the direction of Dallas, Texas for the Canelo Alvarez vs. Billy Joe Saunders super middleweight unification fight on May 8th on DAZN.
He wants a venue that will seat the most fans, and the Dallas Cowboys Stadium is the ideal venue. What we don't know is whether Canelo-Saunders is a big enough fight to attract a large audience at the AT&T Stadium in Arlington, Texas.
Canelo is a popular fighter, but Saunders isn't someone that many people are interested in seeing him fight. It might be a waste to stage Canelo's fight with Saunders in a large stadium if it fails to sell out.
For a stadium like the AT&T Stadium, Canelo needs someone like Jermall Charlo, David Benavidez, Gennadiy Golovkin, Artur Beterbiev, or Dimitry Bivol. We're talking about fighters that would have a good shot at beating Canelo.
You can't say that Saunders has a good chance of beating Canelo. Billy actually has very little chance, which is why it might be overkill for Hearn to book the AT&T Stadium for Canelo's next fight.
Unfortunately, we still have a long way to before May 8th, so we just got to hope WBA/WBC 168-lb champion Canelo (55-1-2, 37 KOs) and WBO champion Saunders (30-0, 14 KOs) make it to the fight in one piece.
Saunders will be ready
"I don't want to ruin billy's mind games," said Hearn to the AK & Barak Show at DAZN Boxing about Billy Joe Saunders. "When Billy gets in that kind of moment with the media, 'No, I've not done anything. I can't win this fight. I'm just coming for the money,' and they report it.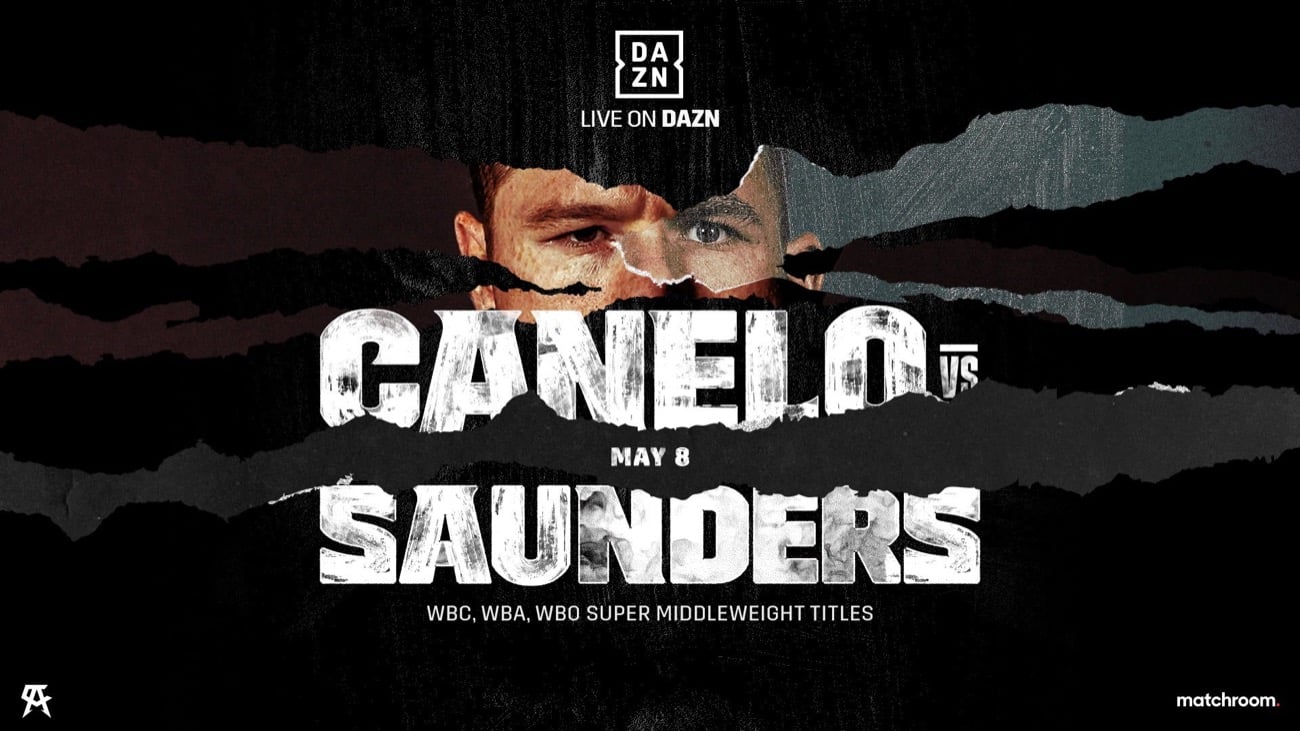 "I'm like, 'Oh, no.' Billy is Billy. You certainly can't control the words that come out of his mouth. Billy has been training now, actually ever since the Martin Murray fight in November.
"He's coming to this camp probably like 20 pounds lighter than he did for his last camp because he knew this fight was coming. Billy Joe has been in training camp in Spain, and he's been there for three or four weeks.
"In terms of the venue for that one, there's the Allegiant Stadium and the Dallas Cowboys. I'm actually on the West Coast now in meetings, and then I'm going to Dallas tomorrow. It's a tough decision.
"We feel like we're going to get more people in Dallas in terms of what we're allowed, but everyone loves Las Vegas.
"He's already stated that he's happy with either of those venues," said Hearn about Canelo Alvarez. "I think for him, it's where can we get the most people. It's Cinco de Mayo weekend.
"Last year, that weekend was effectively canceled in our world, and he wants that weekend to be a huge celebration on May the 8th.
"There is a chance we can get full capacity in Dallas, and if we can do that, it would certainly be a preferred place," said Hearn.
Dallas sounds like the ideal place to stage the Canelo vs. Saunders fight to maximize the crowd attendance.
As far as Billy Joe being ready to fight Canelo on May 8th, Hearn shouldn't assume anything. The only thing you can do is hope Saunders doesn't suffer some kind of ailment during camp that requires him to pull out of the fight.
If that happens, Hearn will look silly for reassuring the fans that Saunders would be ready to fight Canelo in May.
Matchroom to start negotiations with Plant
"That's a fight that we need to negotiate now," said Hearn about the Caleb Plant vs. Canelo fight. "Obviously, Billy Joe can beat Canelo, but we have to plan for both eventualities for both guys.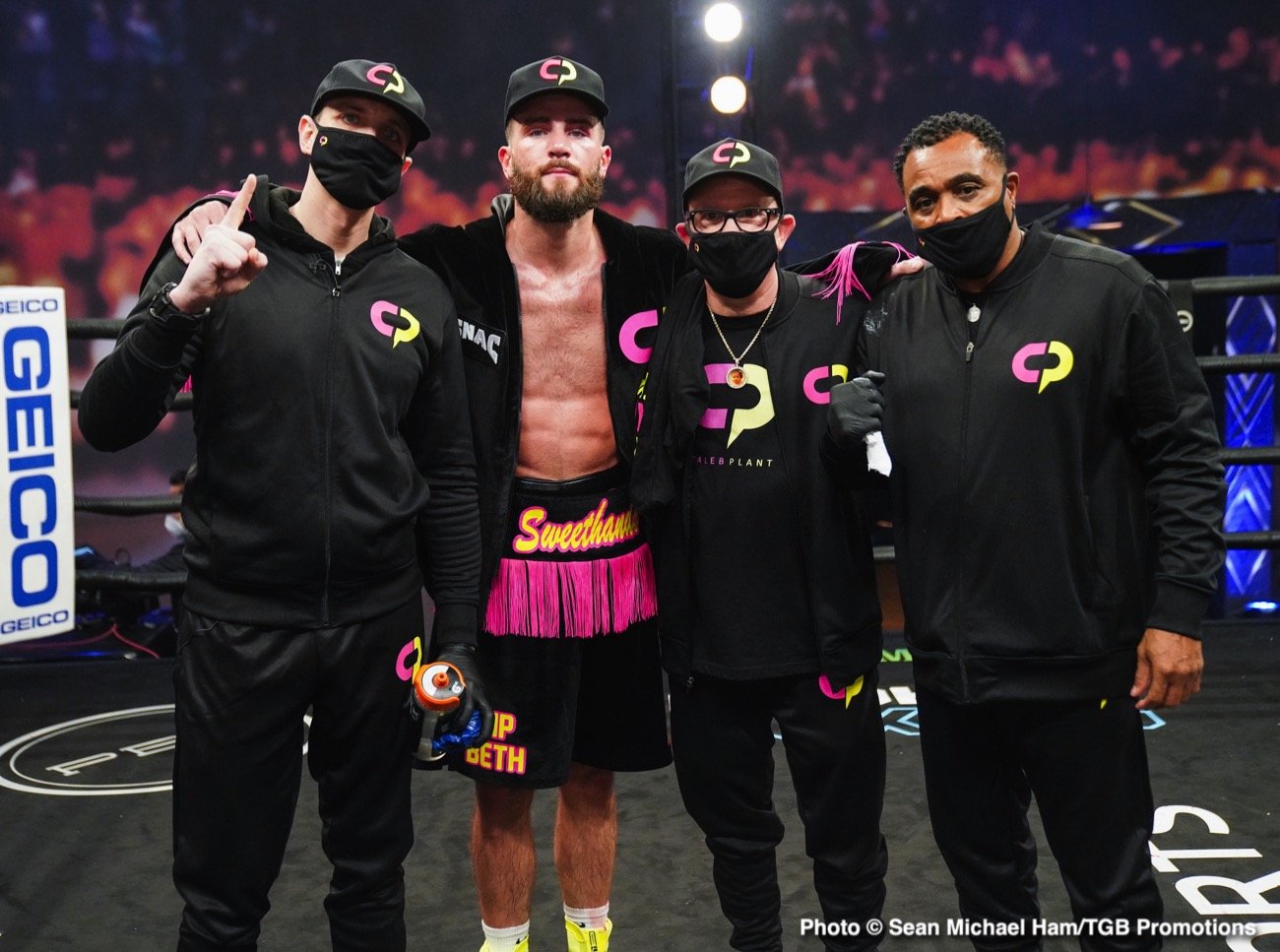 "Canelo Alvarez is a guy that is so good, you can plan three or four years ahead because it's very unlikely he's going to get beaten.
"My plan I told him is, 'You fight Billy Joe Saunders and if you beat Billy Joe Saunders, you fight Caleb Plant for the undisputed.'
"From there, we can on a Canelo world tour. We box in Japan, we box in Mexico and we box in the Middle East.
"That's what he should be looking to do, but obviously, he has a very busy year ahead and a lot of tough fights," Hearn said.
Hearn's comment about Canelo fighting in Japan after he finishes unifying the 168-lb division in 2021 gives the fans a big hint that his first fight in 2022 will likely be against Ryota Murata, who is from Japan and holds the WBA 160-lb title.
There would be a lot of money for Canelo to make fighting Murata in Japan. I mean, it would be a mismatch because Murata is already beaten twice, and many boxing fans view him as just a belt-holder.
Murata isn't someone you can put in the ring with guys like Jermall Charlo, Demetrius Andrade, and Gennadiy Golovkin and expect him to win. But that's not what this is about.
Canelo will still make a lot of money fighting Murata in Japan because he's a popular fighter over there. In terms of entertainment, it would likely be another Avni Yildirim-level fight where Canelo beats up on a guy with no chance of even being competitive.
U.S fans would prefer Canelo step up his competition level after he finishes beating Saunders and Plant this year and focuses on fighting Charlo, Andrade, Golovkin, and David Benavidez.
In other words, giving fans the fights they actually want to see for a change instead of mismatches against Yildirim, Callum Smith, Saunders, and Plant.
You wonder how Billy Joe Saunders feels about Hearn already planning on negotiating the Canelo vs. Plant fight ahead of time. Maybe Billy Joe doesn't care. After all, he's getting a load of money for the fight with Alvarez, and that could help him stay calm.
Hearn focusing on musical entertainment
"I didn't see the whole show of that Triller event," said Hearn about the Mike Tyson vs. Roy Jones exhibition event on Triller. "But I listen, we're fresh like Triller.
"I think Triller coming in is fantastic because this is the way boxing needs to go," said Hearn about having entertainment artists performing before the main events.
"The old school, I was talking to my dad about it the other night. He said, 'If I was around now, you'd be crushing me.' You can't expect my dad, Bob Arum of Frank Warren to get it. That's not a criticism.
"They just don't understand the new generation of what fans want to see, feel and experience on live events.
The J Balvin stuff was where people watched around the world and thought, 'What's going on here?
"Is this the Super Bowl?' No, this is boxing. That's such a good thing for our sport because all of a sudden boxing is cool again, boxing is sexy again.
"You do that by creating that live event by getting celebrities, performers, and stars to be part of the show.
"You guys were in Miami. Even though the main event was average [Canelo vs. Avni Yildirim], the feel in that arena with everything going on, it felt like if you were in Miami that weekend and you thought you were a cool guy or cool girl, you wanted to be at that show.
"That's something that's been missing in boxing because it happens in the UFC. That's what we got to create in boxing.
"It's a lot easier to do that when you have Canelo Alvarez leading the charge. People want to be happy," Hearn said.
What made Triller's show for the Mike Tyson vs. Roy Jones Jr fight wasn't so much entertainment. It was more to do with the commentators like Snoop Doggy Dog. It was a different way to comment and a lot looser and more relaxed than what boxing fans are accustomed to.
The exhibition between Tyson and Jones was poor, with both guys looking like they were pulling their punches. It looked completely staged, just like the pre-fight entertainment.
With the entertainment for Canelo's ring walks, Hearn needs to find entertainers that most fans won't mind listening to.
Otherwise, it's just noise pollution to fans that aren't interested in being subjected to the music they don't care to listen to. You can argue that Hearn went a little overboard with the ring walk entertainment for Canelo's fight against Avni Yildirim. That was a bit much.
Ring walk entertainment
"Canelo Alvarez has everything. He's got money, he's got cars, he's got belts, he's got horses," said Hearn. "It's the finer details and the attention to details that Canelo Alvarez loves.
The little putting green in his room, the branding around the hotel. You saw that.
"People like to see that. I can't believe it when I spoke to him after the Callum Smith fight and he said, 'I've never had this before.
"I've never had a ring walk before.' It only comes down to money because it's an investment and it costs money.
"It's not like this thing is cheap, and we were very lucky. A big shout out to J Balvin. He's an absolute gentleman.
"I can't take all the credit for that because Canelo knows J Balvin, and he helped bring him in to perform. That was massive for us," said Hearn.
It's great that Hearn is focusing on the ring walk entertainment for Canelo's fights, but it would also help if he fought better opposition. That would get more fans to tune in to watch.
Having great entertainers for Alvarez's fights is a fine idea, but if he's going to be facing guys like Avni Yildirim, it's not going to be enough. It's like polishing up a beat-up car, thinking you're going to impress people.
Canelo needs to take some risks with his career because there are better fights out there for him than Saunders and Plant.