YouTuber Jake Paul came out swinging on Tuesday in reaction to Canelo Alvarez kicking two kids out of the ring for wearing T-shirts with Jake's and Ben Askren's pictures last Saturday night after his mismatch with Avni Yildirim in Miami. Florida.
DAZN showed WBA/WBC super middleweight champion Canelo's title defense against his WBC mandatory challenger Avni Yildirim last Saturday, and it ended with the dull non-competitive fight being stopped after three rounds. It was a horrible fight.
Jake said Canelo is angry because DAZN had to renegotiate his contract because he wasn't selling enough and that he's fighting unknown guys from Turkey. Jake also said that Canelo is ducking Demetrius Andrade and David Benavidez.
A lot of boxing fans would agree with Jake about Canelo ducking Andrade and Benavidez, but those are just two of many fighters that they feel the Mexican star is avoiding. You can also add these fighters to the list of guys that Canelo has shown no interest in fighting:
Jermall Charlo
Dimitry Bivol
Jermell Charlo
Artur Beterbiev
Gennadiy Golovkin
Jake Paul slams Canelo
"A lot has happened in the boxing world in the last couple of days. I feel like I need to rant on it because some of it is funny, it's hilarious, people are calling me out," said Jake Paul on social media.
"Canelo's fight [with Avni Yildirim]. Two kids break into the fight, sneak onto the stage, and the kids are actually wearing a picture of my face and Ben Askren's face.
Canelo sees that they're on stage, he double-takes, sees that the kid is wearing a picture of my face. He's like, 'Oh, get the f*** out of here. Get the f*** out of here.' Canelo, what's your problem? Why do you hate me so much?
"Canelo is mad. He has this thing about me, says I'm bad for the sport, I'm disrespecting it, which doesn't make sense at all.
"I'm actually bringing more eyeballs, more awareness to the sport of boxing," Jake Paul continued.
With Jake's millions of followers on social media, he's great for boxing because bringing young fans to the sport that otherwise would have never taken the time to watch.
Unfortunately, a lot of boxing nowadays requires fans to spend money to see it, which is something that limits the growth of the sport.
Yeah, there's boxing on regular network TV, but you don't get the great match-ups that you do on the platforms that fans have to pay to see.
Canelo ducking Benavidez & Andrade
"But Canelo, since you want to start this beef, let's do it. Bro, you're mad because DAZN had to renegotiate your contract because you weren't selling enough. You're mad because there's someone new coming into the sport.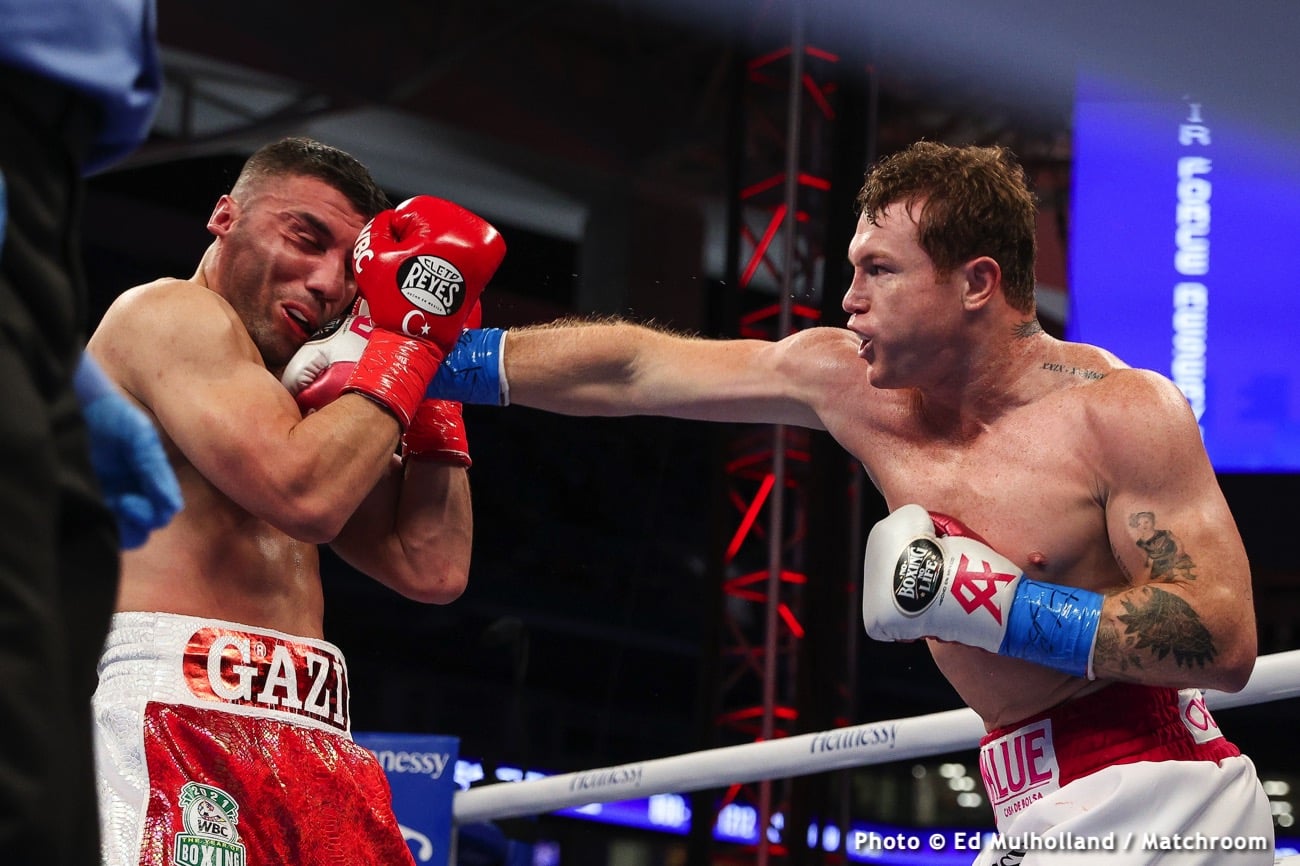 "You claim you're the pound-for-pound best fighter, but you're fighting these guys from Turkey [Avni Yildirim], that no one has ever heard of.
"You're a minus 5000 favorite. Why not fight Caleb Plant, David Benavidez, Boo Boo Andrade? You're ducking them. You're ducking them. Canelo, you're an old hater, that's what you are," said Jake.
It is a big disappointment that Canelo isn't fighting guys like Charlo, Andrade, and Benavidez. At this point, it's obvious that Canelo is ducking them.
What's interesting is the network platforms like DAZN aren't putting their foot down and insisting that Canelo fight better opposition.
It might sound valiant that Canelo wants to become the undisputed champion at 168, but it's not a big deal because the champions in that weight class aren't guys that would give Canelo problems.
Jake wants Tommy Fury to speak for himself
"Then I wake up, and I see Tyson Fury, the heavyweight champ, Tweets me and he was talking s*** about Canelo too, saying it was boring and nobody was watching. So I was laughing along with it.
"Then I get to the bottom of the Tweet and he's calling me out to like fight someone, and the Tweet is about his brother.
"Oh, I didn't even know he had a brother. Then he's calling me out to fight his brother, and I'm like, 'Bro, what the f*** is going on here?'
"I didn't know Tyson Fury had a bro? I like Tyson Fury. I don't want a beef with Tyson Fury, but damn, if Tyson Fury took a s***, it would be his little brother.
"He's literally like this little kid. My point is here. You're Tyson Fury's little brother. If you want to fight me, don't let your big brother do s*** for you.
Log in to Instagram or Twitter and call me out for yourself, bro. What's going on in this boxing world?" said Jake.
The 21-year-old light heavyweight Tommy Fury (5-0, 4 KOs) would be at a huge risk of being knocked out if he took on a slugger like Jake Paul.
Tommy clearly doesn't have the same kind of power, and the knack for the sport that Jake was born with. If Tommy takes that fight, it'll likely end badly for him.
Tyson Fury needs to let his brother Tommy continue to slowly build his career because he's not ready to face someone like Jake right now, and I'm not sure that he ever will. There are certain individuals that are born to be boxers, and Jake is one of them, Tommy isn't.