Mikey Garcia is finally getting his wish to get a big fight against Manny Pacquiao, and he says it's close to being finalized for May. Garcia (40-1, 33 KOs) expects to have all the details for the fight ironed out in a few days.
Mikey's efforts at getting the Pacquiao fight finally appear to be paying off after talking up this fight for the last couple of years.
Although many boxing fans will view this as a cash-grab by two washed-up fighters, it'll still be interesting in terms of supplying entertainment.
He hasn't done anything to earn a fight with Pacquiao, though. Mikey's record at 147 is 1-1 with a defeat against Errol Spence Jr and a win over Jessie Vargas. If Mikey loses, it might be the end of the road for him.
Fans were hoping to see Pacquiao (62-7-2, 39 KOs) take on Errol Spence Jr or Terence Crawford.
It's been two years since Pacquiao last fought, though, and he may view the fight against Mikey Garcia as a nice tune-up to get him ready for the serious matches against Spence or Crawford.
Mikey used to be a great fighter when he was fighting in the lower-weight classes. But since 2019, Mikey has been chasing paydays at 147, and he lacks the size to compete with the best in this weight class.
"We're finalizing all the details, but we hope to get the date exact in the next few days, get an exact date, location, and everything," said Mikey Garcia to @JoAnkier.

"We're trying to get everything done for May. It's not very often you see two of the greatest fighters face each other," said Mikey.
If Pacquiao and Mikey are going to fight in May, it'll be interesting to see if they fight on Cinco de Mayo on May 8th.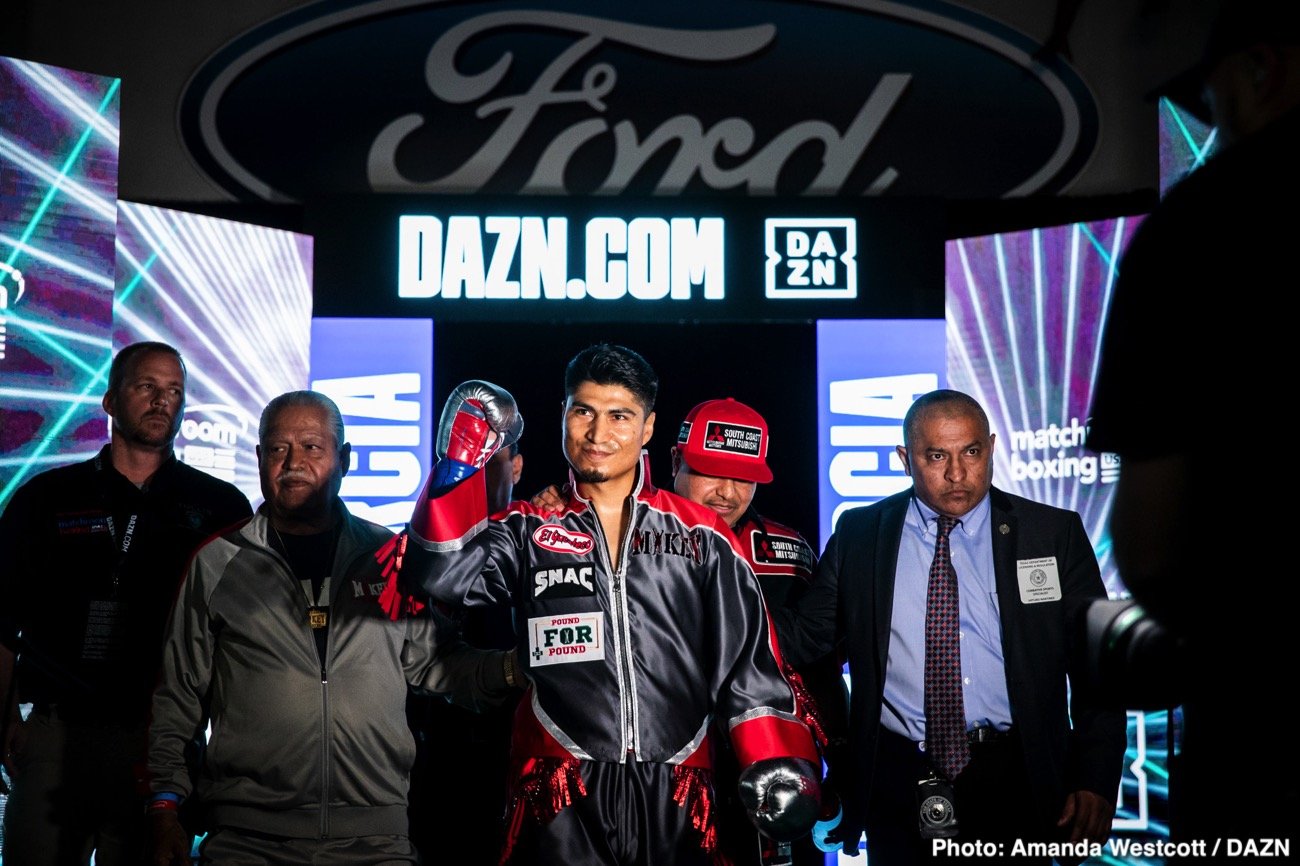 If they go on that date, they'll be competing with the Canelo Alvarez vs. Billy Joe Saunders fight, which will be shown on DAZN.
Mikey is going a little overboard with him, including himself with Pacquiao by saying, "Two of the greatest fighters face each other."
Pacquiao is considered great, but not Mikey. Despite winning world titles in four weight classes, Mikey doesn't have any huge wins. You can argue the best career win for Mikey was his victory over Orlando Salido in 2013.
That was a fight that Mikey jumped out at a huge lead early, but then he gassed started taking punishment in the 8th. The fight had clearly changed hands, and Mikey looked plenty worried.
At the end of the eighth round, Mikey's trainer Robert Garcia pulled him out of the fight due to a broken nose. The nose injury was from a clash of heads.
Salido didn't think too much of Mikey giving up, as he had a broken nose as well, but he wasn't going to quit. Salido is Mikey's best win by far, and it's a tainted one because of how it ended.
As far as Mikey being one of the greats, he doesn't fit that category.
Mikey won his world titles against these fighters:
Cornelius Lock IBF 126
Juan Manuel Lopez – WBO 126
Dejan Zlaticanin – WBC 135
Sergey Lipinets – IBF 140
A lot of boxing fans view Mikey as someone that is trying to cash out with as many paydays at 147 as possible.
Mikey looked very average in his last fight at welterweight a year ago, in February 2020. He beat Jessie Vargas by a 12 round unanimous decision.
"Right now, that's what I'm about to do. I'm going to face a legend," said Mikey.
"I'm pretty excited; we'll have all the details in the next day," Mikey said. So far, it seems like all of the parties are on board.
"It's great for my career and for the fans. It's fascinating for boxing in general to see this type of fight.
"As I said, we've been working on this for years. It's been rumored for many years. Most recently, a year ago, I was ready to do this before COVID happened."
Interview in the Uber! With #MikeyGarcia who'll be fighting #Pacquiao in May! #canelo #afterthefight pic.twitter.com/gFTo6Ob9Bc

— JoAnkier (@Jo_Ankier) March 2, 2021