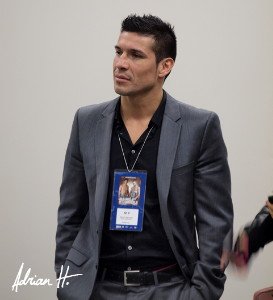 (Photo credit: Adrian Hernandez) By Joseph Herron: After securing his dominance in the Middleweight division with an undefeated three year, six bout campaign, the world of boxing has suddenly become Sergio Martinez's oyster at the tender age of 37.
While many fight fans are clamoring for an immediate rematch with former WBC Champion Julio Cesar Chavez Jr, most boxing scribes see many more enticing match-ups residing south of the Middleweight border for "Maravilla".
Although Martinez has never shied away from a challenge, DiBella Entertainment's "Boxing Publicist" Kevin Rooney Jr. doesn't necessarily see a rematch with Junior as the biggest challenge for "Maravilla".
"Sergio absolutely dominated that fight for eleven rounds and ninety seconds," professes the Junior Middleweight fighter. "A lot of fans seem to be demanding a rematch based on the twelfth round, which is fine. Sergio is by no means leery of getting back in the ring with Chavez, but we think it turns out pretty much the same way as their first encounter."