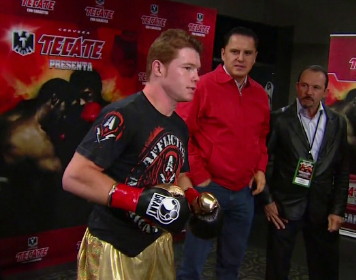 By Rob Smith: According to ESPN writer Dan Rafael, #4 WBC 154 lb contender James Kirkland (31-1, 27 KO's) will replace Paul Williams to face WBC junior middleweight champion Saul Alvarez (40-0-1, 29 KO's) on September 15th at the MGM Grand in Las Vegas, Nevada in a pay-per-view bout. Richard Schaefer, the CEO of Golden Boy Promotions, says the fight is done and ready to go.
It's still kind of difficult to imagine having to pay to see Kirkland fight Alvarez, because Kirkland looked absolutely horrible in his last fight against Carlos Molina last March. Having to pay to see him fight now seems more than a little odd. And I also can't quite stomach the thought of paying to see the inexperienced 21-year-old Alvarez fight, because he's never actually fought anyone that I consider a good fighter. Look at the guys that Alvarez has fought in the past two years and you tell me if he deserves to be headlining a PPV bout:
Shane Mosley
Kermit Cintron
Alfonso Gomez
Ryan Rhodes
Matthew Hatton
Lovemore N'dou
Carlos Baldomir
Luciano Leonel Cuello
Jose Miguel Cotto
Brian Camechis
I'm sorry but I don't see that as the kind of resume for someone headlining a PPV bout. To me, that's a regular HBO or ESPN2 fighter at best.
As of now, this is all there is for the undercard:
Jhonny Gonzalez vs. Daniel Ponce De Leon
I don't think this is a PPV worthy fight either. I've seen both of those guys get knocked out and haven't seen them face really dangerous guys since they've been knocked out.
The Alvarez-Kirkland fight is a good start for Alvarez, but I'd like to see him facing better quality fighters in the future before I see him as a PPV fighter. The Kirkland fight will be an easy one because Kirkland has mediocre defensive skills and he was just exposed by Molina. You can make an argument that Molina deserves the Alvarez fight more than Kirkland, and I definitely wouldn't want to pay to see Alvarez vs. Molina either.