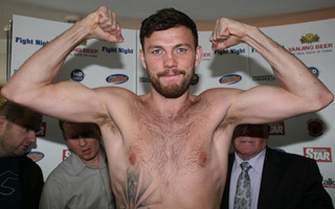 By Dan Fitz-Simons: It's beginning to look as though 2012 will be the year Andy Lee 28-1-0 (20 KOs) wins a middleweight title. But the question remains what title, and against which champion? The most likely alphabet candidates include: Kelly Hope, the new Welsh EBU champion; aging WBA champion Felix Sturm in his German bunker; Daniel Geale, King of the Australian outback; and the elusive Dimitri Pirog in mother Russia. Last on the list is "the real champion" Sergio Martinez, who seems the least likely opponent. There's a good chance Martinez may vacate the middleweight belt to opt for greater pound-for-pound glory. Such a move could be a blessing in disguise, because Lee just isn't at "Maravilla's" level.
Yet you have to wonder why so many efforts have been made to import foreign contenders like Barker, Rubio, Zbik, Macklin, and Murray for title fights. Lee himself said, "I am a prize fighter, that's what I do and why I came to America." Some argue Lee is such a poor prospect that promoters must go overseas to find a more worthy opponent. But the fact is Lee hasn't gotten a title fight because he has power in both hands and a good chin. His southpaw style and 13-fight winning streak (7 by KO!) make him a dangerous challenger. No promoter wants to risk his title holder against Lee. Last year, he streched out Craig McEwan for over a minute and went on to avenge his only loss in a brilliant boxing clinic against Bryan Vera..
Lee began fighting in London at 8, and continued boxing in his native Limerick, winning bronze and silver medals and representing Ireland in the Olympics. He fought in Greece, Thailand, Croatia, and Cuba and faced rated amateur opponents including Barker, Angulo, Golovkin and N'Dam N'Jikam. After turning professional six years ago, he began training under Manny Steward at Kronk, and he's become an entertaining fighter in the U.S. and Europe. The 6'2" southpaw has never been knocked down and has outstanding athletic ability. Like Chavez Jr., Lee is a "big" middleweight and at 27, he's in his prime. An exciting boxer-puncher with above average skills, he has the tools to put on an exciting performance in a championship bout. He's ranked: WBA # 2; WBO #2; WBC # 4; and Boxrec # 6.
However, Andy still has some issues to work on including holes in his defense, and a focus problem. The Castleconnell man is a persistent foe who patiently stalks his opponents while analyzing their weaknesses. Unfortunately that tactic can lead to hesitation or loss of momentum, allowing an opponent time to gain the initiative, reset, or get in a quick shot before defensive action can be taken. Lee also has credibility problems with U.S. fans because of his ackward, stand-up (European) style, which Steward has chosen not to change. Another area of contention is that he hasn't fought a top-ten contender before going into a championship fight.
Nevertheless, Steward views Lee as an exceptionally talented fighter, and he's been showing Andy off as his "left-handed Tommy Hearns." Before his tune-up win against Mexican journeyman Saul Duran, Lee was sparring with Ronald Hearns and Cornelius Bundrage. He's extremely personable outside the ring, but heaven help the opponent who makes the mistake of standing in front of the lanky Irishman. Steward believes it makes good business sense for promoters and HBO to televise a Lee championship fight. Andy for his part would like to "get it on" against Julio Jr., since "the Mexican and Irish people like a good fight." But if that doesn't pan out, he'll be gunning for Geale, Sturm, or Pirog; 2012 could be a big year for Andy Lee.