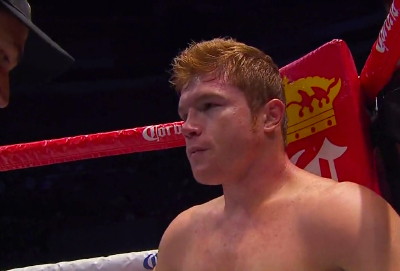 STILL THE KING
GBP President Oscar de la Hoya may be retired from active duty in the ring, but he's still the king when it comes to the Guinness Book of World Records as it was announced during the WBC's 49th Annual Convention in Las Vegas in December that the "Golden Boy" holds world records for the highest Career Pay-Per-View Sales by a Boxer ($696 million) and the highest Selling Pay-Per -View Boxing Match (2.4 million buys for his fight against Floyd Mayweather in May of 2007).
B-HOP MAKES HISTORY AGAIN
Also joining De La Hoya in the Guinness Book of World Records in 2011 was future Hall of Famer Bernard "The Executioner" Hopkins. Following his controversial December 2010 draw with Jean Pascal, Hopkins bounced back in May with a clear-cut 12 round decision win over his Canadian rival, winning the WBC and Ring Magazine Light Heavyweight World Titles and becoming (at 46 years, 126 days) the oldest boxer to win a major championship in the history of the sport.
THE RETURN OF "EL TERRIBLE"
Having already cemented his place in the Boxing Hall of Fame, Mexican legend Erik "El Terrible" Morales stunned boxing insiders in 2011 when his comeback after a nearly three-year layoff kicked into high gear with a stirring 12-round battle against Marcos "El Chino" Maidana in April in a Fight of the Year candidate. That impressive performance set the stage for Morales' 10th round technical knockout win over Pablo Cesar Cano that earned him the WBC Super Lightweight World Title and a place in the record books as the first Mexican fighter to win world championships in four different weight classes.
CANELO CONTINUES TO DOMINATE
Boxing's breakthrough star of 2011, Mexico's Canelo Alvarez skyrocketed from prospect to world champion, and he did it with the style and charisma that has made him a star both at home and in the United States at just 21 years old. In March of 2011, Alvarez made his first statement by defeating Matthew Hatton for the WBC Super Welterweight World Title, but knockout wins in title defenses against Ryan Rhodes in his hometown of Guadalajara in June and Alfonso Gomez in Los Angeles during Mexican Independence Day weekend only added to his ever-growing resume. In November, Alvarez closed out the year with a technical knockout win over former World Champion Kermit Cintron in Mexico City, setting the stage for an even bigger year in 2012.
ORTIZ EMERGES AS LEGIT STAR
"Vicious" Victor Ortiz also had a year to remember in 2011. On April 16, Ortiz captured his first world title when he rose from the canvas twice to send then WBC Welterweight World Champion Andre Berto down twice himself en route to a 12-round decision victory in a slugfest that earned praise as one of the top fights of the year. Ortiz wasn't done yet, facing pound for pound king Floyd Mayweather in a September mega-fight which ended in controversy. The Kansas native will get a chance to clear his name with an early 2012 rematch against Berto.
ANOTHER BIG YEAR FOR THE KING
The fighting pride of Bolton, England, Amir "King" Khan kept the momentum going from his stellar 2010 campaign with a win over unbeaten Paul "Dudey" McCloskey in April and a fifth round knockout over Zab "Super" Judah in July to unify the 140 lb. division. Although he ended 2011 with a controversial decision loss to Lamont Peterson which is currently under multiple appeals, expect to see the wrath of "King" Khan unleashed on the boxing world in 2012.
KIRKLAND'S BACK
After two years away from the game, many wondered whether James "Mandingo Warrior" Kirkland would be able to recapture the form that made him "must see TV" for fight fans around the world. In 2011, the fiery Texan made plenty of noise once again, flying out of the gate with two quick knockout wins before an upset loss to Japan's Nobuhiro Ishida in April. Undeterred, Kirkland teamed back up with trainer Ann Wolfe and got back to work, winning three straight bouts, including a brawl for the ages against former World Champion Alfredo "El Perro" Angulo in November that saw Kirkland get off the deck and come back to floor Angulo in a "Round of the Year" candidate first round en route to scoring a sixth round technical knockout victory.
THE SPORT OF BOXING IS ALIVE AND WELL
The fighters and staff at Golden Boy Promotions are known for not taking any days off and tirelessly working to bring the best of "the sweet science" to a global audience. There were no exceptions to this rule in 2011 as over the course of the year, the company was involved with the promotion of 103 live events on 12 television networks in eight countries on five continents.
GOLDEN BOY'S FIRST HOMEGROWN KING IS CROWNED
A Golden Boy fighter since his pro debut shortly after the 2004 Olympics, Abner Mares became the company's first homegrown World Champion in 2011 when he decisioned Joseph King Kong Agbeko in August to win the IBF Bantamweight World Title as well as SHOWTIME's Bantamweight Tournament.
AND THE TITLES KEEP COMING
Joining Abner Mares on the Golden Boy world championship roster in 2011 with brand new world title belts were the legendary Bernard "The Executioner" Hopkins and Erik "El Terrible" Morales as well as Canelo Alvarez, Marcos "Chino" Maidana, Adrien "The Problem" Broner, Robert "The Ghost" Guerrero and "Vicious" Victor Ortiz. Other standouts on the Golden Boy roster who wore championship gold this year were current champs Chris "The Dragon" John, Anselmo "Chemito" Moreno and former world titleholders Amir "King" Khan and David "Hayemaker" Haye making it clear that, without question, the best fight here!
MORE CHAMPIONS ARE BROUGHT ON BOARD
In 2011, Golden Boy signed another stellar group of former World Champions that are major players in their respective divisions and primed for big fights in 2012. Former Junior Welterweight World Champion Devon "The Great" Alexander and former Lightweight World Champion Humberto "Zorrita" Soto were signed via co-promotional agreements with The Great Promotions and Baja Boxing Promotions respectively. Also joining the Golden Boy team this past year were former Junior Middleweight World Champion Alfredo "El Perro" Angulo and former Welterweight World Champion Luis Collazo, which will help set the stage for a 2012 to remember.
SEPTEMBER TO REMEMBER
September 17, 2011 is a day that will be long remembered in the history books as the first ever split site HBO Pay-Per-View broadcast. Golden Boy and co-promoter Mayweather Promotions pulled off a feat many deemed impossible as they presented a single broadcast, dual site event emanating from Las Vegas and Los Angeles. In Vegas at the MGM Grand Garden Arena, Floyd "Money" Mayweather scored a knockout victory over "Vicious" Victor Ortiz, Erik "El Terrible" Morales halted Pablo Cesar Cano in an exciting brawl and Jessie Vargas decisioned Josesito Lopez. Fans at LA's STAPLES Center saw Canelo Alvarez stop Alfonso Gomez in six rounds along with a full undercard and concert to end the night. By all accounts, it was an amazing night no matter where you watched it.
GLOBE-TROTTING IN APRIL
Golden Boy hit the friendly skies on the weekend of April 16-17 with three world championship fights in two days in three countries and on three continents. First up, Amir "King" Khan defended his WBA Super Lightweight World Title with a technical decision win over unbeaten Paul "Dudey" McCloskey in Manchester, England. A few hours later, "Vicious" Victor Ortiz won his first world title by decisioning Andre Berto for the WBC Welterweight World Championship in Mashantucket, Connecticut. Not to be left out, longtime WBA Featherweight World Champion Chris "Dragon" John defended his belt for the 14th time when he decisioned Daud Yordan in his home country of Indonesia.
THE KIDS ARE ALL RIGHT
If you're wondering about the future of the sport, to assuage your fears, look no further than Golden Boy's roster of young talent, which includes standouts such as Manuel Avila, Alfonso Blanco, Sharif "The Lion" Bogere, Randy Caballero, Pablo Cesar Cano, Jermell Charlo, Omar Figueroa Jr., Danny "Swift" Garcia, Eddie Gomez, Frankie "Pitbull" Gomez, Danny "The Golden Child" Jacobs, Jamie "The Nuisance" Kavanagh, Erislandy Lara, Jorge "El Nino De Oro" Linares, Lucas Matthysse, Craig McEwan, Seth "Mayhem" Mitchell, Carlos Molina, Ivan Morales, Antonio Orozco, Eloy "Prince" Perez, Michael "The Artist" Perez, Marco Antonio Periban, Peter "Kid Chocolate" Quillin, Luis Ramos Jr., Ronny Rios, Gary Russell Jr., Leo Santa Cruz, and Deontay "Bronze Bomber" Wilder.
"SÓLO BOXEO" ROLLS ON
The most beloved weekly series in boxing, TeleFutura's "Sólo Boxeo Tecate," completed another successful year in 2011 which not only featured a varied array of former champions, challengers and top prospects, but also allowed fans to relive some of the sport's most memorable matchups through its "Classics" editions.
THE NEW KID IN TOWN IS A HIT
Golden Boy partnered with Mexican television giant Televisa to present the "Sabados De Corona" series in 2011 and it was an immediate hit with fight fans around Mexico thanks to compelling cards featuring some of the sport's premier international talent. Thanks to AT&T's U-Verse, viewers in the United States were also able to get in on the action whether watching on TV, the internet or on their mobile devices.
LOS ANGELES' HOT SPOT IS STILL "FIGHT NIGHT CLUB"
If you're a Southern California fight fan, then you know that the only place to be on Thursday nights in 2011 was Club Nokia at L.A. LIVE for Golden Boy's and AEG's "Fight Night Club." Continuing to set the bar high for local fight action in a club-like atmosphere, "Fight Night Club" was just as exciting in the ring as outside of it, with local heroes Jessie Vargas, Frankie Gomez, Ramon Valadez, Jamie Kavanagh and Alfonso Blanco fighting in front of celebrity fans such asOscar de la Hoya, Amir Khan, Victor Ortiz, Abner Mares, Sergio Mora, Daniel Ponce De Leon, Paulie Malignaggi, Michael Katsidis, Andre Berto, Ron Artest, Mario Lopez, Too Short and Baby Bash.
A REMINDER ABOUT WHAT'S IMPORTANT
In March, Golden Boy President Oscar de la Hoya and three of his team's brightest young stars, Adrien "The Problem" Broner, Danny "The Golden Child" Jacobs and Seth "Mayhem" Mitchell, traveled to several military bases in Kuwait as part of a USO Tour to meet and greet troops stationed in the Middle East. It was a humbling experience for the quartet who were reminded of the sacrifices made by the United States Armed Forces as they defend our great country. The trip, which included autograph signings and technique demonstrations, was a rousing success for everyone involved.
HOLIDAY GIVING
Local families in East Los Angeles were joined by Oscar de la Hoya and IBF Bantamweight World Champion Abner Mares for the Oscar de la Hoya Foundation's 15th Annual Turkey Giveaway on November 19th. It was a day to remember and one that guaranteed a holiday feast for members of the community where the "Golden Boy" grew up. A few weeks later, children who showed up to the Oscar de la Hoya Foundation Holiday Toy Giveaway at the Oscar de la Hoya Animo Charter High School in Los Angeles on December 17th got some surprises in their Christmas stocking thanks to the De La Hoya Foundation, but the biggest surprise may have been that the man dressed up as Santa Claus was none other than the "Golden Boy" himself, who thrilled the children and their parents as he interacted with hundreds of children to celebrate the holiday season.
NOW A WORD FROM OUR SPONSORS
No promoter can go worldwide with the best fights and fighters without partnering with an array of like-minded companies that support the sport and its athletes. In the case of Golden Boy Promotions, we would like to extend a sincere thank you to our 2011 sponsors: Cerveza Tecate, DeWalt Tools, AT&T, Corona, Budweiser, Cazadores, Tres Generaciones, Metro PCS, Super A Foods, Ustream and MicroTech.
All of us at Golden Boy look forward to an even more explosive 2012…
"Irish" Micky Ward to Attend Palace Boxing Weigh-in in Auburn Hills
MEET "IRISH" MICKY WARD
AT THE OFFICIAL WEIGH-IN FOR
THE FRIDAY, JANUARY 6, 'WINTER WARFARE'
BOXING EVENT AT THE PALACE OF AUBURN HILLS IN AUBURN HILLS, MICHIGAN
OPEN TO THE PUBLIC
Thursday, January 5, at 6:00 p.m. at
The Holiday Inn in Auburn Hills –
Food and Beverages Will Be Served
micky ward
The official weigh-in for Friday, January 6's "Winter Warfare" professional boxing event presented by Donofrio Entertainment (in association with Palace Sports and "First Lady of Boxing" Jackie Kallen) at the Palace of Auburn Hills in Auburn Hills, Michigan, will be held on Thursday, January 5 at The Holiday Inn in Auburn Hills at 6:00 p.m.
The weigh-in is open to the public and the great "Irish" Micky Ward, subject of the Oscar nominated movie "The Fighter" will be in attendance to shake hands and sign autographs. All fighters and event promoters Joseph Donofrio and Jackie Kallen will also be available for interviews, autographs and photo opportunities.
The Holiday Inn in Auburn Hills is located at 3990 Baldwin Road (Tel: 248 322-7000).
Tickets for the "Winter Warfare" are available at The Palace of Auburn Hills Box Office, palacenet.com, all TicketMaster outlets or via charge by phone at 248-645-6666.
Doors open at 6:00 pm and fights start at 7:00.
Ramos vs. Beltran, Perez vs. Figueroa on 1/6 at Fantasy Springs Resort
RAMOS vs. BELTRAN
PEREZ vs. FIGUEROA
Friday, January 6, 2012
Fantasy Springs Resort Casino
Indio, CA
ShoBox
RED CORNER BLUE CORNER
MAIN EVENT – VACANT FEDELATIN LIGHTWEIGHT TITLE – 10 ROUNDS
Luis RAMOS vs. Raymundo BELTRAN
Santa Ana, CA Hollywood, CA
20-0 (9 KO's) 25-5 (17 KO's)
CO-MAIN EVENT – VACANT World Boxing Organization (WBO) INTER-CONT. YOUTH LIGHTWEIGHT TITLE – 10 ROUNDS
Michael PEREZ vs. Omar FIGUEROA
Newark, NJ Weslaco, TX
15-0-1 (9 KO's) 13-0-1 (10 KO's)
WELTERWEIGHTS – 6 ROUNDS
Michael FINNEY vs. Hector OROZCO
Las Vegas, NV Hopkins, MN
7-0 (7 KO's) 4-9
JUNIOR WELTERWEIGHTS – 4 ROUNDS
Gerardo JUAREZ vs. TBA
Palm Springs, CA
Pro Debut
MIDDLEWEIGHTS – 4 ROUNDS
Christopher PEARSON vs. Cleven ISHE
Troutwood, OH Long Beach, CA
1-0 (1 KO) 3-4 (1 KO)
MIDDLEWEIGHTS – 4 ROUNDS
Ricardo MALFAVON vs. Stephen RUBALCAVA
Santa Ana, CA Exetan, CA
1-7-1 (1KO) 0-7