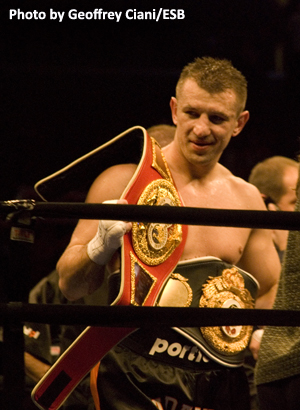 by Geoffrey Ciani at Ringside – When it was first announced that Vinny Maddalone was going to be Tomasz Adamek's next opponent a lot of fans were disappointed. After all, Adamek has proven his worth as an elite-level heavyweight and as such, there were certainly better options available. Most fans expected an easy night for Adamek who had won four straight fights since making the jump to heavyweight just over a year ago, including an impressive victory over ranked contender Chris Arreola.
The fight went more or less as expected. Right from the opening bell, it was apparent that Adamek was the much quicker fighter. He established his jab early and used his superior speed to dictate the pace. Adamek was doing some nice body work and landing some good left hooks, while controlling the distance with good footwork and movement. Maddalone was unable to get much going.
Maddalone finally landed something of note in the second round, but Adamek still controlled the action as he continuously peppered Maddalone with quick short combinations. This theme continued in round three. In round four Adamek had Maddalone hurt and landed a flurry of shots that rocked his bigger foe. Maddalone almost appeared as if he was ready to go, but in the midst of the barrage he landed a big shot of his own which got Adamek's attention.
A nice right hand followed by a tremendous left hook dropped Maddalone in the fifth. He beat the count, but was on uneasy legs. Adamek moved in for the kill while Maddalone did everything in his power to fend off the attack. Unfortunately for Maddalone, Adamek was just too quick and accurate with his shots. He was unable to successfully return fire and despite showing a lot of heart, his corner wisely threw in the towel and stopped the fight..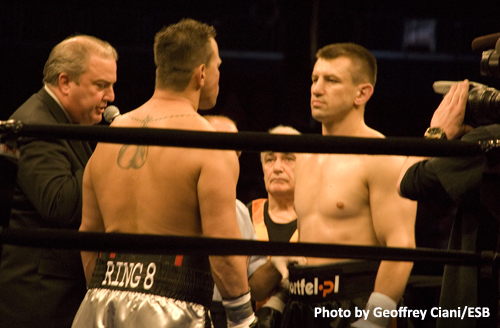 For Adamek, this was his first knockout victory in over a year as he now improves to 43-1 with 28 wins coming by way of knockout. Maddalone drops to 33-7. Adamek would not say he who he would fight next, but he indicated he could be back in action as early as April. Rumor has it that Roy Jones Junior or even perhaps Evander Holyfield could possibly be next if Adamek is unable to land a title shot against David Haye or one of the Klitschko brothers.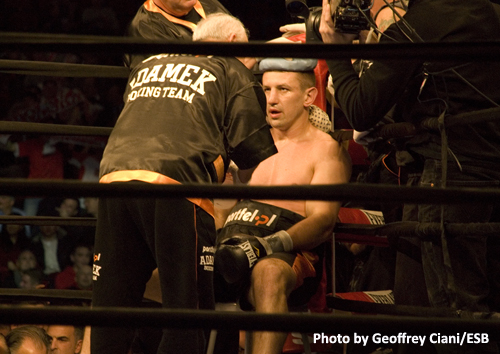 ***
On the under card, Polish middleweight Patrick Majewski improved to 15-0 with an eighth round stoppage against the very tough Eddie Caminero. Majewski, who fights a lot like a younger version of Adamek, was in control throughout most of the contest. He was battering Caminero with a variety of hard shots which seemed to get worse as the rounds progressed. Each fighter was cut, and as early as round two both fighters were bleeding all over the place. Majewski never lost focus, despite continued awkward attacks from Caminero. In the eighth and final round, Majewski closed the show in brutal dramatic fashion, much to the delight of the Polish fans in attendance. With his unique personality and his crowd-pleasing style, Majewski could become an exciting fixture in the middleweight landscape.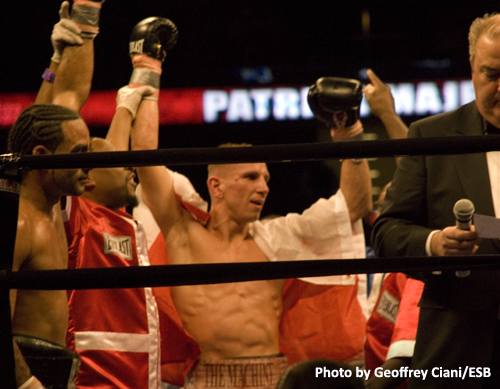 Also on the under card, Sadam Ali improved to 11-0 with an eight round unanimous decision victory over Manuel Guzman. It was a somewhat dull affair in which Ali dominated the action, but it could still prove to be a valuable learning experience for Ali who went eight full rounds for the first time as a professional. Ali is still very much a work-in-progress, but at 22 years old he has plenty of time to develop. He is fast, athletic, and has a solid set of skills.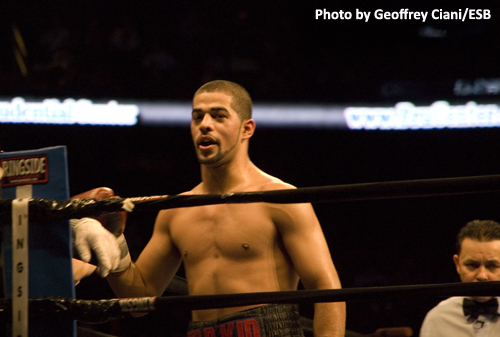 In a clash of junior middleweights Gabriel Rosada beat Jose Medina in an eight round unanimous decision. Rosada scored a knockdown in the third and was able to control the action during most of the rounds, but Medina did have his moments. In the end, Rosada's style was all wrong for Medina who often played right into his opponent's strengths. It was a good win for Rosada and an entertaining scrap for the fans.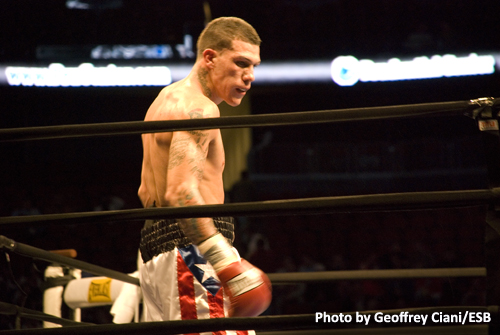 Tarvis Simms returned to action for the first time in over fourteen months. He beat Willis Lockett in a six round unanimous decision. Simms showed some signs of rust, which is natural given his long period of inactivity. He dropped Lockett with a nice left-right in the opening round, but Lockett persevered and fought on. Simms dominated the action thereafter. Even though Lockett was thoroughly outclassed, he showed a lot of heart. It was a decent comeback victory for Simms, but at 39 years old it is difficult to say where he fits into the 160 and 168 pound pictures.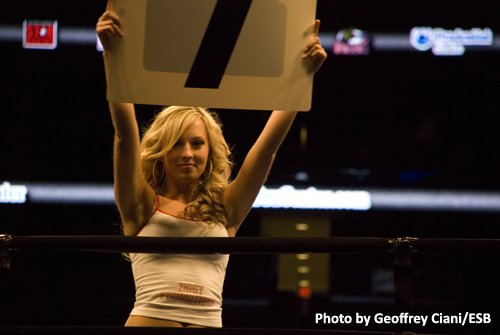 On the untelevised portion of the card, light heavyweight Angel Concepcion won a four round unanimous decision against Lekan Byfield, and heavyweight Bryant Jennings improved to 5-0 with a second round technical knockout victory against Randy Smith.
***
***
To learn more about "On the Ropes Boxing Radio:
Visit our official Website:
http://www.ontheropesboxingradio.com
Join our Facebook Group:
http://www.facebook.com/group.php?gid=231954175413&ref=ts
Or Follow us on Twitter:
http://twitter.com/JennaOnTheRopes
To contact Geoffrey Ciani or Jenna J:
ontheropes@boxing247.com
To read more by Ciani or Jenna please visit The Mushroom Mag:
http://www.eatthemushroom.com/mag