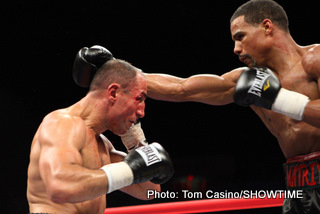 By John "Hermit" Smith: On October 17, 2009 Andre Dirrell found himself in a fight he might not have been completely ready for. With only 18 professional bouts under his belt he was fighting for a world title in a foreign country against a proven opponent in the champs home town. He had clearly out boxed his opponent in several spots during the fight and even had the champ, Carl Froch, looking silly swinging at the air as "The Matrix" lived up to his handle. He complained to his corner that the champ was a dirty fighter, yet as he stood there, center ring, it was the young Dirrell that was having the point deducted to the delight of the partisan home town crowd. Then something happened. We have all seen fighters "grow old overnight", but have we ever seen a fighter mature and grow up in the time it takes the referee to deduct a point before? We have now. Thus began the rise of Andre Dirrell. Many say that Dirrell deserved to lose that fight because he didn't fight like a champion. Well, he certainly did after the point deduction. He engaged, he hurt Froch, he was on fire. Many watching felt he had won the fight, but only one of the three judges agreed with that opinion.
His next fight would be even tougher. A 31-0 middle weight champion that had vacated his title to move up in weight to take part of the prestigious "Super 6 World Boxing Classic" Super Middle Weight Tournament.. Arthur Abraham had positioned himself in the minds of many as the favorite to win the tournament with a KO so powerful that it ended up knocking former undisputed Middle Weight Champion Jermain Taylor completely out of the tournament and into retirement. Many considered Abraham to have the pound for pound punching power title. Dirrell wasn't being given a chance by many observers or the odds makers either. They were expecting the less mature Dirrell to show up. They were wrong. Dirrell picked up where he left off in Nottingham and proceeded to put on a boxing clinic that battered the former champ like he had never been before. He suffered his first knockdown and his bruised, cut and bloodied face was an accurate account on who was winning the fight. Arthur must have been thinking at this point that he should have tried harder to make the weight and remained champ at a lower weight class. He was easily on route to his first loss. He knew he needed the knockout to win.
Going into the 11th round the young Dirrell could probably already start to taste the biggest win of his young career. He was upsetting Abraham, figuratively and literally. He would stand center ring. He would have his hand raised. He would hear his name announced and his home town fans cheering. He would soak in the moment he had worked so hard for. He would shine. It was not to be. As he was slipping Abraham's punches he also slipped on water carelessly left in the ring by Abraham's corner. The fight had been stopped earlier to let the ref clean it up once. Once was not enough. Dirrell's foot slipped and went out from under him. As he was down in an awkward position, the man considered by many to hold the pound for pound 'punch power' title lowered the "Abrahammer" on Dirrell's exposed, unsuspecting chin. Out went the lights. Abraham turned to the ref and raised his hands in victory. He had the come from behind KO that he so desperately needed. Thus began the fall of Andre Dirrell.
You probably know by now there was a problem with Abraham's punch. While Arthur may have seen that Dirrell's right hand and knee were off the canvas, he failed to notice that his left hand and knee WERE on the canvas. The referee disqualified Abraham and called on the ring side physicians to attend to the downed warrior Dirrell.
The following ring interview turned the night into a bigger fiasco yet. I have watched the interview several times to make sure of the accuracy of what I was hearing. Abraham clearly states he thought it was a clean KO because he though Dirrell wasn't down, he was 'like this'. The ring announcer throws him a lifeline and suggests that maybe the blood from the cut on his battered face had impaired his vision. Finally they show Abraham the replay and he can see that Dirrell was clearly down. Stinging from his first defeat, in a foreign land and coping with a foreign language he desperately is still seeking a way to turn this around. Then came the line. That dreaded, awful line. "He is an actor. " We don't see who says it first. Original reports were that it was maybe Wilfried Sauerland. I think after reviewing it the interpreter was just repeating what Abraham said in German and giving him the English words. Sauerland later issued a statement as reported here on ESB: "After reviewing the tape, Sauerland stated that a clearly exhausted Dirrell seized his chance to sneak out of the fight when the chance presented itself, especially with Abraham upping pressure before the controversial ending. "The TV pictures indicate that Dirrell was down, but there is no way Arthur could have realized that in the heat of the moment. He was just trying to keep up the attack. However, Dirrell is a very good actor. We are glad that his check-up at the hospital turned out just fine but frankly we did not expect any other outcome since he was just acting. He deserves an Oscar for his performance.
There it is from Wilfried Sauerland himself. Andre is not the victim. It is his fighter, Arthur Abraham, who was robbed of certain victory. Dirrell's fall is now complete.
Or maybe you care to take a closer look at the record and make your own decision? Abraham himself clearly states in the post ring interview that he thought it was a legal KO before changing his tune. When did the "Abrahammer" become the "Abrafeather"? The referee stopped the fight and disqualified Abraham. There could be no 5 minute shake off period. The doctor's were concerned for his well being and feared serious damage. They would not have let the fight go on. The medical staff had objective criteria to use when assessing Dirrell's condition. Things like pupil dilation that simply cannot be faked by a human being. Little mannerisms that won't be recognized by people not trained to do so.
We can also postulate that if anybody was going to get stopped, it may have well been Abraham. He was in desperation mode and opening himself up to counters, something Dirrell was taking advantage of all fight long. Dirrell hurt Froch. He was capable of hurting Abraham. If you want to accuse one of the fighters of looking for a way out, why could it not be Abraham? Direll could have further opened the cut over Abraham's eye and gotten a referee stoppage. That point may ultimately cost Dirrell entry into the semi final round. Maybe it was Dirrell who was robbed most in the points department?
I have heard that Arthur Abraham has acknowledged the defeat and the knockout, but no one has been able to provide me with a link to this. In fairness, Abraham also said "I wish him all the best and hope he is fine". But that is not quite enough. He needs to give Andre Dirrell his full props and disown the acting accusation. Many think that the line "He is an actor" sealed shut Abraham's dream of being a star in the US. Wrong. Dirrell did that in the ring with his boxing abilities. Abraham just added what well be the boat anchor if he doesn't do the right thing and he must do it soon