Michael Katsidis is relishing a big return to the UK to take on Kevin Mitchell – because British crowds make him fight like Rocky. The dynamite-fisted Aussie defends his interim WBO World lightweight title against Mitchell on May 15 at West Ham's world famous Boleyn Ground at Upton Park. And Katsidis admits that he'll get a hostile reception in London's east end. But the 29-year-old power puncher isn't fussed after previously coming to the UK to take on Graham Earl in a thriller at Wembley Arena in 2007. That night he was booed to the ring by a 10,000 strong crowd, but left to cheers after being involved in an all-out thriller which saw both men trading leather during five explosive rounds..
And he says that although he'll walk into Upton Park a villain, he'll leave a hero.
"I wanted this fight in my home state of Queensland, but the next best thing is having it in London," said Katsidis.
"My fight against Graham Earl was a very special occasion, but Mitchell will be even better.
"Fighting in front of British crowds is something else, I promise you.
"My fight against Earl was like Rocky IV when Rocky has to go to Russia to face Ivan Drago.
"When the fight starts everyone hates him, but by the end they are on their feet cheering.
"That's what happened with Graham Earl because in that fight we both took a lot of punishment and showed that we were prepared to go out on our shields.
"I've got lots of happy memories of that night because I won my title and that allowed me to go to America and make a name for myself there.
"Mitchell will do the same for my profile, and no one will be going home disappointed with the quality of the action. I've got this whole warrior image and it won't be changing it for this fight.
"There will be thousands of Aussies in the crowd as well, and when me and Kevin get it on, the atmosphere will be unbelievable."
Tickets for 'Hammer Time', priced at £30, £40, £50, £80, £150, £200 & £250, are available from:
West Ham Ticket Hotline: 0871 222 2700*
Website: www.whufc.com
See Tickets Ticket Hotline: 0871 2200 260*
Website: www.seetickets.com
Ticketmaster: 0844 847 2500*
Website: www.ticketmaster.co.uk
Mitchell: This is my "Kostya Tszyu" moment
British hot-shot Kevin Mitchell says his massive clash with Michael Katsidis on May 15 will be his "Kostya Tszyu" moment. That's because the unbeaten Eastender believes that if he beats the hammer-fisted Aussie his career will rocket in the same way Ricky Hatton's did after he stopped former undisputed champ Tszyu in 2005. "After Hatton beat Tszyu he became a big name in the states," said 25-year-old Mitchell, who challenges Katsidis for the interim WBO World lightweight crown on May 15 at West Ham's Boleyn Ground at Upton Park.
"I can see the similarities between the Katsidis fight and the opportunity Hatton had that night in Manchester.
"Just like Katsidis, Tszyu had a reputation for being heavy-handed and people thought he was a very dangerous opponent for Hatton who might be too experienced and just too good.
"But Ricky came of age that night and I'll do the same against Katsidis.
"Hatton took the fight to Tszyu and broke his heart, and that will be my game plan against Katsidis.
"He's a good fighter but he's one-dimensional and I plan to put him under pressure and stop him late on. Katsidis won't like hearing this but it's going to be another win for Britain.
"The fans made a big difference up in Manchester when Hatton beat Tszyu, and I know everyone in the east end is going to get behind me.
"Having home advantage will be a big help, but unfortunately the fans can't get in the ring with you, and I know I'm going to have to dig deep if I want this win.
"I got a lot of praise for beating Breidis Prescott. The papers said it was the most mature performance of my career, but it won't mean a thing if I blow it against Katsidis.
"This is my big chance to shine, and I won't be letting anyone down."
WINSTONE BACKS MITCHELL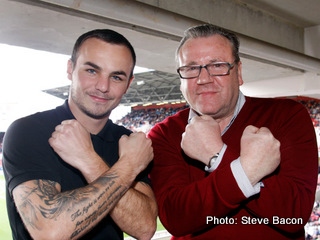 Kevin Mitchell came face to face with an east end legend on Saturday – and then vowed to become one himself.
Mitchell met up with former amateur boxer, and current box office star, Ray Winstone during West Ham's Premiership clash with Stoke City on Saturday.
The Hammers lost, but Mitchell promised to bring some much-needed cheer to Upton Park when he fights Australian puncher Michael Katsidis on May 15.
Mitchell, unbeaten in more than 30 fights, will challenge for the interim WBO World lightweight title, and will be roared on by Winstone, who hopes to make it to the fight, and a host of other East End celebrities.
Speaking of their meeting, Winstone said: "I've said in the past that Kevin is the only kid that I watch boxing these days – he's all-action, exciting with a knock-out punch.
"He's the best boxer to come out of London in many-year and I'm so happy for him that he's challenging for the world title at West Ham's ground."
Mitchell added: "It was an honour to meet a movie star like Ray who is a real nice down-to-earth fella.
"I only popped in for a photo with him, but I ended up staying in his box for the whole of the Stoke game!
"He's was a top amateur boxer in his youth and we had a good crack.
I'm a big fan of his films, but it surprised me how much he knew about me and my career.
"He said that he wants to be at Upton Park on the night of the fight, work commitments allowing, which will be a massive boost for me.
"I want to be a household name like Ray, and beating up Katsidis in front of all my fans will help to put me on the map."
'Hammer Time' is headlined by Kevin Mitchell's challenge for the WBO Interim World Lightweight Championship against Michael Katsidis. A quality packed undercard includes the British and Commonwealth Heavyweight Championship between Danny Williams and Sam Sexton; Olympic Gold medallist James DeGale challenges for the first title in his career – the WBA International Super-Middleweight Championship; unbeaten heavyweight star Derek Chisora; and Britain's hottest young prospects Frankie Gavin and Billy Joe Saunders. Plus more fights to be added.
Tickets for 'Hammer Time', priced at £30, £40, £50, £80, £150, £200 & £250, are available from:
West Ham Ticket Hotline: 0871 222 2700*
Website: www.whufc.com
See Tickets Ticket Hotline: 0871 2200 260*
Website: www.seetickets.com
Ticketmaster: 0844 847 2500*
Website: www.ticketmaster.co.uk