Here are the weights from Manchester ahead of WBA Heavyweight Champion David Haye´s first title defence against John Ruiz. WBA Heavyweight Title: David Haye (Champion) – 222 lbs (100,7 kg / 15st 12lbs) l John Ruiz (Challenger) – 231 lbs (104,8 kg / 16st 7lbs)
David Haye – "I always plan to knockout my opponent. John Ruiz is a tough guy. He's in the best shape of his life, no secret. As heavyweight champion, everybody's coming for me. I'm expecting 12 tough rounds. I've trained for 12 tough rounds…or less. In shape, nobody in the world can go 12 rounds with me.."
"John Ruiz has been there before. I wasn't going to give him too much verbal. He does his talking in the ring. I plan not to let anybody get into the fight. I will establish what I want to do to negate his game plan. I don't underestimate John Ruiz. When we signed to fight John Ruiz, I knew it was going to be a tough fight."
"I've always punched hard. I believe I'm the hardest puncher, pound-for-pound, in the world. He (Ruiz) has been stopped only once, 14 years ago by one of the toughest punchers (David Tua). I look to make a statement, do something dramatic. He does 2-3 things in a fight that people hadn't noticed. He's very good at everything, not excellent in any area. He has all of the punches in the book and very effective. Others didn't study and underestimated him. I won't fall into that trap."
"I believe I'm a born winner. I always think about winning."
John Ruiz…..
"First, I want to thank the people of Manchester, especially for the great hospitality they've given me and my team. I've been here (England) before and I hope to keep my record (6-0 in England) going. This is a great opportunity for me, my team, family and friends. We'll put it to works Saturday night."
"I've heard it all before – they're going to knock me out or put me six-feet under. I've heard it all. Boxing is a sport where you go out and fight."
"Age is just a number. It all depends on how you feel, trained and determination to keep winning. I've always said that I don't have the greatest talent. I take pride in my determination to fight and win. I have the support of my team and my life is as beautiful as ever. I'm complete – personal life and business. I'm on top of the world and here to prove it."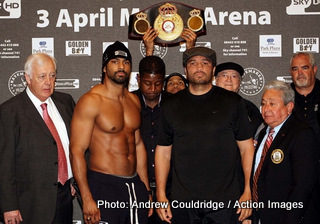 "He's (Haye) fast, moves around a lot, and gives different angles. I have to be prepared to for, like corralling an animal. He's quick. It's going to be a tough fight, the only way I want to see it. He won the title, nobody gave it to him. Saturday is going to be another day."
"I don't need to say I will win the title. If I didn't think so, I would go home today. That's my personality. Every fight I go into to win but you have to prove it."
"It (this fight) means a great deal to me –I put my life on the line, that's what boxers do – for me, my team, family and fans who have been through it all. It's been a tough road. I never took the easy way out and this is no exception. David Haye is a tough opponent."
Adam Booth (Haye's manager/trainer)…..
"This is the hardest fight for David out there. He (Ruiz) is a seasoned and successful heavyweight. He has new vigor. His worst days are behind him, best days ahead of him, and we're prepared."
"You have two guys here in condition. One is world champion the other has been world champion twice. You don't need trash talking. You're going to get one of the best fights the British have seen in a long, long time. Look at the respect between these two. David more than understands that John Ruiz is tougher than anybody he's fought."
Miguel Diaz (Ruiz' trainer)…..
"I watched tapes of David and the one against (Giacobbe) Fragomini is the one I watched the most. He (Haye) was beating him for the first five rounds and then he (Fragomini) put the pressure on him. I don't know if he can take the heat of the kitchen. He must prove it in this fight. We trained almost three months. John is in great shape, physically and mentally. I expect a great fight from my fighter and David."
"My fighter has fought around the world and not as a local, most of the time. He has no trepidations about this fight. He knows what he has to do."