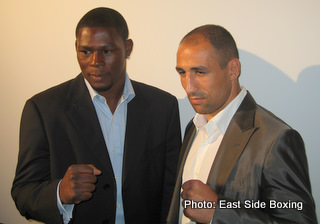 by James Slater – On October 17th, the eagerly anticipated Super-Six tournament that has been thought up by Showtime TV network gets underway in England and Germany. In the UK, WBC super-middleweight champ Carl Froch faces unbeaten contender and former Olympian Andre Dirrell, and in Germany former IBF middleweight ruler Arthur Abraham faces former world middleweight boss Jermain Taylor.
Two great fights, then, kick-start what should be a great tournament. And while both initiating bouts on October 17th are good ones, the Abraham-Taylor fight looks the more intriguing contest. A tough fight to pick a winner from, Taylor Vs. Abraham has a number of fascination questions attached to it..
29-year-old Abraham, 30-0(24) will, of course, be having his first-ever fight up in the 168-pound division (although the Armenian-born German citizen has boxed as high as 166-pounds in the past, most recently against Edison Miranda in June of last year). And 30-year-old Taylor, 28-3-1(17) will be having his first fight since being sensationally KO'd in the fading seconds of the last round of his fight with Froch earlier this year. Will Abraham prove to be as effective up at super-middleweight as he was down at 160? And will "Bad Intentions" be the same man he was before he suffered what was a punishing loss at the hands of Froch?
It's likely, almost definite, that "King" Arthur will adapt well to his new weight class. First of all, he has already shown he can carry his power and speed up with him to 166 – so what's another two pounds going to change? Also, Abraham was known for struggling to make 160 in his last couple of fights. Up at 168, Abraham could even be a better fighter than he was as a middleweight. Now there's a scary thought for his future opponents, Taylor included.
Abraham, a clever boxer who possesses cunning, power that has at times looked frightening, excellent stamina and a heart as big as can be, was impossible to beat as a middleweight. If he does prove to be even better up a division what chance will anyone have with him?
Taylor may be past his prime, but is still a top class operator of the highest level. He will almost certainly be in deep come October 17th, though. Still, we should not underestimate the man who twice beat the great Bernard Hopkins. Remember, Taylor has only lost to Kelly Pavlik and Froch, two men who perhaps would have (or perhaps will in Froch's case) given Abraham hell. It's true, we don't know how much the Arkansas man has left after suffering brutal stoppages at the hands of "The Ghost" and then "The Cobra," but if he's not a damaged fighter, Taylor, with his fine boxing skills and his own big heart, could give Abraham real problems.
Taylor has (or had) the advantage in hand speed over Abraham, and he is more used to fighting at super-middleweight. Also, knowing the Super-Six tourney is his last chance to get back on top, Taylor will be desperate and that could make him very dangerous. And the 30-year-old will want to make sure he wins his opening fight in Super-Six.
Will Taylor fade in the later rounds on October 17th? Will Abraham, having seen what Froch did to Taylor, try too hard to make a statement by getting the job done quicker than his other tournament rival? Will Taylor's classy boxing skills allow him to pull away to an early lead that demoralises Abraham? Will Abraham all but end Taylor's career with an emphatic victory?
Super-Six is going to be a great event for boxing, and its first two fights look set to get things going in fine style!