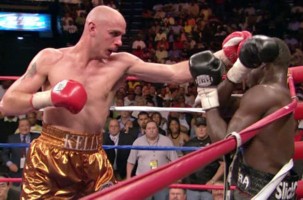 by James Slater – It's a fight that makes sense on a number of levels. Middleweight king Kelly Pavlik and Paul Williams, a man who has won titles at both welterweight and light-middleweight, are reportedly still in talks for a meeting to take place this year. Agreeing money terms has been the biggest obstacle to overcome, but hopefully this massively intriguing fight will actually find a way to go ahead.
Not only are Pavlik and Williams two fighters who have struggled and are struggling to find another more exciting foe to square up with, but the clash of styles of the two would likely make the fight an extremely fan-friendly affair. So, it's the biggest available super-fight for both men, it's a fight that both warriors have expressed a serious interest in and Pavlik-Williams is a fight the fans would definitely pay to see.. Let's hope money does not put paid to this potential classic!
A year or two ago, when tall southpaw Williams was doing his stuff down at 147-pounds, people wondered if "The Punisher" was crazy when he told us he'd like a fight with the world's best middleweight. But since then two things have happened: Williams has proven he can fight effectively up at 160, and Pavlik has been beaten by Bernard Hopkins. We still don't know affected "The Ghost" was long term as a result of his maiden loss, and truth be told the 27-year-old is in need of a big fight so he himself can get an answer to this question. Williams appears to be the perfect opponent.
With no current middleweight rivals out there as capable of sufficiently motivating Pavlik and satisfying the fans (now that Arthur Abraham has moved up) Williams is the best challenger for Pavlik, and Pavlik is the best fight out there for the avoided lefty. Let's face it, who else will the two in-need-of-a-big-fight stars face if not each other?
Sure, Williams could instead face WBO light-middleweight champ Sergiy Dzindziruk (apparently Williams' plan-B if the Pavlik fight falls through) and this fight is also an intriguing match-up. But it's not as attractive as Williams-Pavlik. And who else will Pavlik wind up meeting if he loses out on Williams? Common sense says this fight has to happen.
IF – and it seems there is a good chance it is a big if – the two exciting talents do agree to a money split and get it on, who would win? Maybe it's too soon to discuss who would prevail in a fight that is still far from being made, but this one so captures the imagination it's tough not to want to analyse it.
Pavlik, the natural middleweight and the bigger puncher, initially looks the favourite. How would the 28-year-old's chin hold up to one of the middleweight king's bombs? But then again, Williams is the better boxer with the faster hands. Would Pavlik suffer flashbacks to his October 2008 loss to Hopkins if Williams got into a groove and began out-boxing him? These are just two questions fight fans have been asking ever since this fight was first talked about as a serious possibility.
To my mind, Williams has more options at present than does Pavlik, but neither guy is exactly spoilt with choice opponents. The obvious fight to make is one with each other. Let's keep our fingers crossed that "The Punisher" and "The Ghost" are able to give their fans the fight that seems so much a natural.