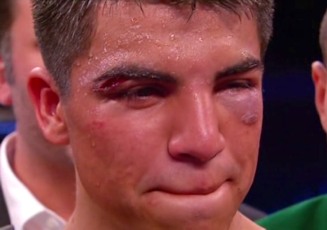 By Frank Gonzalez Jr. – June 28, 2009 — Victor Ortiz said, "The better man won last night." And that man was Marcos "El Chino" Maidana. This was one of the best fights I've seen this year! This fight had everything, drama, suspense, intrigue, five knockdowns and a pair of young warriors worthy of remembrance. Too bad someone had to lose.
A few times a year, fight fans get treated to a truly wonderful rumble in the ring. Saturday night at the Staples Center in Los Angeles, Jr. Welterweight contender and local product, Victor Ortiz (24-2-1, 19 KO's) was the featured fighter on the card. His opponent, Marcos Maidana of Argentina, came to LA with an impressive record of 26-1, 25 KO's and his one loss was the result of a dubious Split Decision that went to Andriy Kotelnik in Germany last February.
As Maidana's record suggests, he's a big banger. As for the southpaw Victor Ortiz, he too, is a big banger. This fight turned out to be a war between two guys hell bent on scoring a knockout and winning the prize of the WBA Interim title.
This fight went six wild rounds that saw a total of five knockdowns. Ortiz went down in the first and the sixth. Maidana was downed once in the first and twice in the second round. The first round was a roller coaster ride where Ortiz saw both guys score knockdowns. In the second round, Ortiz scored two knockdowns and seemed perched to win this ferocious forum of fisticuffs. But it ain't over till it's over and Maidana wouldn't be denied. This was a classic brawl, the kind of fight that you don't want to turn your eyes away from…not even for a second, or you'd miss something. These boys came to fight!
After suffering two knockdowns in the second, Maidana collected himself and boxed aggressively but carefully into the third round, where he opened with a clean right to the chest that stung Ortiz. Maidana appeared intensely focused on timing and delivery. Ortiz may have been intoxicated by his display of power in the second round and instead of boxing smart, he let his ego dictate strategy—land a big shot and win by KO. They boxed and brawled and split successes in a very close fourth round that I scored 10-10.
The momentum shifted back and forth until the fifth round, where Ortiz opened with a stinging right to Maidana's face. Maidana didn't retreat but moved in and pressured Ortiz and landed an uppercut on the inside. Again, they brawled like savages with skills. Late in the fifth round, the momentum swung in favor of Maidana, who landed a monster left hook that opened up a nasty gash over Ortiz' right eye. Maidana closed the fifth with a pair of rights that produced a huge swelling under Ortiz' left eye. At that point, both men had won a few battles in the war that was this fight.
Ortiz' corner threatened to stop the fight if he took any more punishment like he did in the fifth. His corner instructed him to fight the way they trained for this fight, implying that Ortiz was fighting on emotion instead of intelligence and discipline.
In the early part of the sixth round, Maidana smelled blood and went after Ortiz with a fury, landing a shot to the body, then to the face. Another body shot dropped Ortiz. The cut over Ortiz' eye was bleeding plenty and his right eye was nearly closed. The ringside doctor got up on the apron to look Ortiz's cut eye. The ref asked Ortiz if he wanted to continue and Ortiz didn't seem interested in continuing. The fight was stopped at 46 seconds into round six. Maidana was the winner by TKO 6.
During the post fight interview, Maidana was asked about his positioning to fight the winner of Kotelnik vs. Amir Khan and which he'd prefer to fight. Maidana said either would be fine. He said he knew what to expect from Kotelnik and that Khan isn't much of a puncher.
When Ortiz was interviewed, he was charismatic, humble and credited Maidana as being the better man that night. He admitted that he was convinced he had the power to knock Maidana out and instead of boxing smart, the way he trained to, he focused his energy on the knockout and it turned out to be his own undoing. At the end of his interview, Ortiz mentioned that he "quit while he was ahead because he wants to be able to talk right when he gets old." He said he's young and don't deserve to be taking such a beating like that. He closed out saying he had, "some thinking to do."
Congratulations to Marcos Maidana for a dramatic win. Buenos Aires should be a proud when he returns. He's a no nonsense kind of guy that appears serious about the business of fighting. Let's hope this is just the first of many trips he'll be making to the United States, where fighters like him are well appreciated. I'd like to see him fight a rematch with Kotelnik on neutral territory, like say, Atlantic City N.J. or Madison Square Garden or anywhere in the Americas. Marcos is one tough customer and will surely make the fight game that much better.
Thumbs up to both guys for a hell of a fight! Let's hope this loss doesn't damage Ortiz' confidence too much because the truth is, he's a hell of a young fighter. This loss isn't the end of the world, it's the beginning. It's like getting your heart broken early in life so you toughen up on the inside, while your still young. No pain, no gain. It's all good.
If Victor tightens up his defense a little and develops a stronger sense of discipline from all this, he will truly be a winner. But he ought not feel too bad, 'cause the next best thing to playing and winning is playing and losing—at least you got to play. And though he lost Saturday night and made mistakes that cost him the fight, this was the most impressive he's ever looked. Kudos to the match maker.
If his camp is true, Ortiz will be a better fighter thanks to this tremendous chunk of experience he earned in the ring with Marcos Maidana. Who knows, maybe they will fight again some day?
* * *
Comments can be emailed to dshark87@hotmail.com