Setanta, the Irish based sports company, finally fell into administration on Tuesday after a long battle against overriding debts that mounted up due to a lack of subscribers to the ambitious model Setanta had set out. Along with the demise of Setanta, a large proportion of live boxing, including exclusive deals with Top Rank, Hayemaker and Sauerland Event will go missing from UK screens. As well as the aforementioned live boxing, a much loved television programme which was part of many boxing fans weekly schedule also came to an end, the Steve Bunce boxing hour..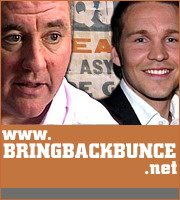 Steve Bunce Boxing Hour was a weekly show, regularly on a Thursday at 2pm, which provided the latest boxing news with a dash of humour which came from the energetic exuberance from Steve Bunce and the witty comebacks from his co-presenter Andy Kerr. The show would always line up great guests every week, ranging from boxing promoter Frank Warren to the eccentric Chris Eubank The show was loved, not just by boxing fans, but those within boxing and even people who did not have an interest in boxing.
However this shocking news to boxing fans has only spurred them on to overturn this forced issue upon the Steve Bunce boxing hour, notably by campaigning to other television companies to get the cult show back on our screens. With the boxing community uniting hopefully this short lived, but much loved show will be back on our television screens very soon!
More details at the website: http://www.bringbackbunce.net/
Boxing Fans Try To Rescue Steve Bunce's Boxing Hour
The demise of Setanta has ignited a campaign to rescue the channel's premier pugilistic programme – Steve Bunce's Boxing Hour. In less than 24 hours, over 500 fans have already joined a Facebook group designed to bring the show back to our screens and forum members across the UK and beyond are clamouring to sign petitions calling for Bunce to be snapped-up immediately by a rival broadcasting network.
A website has also been created – www.bringbackbunce.net – which is already making waves and garnering support for 'Big Daddy' Bunce and presenter Andy Kerr. Steve has met with Channel Five chiefs to discuss a possible deal with them, but nothing is concrete and no decisions have been made.
Have your say, join the thousands of fight fans and the many boxers who want Bunce back on our screens, before it's too late. >