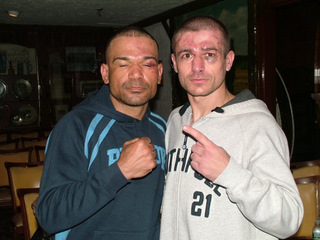 June 26, 2009 –By Scott Kraus at ringside – Television and the Internet are essential for fight fans to keep track of the boxing action around the world, but nothing compares to the thrill of going to a fight in person. Whenever the stars align, I will attend fights in the New Jersey area and relay my experiences in the Jersey Fight Journal. On June 25, 2009, "Mighty" Mike Arnaoutis looks to bounce back from a vicious knockout loss in his last fight in front of his adoring fans. I venture up to Schuetzen Park in North Bergen, New Jersey to take in the action.
7:30 – After the standard struggle with New Jersey/New York traffic, I arrive in plenty of time to take in the surroundings and settle into my seat on press row. Unfortunately, press row consists of a table for three stuck behind the neutral corner, with an assortment of four or five additional chairs for those unable to acquire a seat at the table. I am among those unable to acquire a seat at the table, so I sit in a backside-abusing wooden chair and take notes on a notepad on my knee. Oh, the perks of being a greenhorn fight reporter!
7:50 – Light middleweights Chris Murphy and La-Tiek Williams (who is listed as "La-Tiek" on the fight card and "La-Take" on Boxrec.com, I am not clear on which spelling is accurate) tangle in a light middleweight bout to start the evening. Every fight on the card features a New Jersey fighter and Murphy is the Jersey-based beneficiary of a warm reception in this one. He puts on a show for the crowd, relentlessly pressuring Williams and repeatedly landing shots to the body. After pushing Williams against the ropes, Murphy lands two big right hands that snap Williams' head back and drop his guard to force the referee to stop the fight. Murphy scores a nice third-round knockout to delight the crowd.
8:10 – The next bout features lightweights Chris Green and Monndre Pope in another four-round bout. The two southpaws exchange solid punches early before Pope drops Green near the end of the first round. After a tight second round, the fighters take turns teeing off in round three before Pope, the harder puncher, drops Green again. Pope looks to finish off Green in the corner but Green survives to make the bell. The judges get this one right and award a unanimous decision to Pope, who notches his first career victory and hands Green his first loss in a good action fight. The crowd is disappointed that the local fighter lost but he gave a good effort.
8:40 – Cruiserweights Patrick Farrell, the local fighter, and Kenneth Farr are up next. When I saw Farr's name on the fight sheet I was hoping that his nickname would be "Special Prosecutor" in a nod to Bill Clinton. Alas, Farr has better taste in nicknames than I. Farr's Muhammad Ali impression as he slips and slides awkwardly against the ropes as Farrell unloads will not put Frank Caliendo out of a job anytime soon.
Farr offers minimal resistance as Farrell pounds out a wide, unanimous decision victory without losing a round.
8:50 – Local light heavyweight Jason Escalera brings a perfect record of 5-0 with 5 KOs into the ring against Joe Park. This is Escalera's fourth straight fight at Schuetzen Park and he receives a big hand and chants of "Monstruo" from the crowd. Park represents the best opponent of Escalera's fledgling career but Escalera wastes no time flooring Park with a gigantic straight right in the opening round.
9:00 – Escalera unloads another big right hand early in the third round that staggers Park again. Park moves around the ring trying to get his legs but Escalera unloads big power shots that continue catching his hurt opponent. Monstruo batters Park until the referee steps in and stops the fight. Escalera maintains his perfect knockout record against his most experienced opponent in the most impressive win of the night so far.
9:15 – Light heavyweight Bobby Rooney, a Bayonne native with an enthusiastic following, faces Brian Bernard in the co-feature. Bernard offers little resistance as Rooney controls the early action and then lands a precision left hook to the body. Bernard's legs quiver instantly and he crumples to the canvas. Referee Randy Newman waves off the fight and Rooney earns the most emphatic knockout of the night in the opening round.
9:35 – After an announced ten-minute intermission stretches past the twenty-minute mark, light welterweights "Mighty" Mike Arnaoutis and Doel Carrasquillo are ready to begin the main event. Arnaoutis is attempting to shake of the memories of his last fight, a second round TKO loss to rising star "Vicious" Victor Ortiz. Carrasquillo has nearly as many losses as wins and is here to help revive Mighty Mike's confidence in front of an enthusiastic, pro-Arnaoutis crowd.
9:40 – In the first round, Arnaoutis controls the action with his jab, quickness, and superior boxing skills. Carrasquillo amps up the pressure in the second round and catches Arnaoutis with right hands. Arnaoutis counters better in the third round, but Carrasquillo is still applying constant pressure and landing punches. An accidental headbutt opens a cut on Arnaoutis' forehead that Carrasquillo begins to strafe with rights. Arnaoutis lands a big right hand in round four to tighten the round, but Carrasquillo's constant pressure is impressive and he is controlling the action in the ring in these middle rounds. He is also showboating a little bit, dropping his gloves and making faces at Arnaoutis. When Arnaoutis lands a punch just after the bell, Carrasquillo responds with a jab to the side and a few words before the referee intervenes. Despite his record, Carrasquillo did not show up tonight to lie down for Mighty Mike.
10:10 – Rounds two through seven are variations on the same theme – Carrasquillo pressures, Arnaoutis retreats, Carrasquillo punches consistently, Arnaoutis punches intermittently. In rounds eight and nine, Arnaoutis begins to realize that he needs to be more aggressive and starts landing more punches as Carrasquillo slows down some. In the tenth and final round, Arnaoutis lands a good straight left hand that stuns Carrasquillo. Another big left hand lands with ten seconds left for Arnaoutis, who probably won the final round but may not have won the fight. It was a good action fight with very little clinching that I scored 96-94 for Carrasquillo.
10:15 – The cards are announced 98-92, 96-94, and 96-94, all for Arnaoutis. The crowd responds with a rousing ovation but I am extremely disappointed with the decision. I think it is possible to score six rounds for Arnaoutis but even that is something of a stretch. The 98-92 scorecard is an absolute joke. Carrasquillo's pressure controlled the action of the fight and he consistently landed more punches than Arnaoutis throughout the rounds. Arnaoutis was straighter and more technical with his punches but his punch output was far less than that of Carrasquillo. The fight was good but the decision was poor. I would probably be a little less uncomfortable with the decision had even one official scored the fight for Carrasquillo. Although he gets the win, questions about Arnaoutis linger after struggling with an inferior opponent.