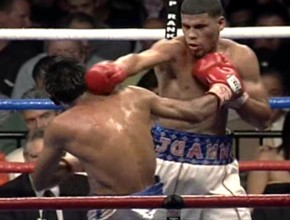 June 25, 2009 – By Scott Kraus: Juan Manuel "Juanma" Lopez, widely regarded as the future of Puerto Rican boxing, will fight at Boardwalk Hall in Atlantic City, New Jersey on Saturday, June 27, to take another step towards stardom. Standing in his way will be Olivier Lontchi, an unbeaten (18-0-2, 8 KO) and mostly unknown Canadian challenger.
Given Juanma's recent performances, Lontchi is unlikely to be standing for long.
Lopez is 25 years old (he turns 26 on June 30, three days after the fight). His magnificent record stands at 25 wins without a loss with 23 knockouts for an outstanding 92% knockout rate. He is the reigning WBO super bantamweight titlist making the fourth defense of his belt. He is coming off a dominant victory over Gerry Penalosa in which he handed the great iron-jawed Filipino the first stoppage loss in his long career. Before that he scored consecutive first-round knockouts against Sergio Medina, Cesar Figueroa, and Daniel Ponce de Leon in title fights..
Lontchi was also born in June of 1983 (he turned 26 on June 8). He is also without a loss and he is also a super bantamweight. The similarities to Lopez end right there.
Lopez is a product of the fistically fertile island of Puerto Rico, home to boxing luminaries past and present like Jose Torres, Wilfredo Gomez, Wilfred Benitez, Felix Trinidad, Miguel Cotto, and Ivan Calderon. Lopez is poised to join this exclusive group if he fulfills his considerable promise, which he is well on his way towards accomplishing. HBO has shown significant interest in Juanma, having already aired several of his fights, and if he keeps turning in impressive performances he figures to be a staple of HBO broadcasts and pay-per-views and Madison Square Garden fights in the years to come.
On the other hand, Lontchi hails from a newer boxing hot spot – Montreal. The popularity of fighters like Lucien Bute and Adrian Diaconu and the rousing crowds they draw at the Bell Centre have made Montreal an exciting fight city in recent years. This will be Lontchi's first fight outside of Canada in his 20-fight career so his ability to deal with a potentially hostile crowd is unknown. This will also be Lontchi's first appearance on United States television. A win against Lopez would propel Lontchi to hero status in Canada and would unexpectedly introduce another top contender at 122 pounds.
However, unless Lontchi boasts a chin comparable to the iron jaw of Gerry Penalosa, he will probably end the night on his back. Going into his fight with Lopez, Ponce de Leon had one loss on his ledger, a unanimous decision to current pound-for-pound entrant Celestino Caballero. Lopez ended Ponce de Leon's eight-fight title reign in two minutes and 45 seconds.
The next two opponents Lopez faced – Cesar Figueroa and Sergio Manuel Medina – also lasted two minutes and 45 seconds against Lopez, coincidentally. They just needed to combine their performances to do so, as Medina was stopped in one minute and 38 seconds and Figueroa lasted just 47 seconds.
Lontchi has some solid wins against Cecilio Santos and Cristobal Cruz but has never faced a fighter as complete and explosive as Lopez. Juanma is bigger, stronger, faster, and far more powerful than anyone Lontchi has encountered. From the footage I was able to uncover of Lontchi, he looks like his punches will be too wide to be effective against Lopez. He will also need to be extremely diligent defensively to stand a chance against Juanma's picture-perfect right hook. I anticipate another short night of work from Lopez, an early knockout victory, and a lot of excited fans eager to see him again.
*
Although the fight card as a whole has been plagued by cancellations (Kelly Pavlik was supposed to headline against Sergio Mora before pulling out with either a hand injury or contract dispute and Fernando Montiel was supposed to defend his belt against Eric Morel before a hand injury postponed that fight), the undercard is still relatively deep and features several interesting bouts.
In the co-feature, Yuri Foreman (27-0, 8 KO) will face Cornelius "K9" Bundrage (29-4, 17 KO) in an IBF light middleweight title eliminator. The winner will be in position for an eventual mandatory shot against IBF titlist Corey Spinks. Foreman is the reason mandatory challengers were created as he is a good boxer without a major following, serious power, or a built-in fan base to encourage others to fight him. I expect him to outbox the hard-hitting but raw Bundrage to win an easy decision.
In other action, Jorge Arce (51-5-1, 39 KO) returns from his one-sided destruction at the hands of Vic Darchinyan to face Fernando Lumacad (19-1-2, 7 KO). Arce has had a long career filled with action-packed brawls and, although he is only 29, this fight may show whether or not he is still capable of being a top-tier fighter. If he struggles with Lumacad, the future may not be so bright for the Lollipop Cowboy.
Demetrius Hopkins (28-1-1, 11 KO) also returns from a defeat in a title fight, a split-decision loss to then-WBO light welterweight titlist Kendall Holt last December. Hopkins looks to rebound against Hector Munoz (18-2-1, 11 KO) in an eight-round bout.
Mario Santiago (19-1-1, 14 KO) was last seen battling to a hard-fought draw against Steven Luevano in a WBO featherweight title fight last June. Now, almost exactly one year later, he looks to shake off the rust against Gilberto Sanchez Leon (19-5-2, 7 KO).
Many young prospects are also featured on the card. The most prominent are undefeated light middleweight Vanes Martirosyan (24-0, 17 KO) and middleweight Matt Korobov (6-0, 5 KO). Martirosyan, a 2004 US Olympian who is approaching contender status, takes on tough Andrey Tsurkan (26-4, 17 KO) in a good step up in competition. Korobov, a 2008 Russian Olympian and a fighter considered by many the best prospect of the 2008 Olympic class, takes on Benjamin Diaz (9-2-1, 6 KO) in his first scheduled six-round bout.
Rounding out the card are light welterweight Michael Torres (12-0, 7 KO), who takes on Humberto Tapia (14-10, 7 KO), light welterweight Jeremy Bryan (10-0, 4 KO), who fights Josh Beeman (4-2-3, 2 KO), and lightweight Hector Marengo (5-0-2, 3 KO), who takes on Angel Rodriguez (3-3-1, 2 KO). Torres, Bryan, and Marengo can maintain unbeaten records with victories as they attempt to rise up the ranks.