Wilfried Sauerland is convinced that undefeated IBF Middleweight Champion King Arthur Abraham will not have any problems to make the weight for his 10th title defence. The 29-year-old (29-0, 23 KOs) takes on Mahir Oral (25-1, 10 KOs) in Berlin´s Max-Schmeling-Halle on Saturday night. Prior to his last fights, Abraham was forced to lose a lot of pounds during the week of the fight – but not this time out. "I was a little worried that Arthur could face some problems again," Sauerland said. "But he has really watched his weight and he is already close to the limit. I am sure he will make a great fight on Saturday.."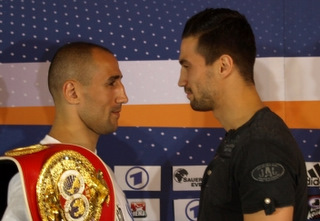 Abraham confirmed he was in perfect shape. "I have started to lose weight one month ago so I feel very good right now," the champion stated. "Everything has gone according to plan. I will please my fans on Saturday." It remains to be seen whether Abraham will move up to super-middleweight after the fight. "We will discuss it after Saturday," Sauerland added.
Meanwhile, Oral stated he was looking forward to Saturday. "I need to be on alert from the first bell on," the challenger said. "I am in great shape. I have prepared several strategies. If one does not work, I will switch to another. But I am prepared to do that." Manager Ahmet Oner is convinced that Oral will bring his A-game. "If a boxer has made a couple of fights, he should try and challenge the best fighter out there. That is Arthur Abraham," Oner said. "But Mahir is a very competitive fighter and he has nothing to lose." Oner is optimistic that Oral can spring a major surprise. "(Abraham coach) Ulli Wegner will be leaving the arena as a sad man," he added.
Wegner was quick to hit back. "I did not want to reveal it but we will attack to the body first and then go for head," he replied. "Ahmet, you will see that. We have a lot of fans in Berlin and Arthur wants to impress them once again."
Arthur Abraham v Mahir Oral this Saturday
King Arthur Abraham has returned to Germany´s capital following an exhausting training camp at the Baltic Sea. The undefeated IBF Middleweight Champion (29-0, 23 KOs) is determined to defend his title for the 10th time when he takes on Mahir Oral (25-1, 10 KOs) on Saturday night. "Everything went very well in practice," King Arthur said. "We had everything we needed in Zinnowitz – fresh air, the sea, good food and a decent gym."
The sparring sessions went very well, meaning King Arthur will again be oozing with confidence on Saturday night. "I never underestimate an opponent," the 29-year-old said. "Oral punches a lot and likes to be inside. But I don´t mind. I will please my home fans." Abraham only has the best of memories of the Max-Schmeling-Halle. In August 2007, he knocked out Khoren Gevor in the 11th round. "I hope I will win by KO again," he said. "But you can never predict one. If it comes, fine. If not, I´ll win on points. The only thing that matters is that I will leave the ring victorious."
Ulli Wegner was also confident of success. "Arthur will attack him to the body," he predicted. "We have practiced a special combination which you have never seen before. Mahir is a good guy but it will be very difficult for him on Saturday night. Arthur has been very focused in the last couple of weeks and did what I wanted him to do in practice. All he has to do is confirm his shape inside the ring. Then he will remain the champion".