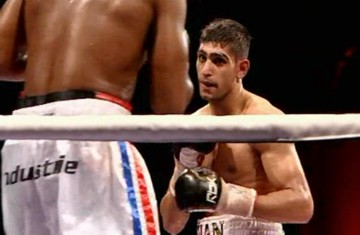 By Dan Hunter – Make no mistake about it – Amir Khan´s July 18th challenge for Andriy Kotelnik´s WBA junior welterweight title at Manchester's M.E.N Arena is no forgone conclusion. 22 year old Khan will start as a firm favorite to win his first world title, but the Hamburg based Ukrainian is tough and durable, with a wealth of experience both as an amateur and a pro.
We UK fight fans know all about young hotshot Amir Khan, the good-looking kid from Bolton who fights like a young Oscar De La Hoya. We know how he seems huge at his weight, dwarfing all of his opponents, and overpowering them with a relentless combination of speed and power.
We also suspect, but don't like to dwell on, the possibility that his chin might be less than concrete..
Just two fights ago, Khan was knocked out in 54 seconds by the oddly named but vicious punching Colombian Breidis Prescott. By any reckoning, this was a crushing setback. Khan appeared to have a serious flaw in his boxing makeup, one that would hamper his aspirations of reaching the very top.
Let´s take a closer look at what happened that night less than a year ago in Manchester.
Both fighters came out fast, gloves held high. Both men are tall for lightweights, but Khan looks much bigger than Prescott.
Twenty seconds into the fight, Prescott catches Khan high on the temple with a scything left hook. From that moment on, the fight is effectively over; Khan's equilibrium is completely shot, and from there on in he is fighting on instinct.
Seconds later, a defenseless Khan is caught by another of those hooks. If you haven't seen the punch, check it out on Youtube. You can watch it in slowmo if you so wish. Look at the amount of leverage Prescott gets on the punch before it connects. That punch would have finished off any lightweight in the world.
Khan went down in a heap, but amazingly, got straight back up! If this kid was indeed fighting on instinct, what proud, brave fighting instincts he possesses.
The fight should have been stopped, but Khan's resolute manner despite his brains being scrambled, coupled with the enormity of the event contributed to the referee allowing Prescott's final assault, and one final devastating left hook.
Amir Khan doesn't have a glass jaw. His chin is fine. A vicious blow to the temple will incapacitate the most durable of fighters.
Cast your mind back to two of a young Mike Tyson's best victories, against Trevor Berbick and Larry Holmes. Both these men possessed sound chins. Berbick in particular was known for his durability.
A Tyson left hook to the temple late in the second round knocked Berbick down THREE TIMES! If you don't believe me, check it out.
As for Holmes, it was the fourth round of their heavyweight title fight, and Larry was finally up on his toes and bouncing around the ring until a booming right hand to the temple floored him. He was up at four, and then staggered around like a drunk in a storm until another right knocked him out cold.
There is no defense against a blow to the temple!
After the Prescott disaster, Khan's promoter sacked trainer Jorge Rubio and took the huge step of employing THE current trainer in world boxing; Freddie Roach.
Khan began training in Roach's Wild Card Boxing Gym in Los Angeles. He sparred regularly with boxing´s man of the moment; Manny Pacquiao.
The results of such a radical re-vamp were soon to be seen. In his last fight, Khan completely overwhelmed seven-time world champion and future hall of fame-er Marco Antonio Barrera in five rounds; the referee rescuing the hapless Barrera, officially due to a horrendous gash on his forehead.
Khan's win was reminiscent of De la Hoya's first fight with Julio Cesar Chavez in 1996. Oscar stopped Chavez on cuts in four rounds.
Granted, Chavez had spent most of his career at junior-welter, and had lost only one fight to Frankie Randall at that point.
In comparison Barrera was having only his third fight at lightweight, and had suffered six defeats, including dropping decisions to Manny Pacquiao and Juan Manuel Marquez in 2007.
In both cases, the younger fighter overwhelmed his vastly more experienced and still dangerous opponent using speed and power and elusiveness. When they were tagged, they shrugged it off and got on with the job at hand.
In both bouts, the younger fighter left the ring victorious; the older fighter left the ring with a bloody mask for a face.
Amir and Oscar were 22 and 23 respectively; Marco and JC were 35 and 34.
31 year old Kotelnik is in his ninth year as a pro. Although the bulk of his 34 fights (31-1-1, 13 ko's) have been fought in Germany, he hasn't been afraid to travel, and has boxed in Hungary, the Ukraine, Poland, Venezuela, France and England.
The Khan fight will be his fourth in the UK. He lost a razor thin decision in Nottingham to Junior Witter in his challenge for Witter's European title in 2005.
In 2007 Souleymane M'baye held him to a draw in Liverpool for M'baye's WBA belt. It was third time lucky for Kotelnik when he battered gutsy but wide open Gavin Reese to defeat in the twelfth round in Cardiff, claiming the Welshman's WBA junior-welter title in the process.
Kotelnik has made two successful defences of his title, defeating Japan's Norio Kimura on points in the Ukraine, and then in February of this year he hung on to his title by the skin of his teeth with a split decision against dangerous Argentinian puncher Marcos Rene Maidana in Germany.
Maidana entered the ring with a 25-0 (24 ko's) record, so if nothing else, once again Kotelnik proved his innate toughness and durability.
The Ukrainian stands 5´7´´ to Khan's 5´10´´, and will no doubt be considerably lighter on fight night than his big boned opponent. Khan's physique seems to scream welterweight, and he will weigh at least 147 lbs in the ring. But Kotelnik is cagey, as well as tough. He doesn't get tagged too often, but when he does he covers up and counters well.
An interesting sidebar; Both Kotelnik and Khan were Olympic silver medallists, and both lost in the final to the same man, Mario Kinderlan; Kotelnik in Sydney in 2000, Khan in Athens in 2004.
On fight night Khan (20-1, 15 ko's) must box with patience and precision against Kotelnik. The Ukranian is unlikely to trouble Amir with his power, but at the same time, Khan might not be able to add to his list of knockouts. Khan's advantages in size, power and speed should on paper see him through, but Kotelnik has the style to break up Khan's rhythm.
Khan desperately needs to win the WBA belt, a title that is in effect a key to a private club that has names like Pacquiao, Hatton, Cotto, Mosley and Mayweather as it´s exclusive membership. This fight should be highly competitive and surprisingly close, but with Freddy Roach in his corner, Amir Khan will grab the first of what could be many world titles.