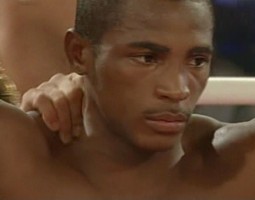 By Ted Sares – It's that time again, mates. Get comfortable near your key pad and monitor and torch up a nice Nub, the new cigar sensation that is short, stout and well-filled smoke blended to capture the perfect essence of a cigar. These great cigars burn slowly and give a nice midway kick. For scotch this month, I am featuring the world's best selling Scotch whisky, Glenfiddich. Need I say more?
In the background, I have Tommy Castro, Jimmy Thackeray, Chris Vachon (Room Full of Blues), and Rod Piazza (The Mighty Flyers) doing their upbeat thing, but any reasonable request will be entertained. I am partial to jump blues, West Coast Blues, Chicago Blues and particularly boogie because they seem to go well with boxing and cigars..
Now then, it's time to discuss boxing, and I have listed a few subjects that might spark your interest, but as always feel free to inject your own topic.
1. The Cubans
Super-hyped Guillermo Rigondeaux made his debut on Friday Night Fights in a disgraceful mismatch that was painful for me to watch. It appears we will have to wait until the 28 year-old steps up to see whether the hype is for real. Yuriorkis Gamboa, Erislandi Lara, Odlanier Solís, and Yan Bartelemí are other Cubans with Gold medal credentials and/or a tremendous number of amateur fights behind them. Gamboa already has made great strides and of the bunch, he takes the most risks in the ring. That makes him the most exciting, but also the one most likely to have his bubble burst. My own feeling is that Lara is the one to keep your eyes on. He seems to have ALL the moves and knows what he is about as he works in the ring.
Now then, I have noticed that by the time these talented boxers defect to the US, they already have fought 200-400 amateur fights. That's a lot of ring miles, maybe too many. It's just a theory, and Lara certainly is young enough to debunk it. However, once the Cuban stars become world champions and fulfill their promise and potential, then, and only then, will l become an instant believer. Lara and Rigondeaux seem like the best bet here. But the hype Rigondeaux is getting might raise unrealistic expectations and put undue pressure on him. Still, if these two guys are as good as the press, stop with disgusting 4 round mismatches. Let's get it on right now, and to Lara's credit, that's just what he did on Friday night as he totally overwhelmed a guy with 37 professional fights.
Speaking of outstanding Cuban fighters, I recall former WBA Light Welter weight Champion Diosbelys "The Oriental Kid" Hurtado and former two-time world champion Joel Casamayor. Both lived up to the hype and then some. And so did Juan Carlos Gómez. But I also recall the noise around Ramon "El Mongo" Garbey a few years back. He went 14-0 before his script was written as he lost three in succession to Napoleon Tagoe, James Toney (in a bout I witnessed at the Roseland Ballroom in Taunton, Massachusetts), and Fres Oquendo.
Will Lara, Rigondeaux, and Gamboa be the next Hurtado, Casamayor, and Gomez? I'm thinking they will, but then I thought Jorge Luis Gonzalez might be a heavyweight champion of the world.
2. The "Old" Heavyweights: Can they still be a factor?
Given the paucity of promising new American heavyweights (except for Chambers, Johnson, Arreola, Thompson and maybe Minto) one would think guys like Toney, Guinn, Brewster, McCall, Ruiz, Golota, Oquendo, Austin, Williamson, and Tua might still be able to make some noise but time is fast running out. McCline and Rahman are done.
The Eastern Euro's and Haye seem to have a lock on the top. It seems to me, Brewster and a rejuvenated Dominick Guinn might have the best chance, albeit a slim one to shake up the new guys on the block. What are your views on this?
3. My Pound-4-Pound Top Ten Right Now
I generally don't like doing boxing related lists (except the ESB divisional rankings which are a labor of love) because you can only please some of the fans some of the time. However, having seen some P4P lists of late and having been asked to do one by some of the posters, I reluctantly decided to put one together. However, such a list is simply a snapshot at a particular moment in time and is subject to constant change. Here is mine as of today:
1) Manny Pacquiao
2) Floyd Mayweather Jr.
3) Juan Manuel Marquez
4) Juan Manuel Lopes
5) Paul Williams
6) Shane Mosley
7) Vic Darchinyan
8) Nonito Donaire
9) Chad Dawson
10) Ivan Calderon
Rafael Marquez, Bernard Hopkins, Jorge Linares, Joshua Clottey, Miguel Cotto and Celestino Caballero lurk. Wlad Klitschko warrants attention as well.
What do you think? How about a "better" list? And be ready to defend it.
4. The Super Middleweights
Each club session, I like to feature an ESB Divisional ranking. This month, it's the talent-packed Super Middleweight (168 lbs) division and here are the rankings as of May 5, 2009:
1. Mikkel Kessler
2. Lucian Bute
3. Carl Froch
4. Librado Andrade
5. Sakio Bika
6. Anthony Mundine
7. Andre Ward
8. Karoly Balzsay
9. Andre Direll
10. Allen Green
11. Jermaine Taylor
12. Edison Miranda
13. Danny Green
14. Jean Pascal
15. Denis Inkin
With Ward's dominating win over Miranda, he will jump to number 5 in my June rankings and Miranda will drop out of the top 15 being replaced by Mads Larsen (51-2). Danny Green is coming on fast. Look for the "Green Machine" to move up. These rankings will change as several of the fighters will be battling each other in the near future. Daniel Geale vs. Anthony Mundine and Jean Pascal vs. Adrian Diaconu will sort some things out as will a much anticipated rematch of Bute-Andrade. Balzsay vs., Robert Stieglitz also will be interesting though I don't see much danger for the "Hitter." But if Mikkel Kessler does not get more active, he will drop down in my June rankings. In this regard, two things that weigh heavily for me are activity (or lack thereof) and the results of a fighter's most recent bout.
Curiously, there are three Australians in the top 13. And Daniel Geale is from Mt Annan, New South Wales, and Australia. Hey, what's going on down under?
Any reactions?
Visit the author's updated site at www.tedsares.com