By Jorge Antonio Vallejos – "I didn't want to be a boxer in the beginning. I wanted to be a hockey player but I wasn't big enough," says NABA Super Featherweight champion Benoit Gaudet (20-1-0, 7 Kos). "My friend took me to a boxing gym and I fell in love with the place." Ranked number nine by the WBC, the Quebecois from Drummondville, Quebec, Canada, started boxing at the age of ten. Training in a small basement measuring 12 x 16 feet for seven years after his boxing club was shut down, Gaudet made it to the world championships in 1999 and earned a bronze medal..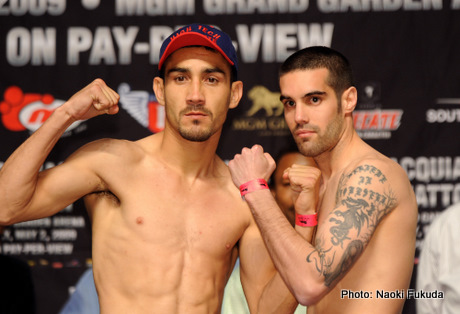 "I've always been a hard worker. I spent a lot of hours in that basement," says Gaudet.
Sticking with his first trainer Denis Chapdelaine through his first nine pro fights, Gaudet decided to switch trainers after training on his own for years.
"For many years I was alone. It was crazy. I learned to do everything by myself. I even learned to lace up my gloves by myself," says Gaudet.
After splitting with Chapdelaine and looking for a new trainer, Guadet lost his first and only bout via KO to Mexican journeyman Henry Arjona in the first forty-eight seconds of his tenth pro bout.
"I was switching trainers. My hand was sore. It was a combination of things. I don't think I took that fight as seriously as I should have," says Gaudet.
Gaudet avenged the loss in his following bout punishing Arjona for eight rounds. "I beat him up. I knocked him down in the fifth. I gave him a boxing lesson to show him I lost the first fight, he didn't win it," says Gaudet.
Of twenty-one pro bouts, Gaudet has fought fourteen Mexicans. This coming Saturday will make it fifteen. Only, the next Mexican on Gaudet's list is no journeyman stepping stone. And Gaudet will not be fighting on his home territory of Montreal, Quebec, Canada. WBC Super Featherweight Champion Humberto Soto (47-7-2, 30 Kos) looks to give Guadet the second loss of his career.
No stranger to young up and comers, Soto remembers being one himself. "I was one of one hundred that wanted to beat the champion—now there is one hundred that want to beat me," says Soto.
Soto has more than double the fights that Gaudet has. He has fought on big cards and has upset hot prospects like Rocky Jaurez. Soto has punished and finished warriors like Bobby Pacquiao and Antonio Davis. Soto has fought to the end with skilled fighters like Joan Guzman and Kevin Kelley. He has experience, power, and relentless will. (Many believe the pound for pound champion of the world, Manny Pacquaio, has ducked Soto for years.) And he's not being brought in to lose like his counterpart this coming Saturday.
Coming off an eleven fight win streak Gaudet is confident and well prepared. Fighting last March 13, 2009, Gaudet got the call for this fight April 2, 2009. This will be the orthodox boxer's first fight on American soil and the biggest name on his roster. "Without a doubt this is the biggest fight of my life," says the Canadian.
"Nobody knows me. I'm this little Canadian. I don't see how he can be taking precautions," says Gaudet. The Quebecois fighter might be right. Rumors are that if Robert "The Ghost" Guerrero wins his next fight he's in line to fight Soto for the WBC title.
Gaudet learned the hard way to never look past anyone again. Is Soto looking past Gaudet toward a big fight with "The Ghost"?
Guadet has sparred over 100 rounds for this fight. He's been jogging everyday, and in the gym six days a week. Now trained by Stephane Larouche, Gaudet trains alongside current champions Lucian Bute, Adrain Diaconu, and former champion Steve Molitor. There's a strong energy in that gym that Guadet describes as "unbelievable."
Guadet is a sound fighter with good fundamentals. He keeps his guard up, knows how to use the ring, throws lots of combinations to the head and body, and he has very fast hands. "My speed will be the big difference," says Gaudet.
What Gaudet lacks is KO power. With a thirty-three percent KO rate against opposition that Soto would walk over, Gaudet has a hard task at hand.
"The plan is to be very careful. We won't let him come as close as he wants," says Gaudet.
The old saying "everyone has a plan until they get hit" could be the defining factor this Saturday.
"I have my pride and my dream. I'm ready to die in the ring. The only way to beat me is to KO me," says Gaudet.