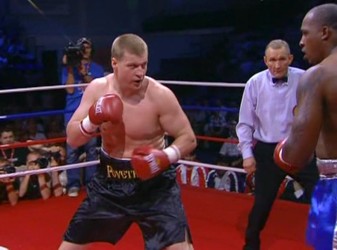 By Paul McCreath: We will not have any world heavyweight title matches in April this year. The one big fight we were all hoping for that should have happened in April will not take place until at least June if at all. David Haye and Wlad Klitschko have been negotiating for what seems like forever. One has to wonder why it takes these many months to decide that they either can or cannot reach agreement.
Fortunately there will still be several scheduled fights that are sure to interest heavyweight fans. The one that will catch the most attention is the April 11 match between America's most exciting prospect Chris Arreola and the veteran challenger Jameel McCline for the NABF title.
This will be Chris' first test against a well known name fighter. McCline for all his faults has fought 4 times for various world title belts. He lost them all but came close against both Chris Byrd in 2004 and Sam Peter in 2007. He was also doing well against Nicolay Valuev in January of 2007 when he had to pull out with an injury. His 2002 KO defeat by Wlad Klitschko remains the only really bad thrashing that he has suffered.
Jameel does not always lose the big fights although it sometimes seems that way. He has defeated Michael Grant who was high ranked at the time, Lance Whitaker and former belt holder Shannon Briggs. More recently he was outpointed over 12 rounds by John Ruiz in an eliminator last March then won still another eliminator last November in 12 rounds against Mike Mollo. He was not impressive in either of these bouts and you have to question if he is perhaps slipping or losing interest. At age 38 either is possible. McCline's overall record is 39-9-3 with 23 KOs.
Chris Arreola on the other hand is on the way up. He is undefeated in 26 fights with 23 KOs. The question with Chris is how far can he go with his rather undedicated training habits. If you were to consult body mass index tables you would find that at 245 pounds Chris would be classified as obese not just fat. The last I heard he was at 260 pounds. With McCline usually coming in at around 265 we are going to see a lot of lard on display in this fight, probably over 500 pounds between them. This is a pretty sad example for the state of American heavyweight boxing these days.
Even with his weight problems Chris has gained knockout victories over good young prospects like Chazz Witherspoon and Travis Walker. I expect that as long as he does not weigh more than usual he will handle the possibly unmotivated McCline and score still another KO.
On April 4 German fans will see the return of top contender Alex Povetkin. Alex was lined up to meet Wlad Klitschko when that bout was cancelled due to a training injury. It is now expected to take place in September. This time he meets American prospect Jason Estrada in what is for Alex a mere tune-up but for Jason a fine opportunity for advancement. Estrada is a 3 time national amateur champion who has compiled a 15-1-0 record with 3 KOs and 1 no contest. His lone loss came in his 9th pro fight against another former amateur champ Travis Walker who had a 21-0-1 record at the time. Walker won a majority decision, not really a bed result for Estrada when you consider the difference in pro experience. He has gained victories this past year over former contenders Charlie Shufford, Lance Whitaker and Derek Bryant. His progress has been steady but many are questioning his lack of power and like Arreola his weight. He does have a lot of skill but this jump up in quality to meet Povetkin may be a step too far.
Povetkin, a former Olympic gold medal winner is undefeated in 16 bouts with 12 KOs. His best wins are over Chris Byrd and Eddie Chambers and unless he is overrated he should come through with the decision in this one. I still think it is a good experience fight for Estrada and the potential loss will not hurt him. Give him credit. He has shown a willingness to take tough fights and if he can learn from these tests he may still make a good world class heavyweight if he can overcome his lack of power.
Fighting on the same German card is one of Europe's better prospects Francesco Pianeta who currently has an 18-0-0 record with 11 KOs. He is matched in a 12 rounder for the EU title with Polish fighter Albert Sosnowski who has a 44-2-0 mark with 27 KOs. Albert has been a pro for 10 years and has remained mostly invisible to all but the real diehard fans while fighting all over the world. He is not as good as his record sounds but he did pick up his best win last time out when he stopped Danny Williams in 8 last October. His defeats came against Zuri Lawrence by decision last August and the Canadian Arthur Cook by KO in 2001. In Pianeta he is facing a tough test. Francesco was born in Italy but lives in Germany and does most of his fighting there. He is another one of those young giants, 24 years old, 6 foot 5 and around 245 pounds. His most recent wins have come over 18-0 Mike Marrone, a KO in 2 rounds, Scott Gammer, 18-2-1 and a 8 round KO victim, then last time out a 12 round decision over Johnny Duhaupas who was undefeated in 17 fights. I think Sosnowski will be another decision win for Pianeta.
In a bout of interest mostly to Canadian fans undefeated prospect Neven Pajkic 8-0 will meet his most experienced test so far when he faces Nicolai Firtha, 16-4-1 on April 2 in Toronto. Neven may well win this one and probably has his sights set on a Canadian title match with Greg Kielsa if he is successful.
Several other young guns are in action again in April but so far all are matched with that well travelled TBA. This is a popular tactic used by many promoters to protect their house fighters. Opponents are set as close to match date as possible in order to assure that the fighter brought in has little time to train. This gives the house fighter just one more edge he probably does not need anyway. It is just another part of the shady side of boxing.
Lenroy Thomas, 11-1 will fight in Tampa April 10, Brian Minto will be back in Butler Pa on April 17 and Olympian Deontay Wilder returns April 24 in Chicago. On April 25 we will see the American debut of the much heralded British hope Tyson Fury at Foxwoods Casino in Connecticut. We will have to hope these fighters will be fed something approaching a live body.
All in all it is not going to be a huge month for heavyweight action. I guess when most fighters prefer to sit on the couch except for maybe twice a year that is all we can expect.