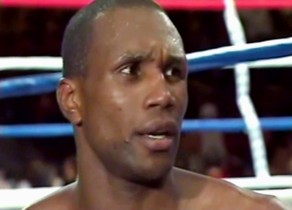 NEW YORK – Light-heavyweight contender Shaun George entered his bout with Jaffa Ballogou intent on sending the division a message it could not ignore. It took him only 86 seconds to accomplish his mission, finishing off "The African Assassin" in spectacular fashion in New York City's BB King Blues Club & Grill. "I had a lot of respect for Jaffa going in," George said, now 18-2 (9 knockouts). "I took him very serious but at the same time I wanted to impress the boxing fans and show them what I can do. I wanted a knockout and I would have been very upset if I didn't get it."
George, a native of Brooklyn, began the bout at a measured pace, feeling out the Togo-born Ballogou, now 46-8 (40 knockouts). A right hand to the body doubled-over Ballogou and from there George unleashed a sustained assault to the head and body that forced a halt to the fight at 1:26 of the first round.
This is George's second dominant knockout win in a row, the first being his ninth-round stoppage of two-time heavyweight champion Chris Byrd in May. Since dropping down to his natural weight class of 175 pounds, George has won all five of his bouts, three inside the distance. George says he is ready to take on anyone in the division.
"I want Chad Dawson, Zsolt Erdei, Adrian Diaconu, all of the champions. I want to challenge the top-ten contenders. I'm only there to fight, I let [promoter] Lou Dibella and [adviser] Donna Duva-Brooks handle the business. I want the very best the sport has to offer."
"I want to get in the ring as soon as possible. I don't feel tired or fatigued, I wasn't even hit in the fight. I could go again next week if necessary."
George is currently ranked #8 by the WBC, #9 by the IBF and #11 by the WBA.
The show was promoted by Dibella Entertainment. The fight will be broadcast on SportsNet New York with dates and times to be announced shortly.