LOS ANGELES, February 20, 2009 – Perhaps the most talent rich division in boxing, the lightweight class, will be on center stage at the Frank Erwin Center in Austin, Texas on Saturday, April 4th, as Golden Boy Promotions presents "Lightweight Lightning," an unprecedented four bout, lightweight pay-per-view event that will feature eight elite 135-pounders in four pivotal match-ups that will undoubtedly re-arrange the hierarchy of the highly competitive 135 pound division in one night. In the "Lightweight Lightning" main event, revered and undefeated knockout artist Edwin Valero (24-0, 24 KOs) from Venezuela returns to the ring to face hard-hitting Colombian warrior Antonio Pitalua (46-3, 40 KOs) in a 12-round championship bout for the vacant WBC Interim World Lightweight crown..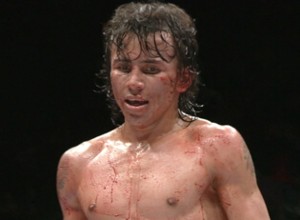 One of the co-featured bouts prior to the main event will be a 10- round clash between former two-time World Champion and Olympic gold medalist, Cuban-born Joel Casamayor (36-4-1, 22 KOs) against the talented former World Champion and California native Julio Diaz (36-4, 26 KOs). As their records reflect, these two evenly matched pugilists, with similarly impressive knock-out ratios, will vie for dominance in what many pundits anticipate to be a barn-burner of a fight.
The third co-featured bout sees Austin's own Jesus Chavez (44-4, 30 KOs), a crowd-pleasing former Lightweight World Champion who is looking to capture a victory at home when he faces rugged and relentless Australian Michael Katsidis (24-2, 20KOs) who will look to give fight fans the type of "Arturo Gatti-like" performance that have become his trademark.
Rounding out "Lightweight Lightning" will be the always charismatic and entertaining Argentinean Jorge Barrios (47-4-1, 34 KOs) against another Lone Star State fighter, former World Champion Carlos Hernandez (43-7-1, 24 KOs), in a 10-round match-up that will open the pay-per-view telecast that evening.
"We have never done something like this before, pitting eight of the world's best lightweights against each other on one card," said Oscar de la Hoya, President of Golden Boy Promotions. "It's exciting, it's innovative and I can't wait for the opening bell to ring. The lightweight division is going to be shaken up on April 4th and every one of these fighters knows his career can only advance if he comes out victorious that night…a loss for any of them would be devastating."
"Lightweight Lightning," which is presented by Golden Boy Promotions and sponsored by Southwest Airlines, will air live on pay-per-view beginning at 9pm ET / 6pm PT with a suggested retail price of $39.95.
Tickets, priced at $200, $100, $75, $50, $35 and $25, go on sale on Friday, February 27th, and may be purchased at the Frank Erwin Center box office, by phone at (512) 477-6060 or 1-800-982-2386 or online at TexasBoxOffice.com. Tickets are also available at Texas Box Office Outlets including select H-E-B stores located in Austin and surrounding areas.
One of the hardest punchers in boxing, pound-for-pound, Venezuela's Edwin Valero is making the leap from 130 pounds, where he held the WBA World Championship title for over two years, to the lightweight division where he hopes to win another world championship. A 27-year old southpaw, Valero won his first 18 bouts via first round knockout, making him an instant fan favorite. On April 4th, he will be looking to make a statement in the lightweight division.
"I look forward to extending my knockout streak for my American fans," said Valero. "Moving up to another division in the hope of capturing my second world title gives me all the incentive I need to train hard. As always, I'm hungry for a knockout, so on April 4th everyone can expect a victory by knockout over Antonio Pitalua."
A native of Monteria, Colombia who now makes his home in Mexico City, 38-year-old veteran Antonio Pitalua has been on an unstoppable hot streak over the last seven years having registered 14 fights without a loss over that span. Fresh off a devastating sixth round knockout victory over highly-touted Jose Armando Santa Cruz last September, Pitalua promises that he will make good on his first world title shot since 2000.
"I don't think it's any secret that when the bell rings April 4th, the fight with me and Valero is going to be a war," said Pitalua. "We both have great punching power, but unfortunately for him, I know I can take his punch and I don't think he is going to be able to take mine."
The finest Cuban fighter of the modern era, Joel "El Cepillo" Casamayor has captured the imagination of fight fans for almost two decades. A 1992 Olympic Gold Medalist, the slick southpaw went on to win junior lightweight and lightweight world titles, beating the likes of Diego Corrales, Michael Katsidis, Roberto Garcia and Nate Campbell along the way
"I've had a nice little break, but now it's time to get back to work," said Casamayor. "My title is waiting for me and I'm going to take it back in 2009. First things first though, I have to take care of my business with Julio Diaz."
A member of the fighting Diaz family, Julio "Kidd" Diaz is hoping to celebrate his 10th year as a pro with another world championship in 2009. The 29 year-old former IBF World Lightweight Champion from Coachella, California has won six of his last seven bouts, including four by knockout and is expecting a war from Casamayor on April 4th.
"This is a great night for boxing and it's going to be a great night for me," said Diaz. "Casamayor is one of the best in the world and beating him is going to put me right back on top…I can't wait."
One of boxing's most inspirational figures, Austin's Jesus "El Matador" Chavez is two wins into his comeback after rehabbing a serious knee injury. A Former World Champion at 130 and 135 pounds who owns wins over Tom Johnson, Carlos Hernandez and Leavander Johnson, Chavez is coming off a ninth round TKO of Andres Ledesma last September.
"I'm happy to have the opportunity to make another run at a world title," said Chavez. "Katsidis is an exciting young fighter and I know he will come prepared, but April 4th is going to be my night to shine, as I am going to be fighting for the whole state of Texas and all of my hometown fans who will be there to support me."
The pride of Toowoomba, Queensland, Australia, 28-year-old Michael Katsidis is one of the rare fighters who has been able to carry his popularity overseas and to the United States. An all-action, blood and guts warrior and former WBO World Lightweight Champion whose only pro losses have come in competitive bouts against Juan Diaz and Joel Casamayor, Katsidis recently got back in the win column with a ten round win over Angel Hugo Ramirez. He now looks to add to his victory total with his trademark exciting style against Chavez on April 4th.
"I miss holding a world title and I know the road back goes through Jesus Chavez," said Katsidis. "He's a great fighter and champion, but on fight night, I will walk through fire to make sure my hand is raised in victory."
An Argentinean warrior from Tigre, Jorge "La Hiena" Barrios never leaves the ring without giving all he's got. A Former WBO World Junior Lightweight Champion who defended his title twice, Barrios is now in search of bigger game at 135 pounds and is looking forward to making Hernandez his first victim
"I think 135 pounds is going to be the best weight for me," said Barrios. "I'm hitting harder than ever as a lightweight and I know Hernandez won't be able to get past the sixth round with me on April 4th."
The greatest fighter to ever come out of El Salvador, national hero Carlos "Famoso" Hernandez wants to give his countrymen something to cheer about again on April 4th. Now living in the Lone Star State, "Famoso" has been working with Texas great Jesse James Leija to prepare for this upcoming challenge. Hernandez made a triumphant return to the ring in August of 2008 after nearly two years away with a win over Hector Alatorre and it's clear that Hernandez still has plenty in the tank for a title run.
"It was great getting back in the ring last August and since then, I've been living in the gym," said Hernandez. "My timing is where I want it to be, I feel faster and stronger than ever and Barrios is going to be in for a surprise when that bell rings on April 4th."