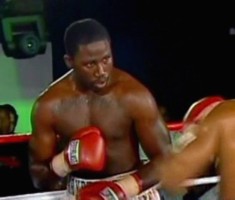 by James Slater – British-born 28-year-old Ola Afolabi is a level-headed and likeable fighter who, on March 14th, will get what he himself calls a "make it or break it fight" against the big-punching Enzo Maccarinelli. New promoter Dino Duva recently referred to his boxer with the 13-1-3(5) record as "The best kept secret in boxing," and Afolabi himself says he is happy not to be a fighter his rivals can look up and study on You-Tube.
Some fans may have seen his upset, short notice, 10th round TKO over Eric Fields fight, shown as it was on ESPN, but it's fair to say Duva has got something when he makes his claim. And Afolabi, who relocated to California over eight years ago, can fight. Referred to as a gym rat by those who know him, Ola has sparred with countless top class fighters in his time in America..
In the middle of the five weeks he was given to get prepared for the Maccarinelli fight in Manchester, an easygoing and good-natured Afolabi kindly gave this writer some of his time for an interview.
Clearing a few things up, while also going over a number of the things that make up his "story book" boxing career, Afolabi spoke about his early days in boxing, his moving to California, and what he thinks of both Maccarinelli and the fight he will soon be having with him.
Ola began by telling me that he is happy to be a largely unknown fighter – with no footage of him available on You-Tube.com.
"I try hard to keep it that way," Ola says with a chuckle. "That way fighters know next to nothing about me."
The 28-year-old has nothing bad to say about the man he will face in March.
"I can't take anything away from him [Maccarinelli]. He'll be showing up to fight, no doubt. I hope he gives me respect back."
Ola told me about when he had trouble getting anyone to fight him.
"My fight against Orlin Norris in (November of) 2005, was another fight I took on short notice – just one-and-a-half week's notice – and after I stopped him in the 7th round, fighters looked at me as too risky. I gained a lot of weight, I was up to 238-pounds, and I'd got myself a job. I didn't want – and my managers at the time didn't want me – to just fight bums.
"It's a real story book fighting career I've had. I want to thank Dino, and Frank Warren for this fight in March – make sure you put that in the article. This is it now, and I have to do it!"
Though he is only 28, Ola has already had quite an eventful life. He has called three countries his home, and though he is now based in the US he wears a Union Jack on his shorts when he fights.
"I've read in places that I was born in Nigeria. That is totally false. I was born in London. I went to college in London. I have always been introduced as from London, England, and I wear the Union Jack on my shorts. I always get booed! I watched boxing on T.V – I followed Lennox Lewis and Mike Tyson when I was a young guy, and I also like Muhammad Ali. I just fell in love with boxing."
In 2000 Ola moved to the US, where he now lives in California.
"I moved to America in 2000. [Back then] I had no promoter, just managers. I had two fights I guess you could call smokers! I don't even think they went on my [amateur] record. I still make mistakes I wouldn't make if I'd had five or six years of amateur fights. But this is my big chance now, and we will see – either I'll do it or I won't. I've never been down in my career, I take a pretty good shot."
Now having won two in a row while under Duva Promotions, Ola gets the big fight with Enzo. The 28-year-old tells me this fight is one he looks at as a "coming back home fight." And though he has some sympathy for the frustration Maccarinelli has had recently (what with no less than four fights being postponed before this one was signed), Ola says he has had things much worse.
"I understand he [Enzo] says he plans on coming out and taking his frustration out on me in this fight. I can understand his frustration, but I've been frustrated all my life! I've had a lot of fights get pulled. I know what it's like. For a time no-one would fight me, at all. He better know he can't bully me in the fight just because he's angry and frustrated. He has to show me the respect I show him.
"I'm hungry for this fight. I know he's a big puncher and he can be explosive, but I can't see how anyone can hit harder than Eric Fields. He can really hit hard and I took his shots."
A slick boxer, Ola doesn't plan on getting hit too much. However, if he does get tagged how will he react, especially if Enzo lands a bomb?
"Well, it depends on what kind of bomb it is – if it's a nuclear bomb I'm f****d! (laughing loudly). I think I'll be okay if it's a grenade, though."
A great guy to speak with who has a good sense of humour, it is hard not to pull for Ola to win his big fight.