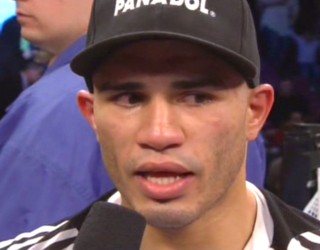 by James Slater – Last night, at Madison Square Garden, N.Y, former WBA welterweight king Miguel Cotto returned to action for the first time since his shock July 2008 loss to Antonio Margarito and he took care of business in impressive fashion as he stopped a brave but outgunned Michael Jennings. Most experts felt the British fighter was in over his head, and this proved to be the case, as Cotto decked his man twice in the 4th round and finished him off at 2-minutes and 36-seconds of the 5th round.
There was nothing missing in terms of guts and giving it a go from the 31-year-old from Chorley, however, and Jennings showed grit and heart in getting up from the two painful knockdowns he suffered in the 4th. A sharp left hook to the head from Cotto wobbled Jennings and he fell into the ropes, whereupon the 28-year-old Puerto Rican sent him down with a wicked left hand to the midsection. Throwing and landing the same body punch, Cotto then put Jennings down for a second time..
Bravely coming out for the 5th, Jennings, who had also had his nose bloodied, got back on his bike and tried to fire out his fast jab. Cotto was soon all over him again, though, and a series of headshots put the underdog down for a third time. Again Jennings beat the count, getting up at about nine, but this time referee Benjy Esteves Jr. waved the fight off. There were no complaints from anyone.
Jennings, very much in the biggest and toughest fight of his now 36 fight pro career (34 wins, now 2 losses, with 16 KOs) used plenty of movement in the fight and he was also able to land a couple of right hands to the head. With no way near enough fire power to hurt Cotto, Jennings' best shot of the night failed to trouble the former champ. Also, the older man's jabs, though blurring, were falling short. Cotto fought patiently, but as soon as he saw his man hurt he wasted no time in going for the finish.
Interviewed post-fight, Cotto, now 33-1(27) praised his opponent's strength and courage, while also saying who he'd like to fight next. Now the WBO 147-pound champion, Cotto mentioned both Shane Mosley and the winner of the Manny Pacquiao- Ricky Hatton fight as possibilities for the near future.
"If Shane Mosley wants the rematch, or if the winner out of Hatton and Pacquiao wants it, I'm here," a victorious Cotto said.
Seemingly having no inner demons to speak of from the brutal loss to Margarito, Cotto looks set to have a good 2009. As for Jennings, he has nothing to be ashamed of and he can look ahead to some big domestic fights back in the UK.