Photo credit: Sumio Yamada – This week in the 'Left-Hook Lounge' we look into a set of intriguing questions posed by fight fans all around the globe. Coming on the heels of an action packed weekend, needless to say, many of those on the fight cards made the list. Both Miguel Cotto and Kelly Pavlik lead the way, followed by questions surrounding Joshua Clottey, Paul Williams, and a random topic from a curious fight fan. So, with no further ado, we kick the mailbag off with a question from New York City…..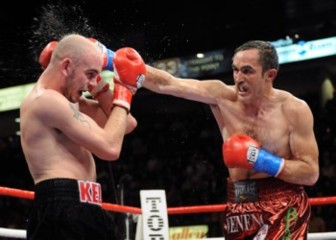 Javier S. (Brooklyn, NY): Miguel Cotto seemed to come on strong Saturday. Do you think he's totally over the loss to Antonio Margarito, and who do you think he faces next?
Vivek W. (ESB): To be honest, as much as I love Cotto, I don't think we can truly gauge whether or not he was able to shake off the effects of the Margarito loss until he steps up the level of competition he faces. Jennings was decent, but categorically on another level, which provides a window of deceit. Mike Tyson was a perfect example. He looked like the beast of old against Bruce Seldon, and some of those other initial guys, but when he faced Holyfield and Evander showed him early that he also wouldn't back down, the flashbacks interfered. Similarly, with Cotto, we won't really know how that beating will affect him in the long run until he is faced with a reminiscent trying time in the ring. If his best shots don't phase his opponent, does he start to retreat? If he's fighting a very busy fighter and his conditioning starts to become an issue does he abandon his fight plan? It's like a Vietnam vet. He may go strong for 10, 15 years without a symptom, then suddenly sees a glimpse of one minor thing that triggers the devastation, and before you know it, his whole psyche could change right before your eyes. Bottomline, we just don't know, and we won't know until he faces a similar adversity. Jennings is a respectable fighter, but simply not cut from the same cloth. Only time will tell.
Mike Somers (Dallas, TX): I didn't think Kelly Pavlik looked particularly good against Rubio. Do you think he's ready for someone like Arthur Abraham?
Vivek W. (ESB): Truthfully, I think that would be a very tough fight for the 'Ghost'. I like Pavlik and I think he's a class act in many ways, but there are many things to exploit in his defense and I've always said, the guy who can take his punch and land enough 'mustard' to prevent him from catchin' up on points, could easily seal the deal. Pavlik has so much power that many guys fail to go the distance with him, and he's a bit rangy, so he controls his space well, but like anyone else, there's a blueprint to defeat him. Arthur can not only take a helluva punch, but he has deceptive power. Some don't see him as a power guy, but let me tell you, the dude can crack! Not only that, but he's actually a pretty decent boxer, in terms of skills. So, I think it all comes down to who can take the biggest punches, and who's landing the most…But then again, isn't that all fights? (smiles). To answer your question, yes, I think he's ready for Abraham's level of competition, but by no means does that mean he beats him.
Charles W. (Orlando, FL): Joshua Clottey against Miguel Cotto would be a great fight and a good gauge for both men. Do you think that fight happens soon?
Vivek W. (ESB): This is a fight that I would love to see happen. Prior to the Cotto/Margarito fight, Arum spoke of matching the two, but as we know that didn't happen. I think Joshua Clottey is easily one of the most well rounded, well respected figures in the division, if not the sport. His defense is highly underrated, and his offense fundamentally sound. I think he could take Cotto's best and still stand, which few can do. I don't know who wins this fight, but the clash of styles would make it an instant classic. With both men now holding a strap, I think a unification bout should happen next. That being said, we all know the politics involved in the sport. A Mosley/Cotto rematch would make big money, and a Cotto showdown with the winner of the Pacquaio/Hatton winner at a catch weight would be a global affair as well, so anything can happen. If money is not the primary motivating factor, a Clottey/Cotto fight not only makes the most sense, but I also find it to be one of the best fights to be made in the division. Hopefully fight fans will get to see this clash.
Cedrick Watson (Miami Gardens, FL): How would you see a Paul Williams/Vernon Forrest showdown at 154lbs?
Vivek W. (ESB): I respect the talents of both men strongly. With Williams, you're getting a full fight; 3 minutes of every round for 12 rounds. With Forrest, you're getting a guy that has more left in the tank than most give him credit for, as witnessed in his last bout. Forrest would probably be the most powerful fighter that Williams has ever faced. He doesn't have Margarito's work rate, but he has more power. The flipside to that argument is the fact that Williams would be the most 'live' opponent that Forrest has ever faced. All things remaining equal, Williams' work rate and Forrests' age could be the two major points of contention in a fight like this. Williams is in his prime, and will undoubtedly work hard through the whole fight. If Forrest takes his foot off the gas for a moment to catch his breath, that rest period could landslide to an avalanche points victory for Williams. Both men would have a shot, but I think youth probably prevails that night. At any rate, Williams' mind had better be on 'Winky' Wright, because I'll tell you what, that guy – inactive or not – comes to play, he's hard to hit, and has a jab as precise as the Stealth Bomber. As a fantasy question, I guess it's ok for us to ponder a Williams/Forrest showdown, but for his own sake, Williams' mind had better be on the task at hand!
Fabiola Jimenez (Bronx, NY): Who would you view as your top five fighters to watch in the sport right now and why?
Vivek W. (ESB): With so much talent around the world, I think containing such a list to five men would be a HUGE injustice. There are
some up and comers that I'm starting to really love like Yuriorkis Gamboa, Erislandy Lara, and Juan Manuel Lopez. Then there are also other guys who have been around a while but have recently taken things to another level like Glen Johnson, and Nate Campbell, who always give you your dollars worth. If I really had to narrow it down to five, my list would go as follows – (in no particular order)….1.) Miguel Cotto – because he's such a quiet storm. He's so relaxed in demeanor, yet still very intense, which totally mirrors my approach when I was an active athlete. A silent assassin of sorts. 2.) Manny Pacquiao – for the simple fact that he's all action and has the heart of a lion. Gotta love 'em. 3.) Bernard Hopkins – I think that despite the somewhat boring disposition, he constantly reminds us that it's a thinking mans game. You can have all the tools in the world, but if he can out think you, you will fall to the 'executioner'. 4.) Ricky Hatton – The guy comes to fight. May not have the best set of skills on the planet, but he's a brawler. Great tenacity, great drive. 5.) Shane Mosley – He can box, he can brawl, he can take a punch, and like his ring name reminds us, he's simply sweet. Those five get the nod since I just had to answer, but there are a ton who I enjoy equally. Ivan Calderon, Vitali Klitschko, Andre Berto, Luis Collazo, Paul Williams….and the list goes on…..
(Got questions or feedback?: Contact ESB's Vivek Wallace at 954-292-7346 and vivexemail@yahoo.com, follow his work at 8CountNews and The Examiner, or show some love at Myspace and Facebook).