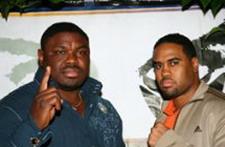 Los Angeles, CA (February 19, 2009) – Photo by Jan Sanders/Goossen Tutor Promotions – Big time heavyweight boxing will be played out on March 27 when #3 World-ranked contender Eddie Chambers and #5 World-ranked and former WBC World Heavyweight Champion Sam Peter collide in a monstrous heavyweight battle scheduled for 12-rounds on a special edition of ESPN's "Friday Night Fights" (10:00 pm ET/7:00 pm PT) at Nokia Theatre L.A. LIVE in downtown Los Angeles.
"It has been a great pleasure working with Dan (Goossen) and Dino (Duva) and their respective fight teams to bring this exciting and meaningful bout to ESPN's Friday Night Fights. We are equally excited by the opportunity to produce and televise this inaugural boxing telecast from AEG"s state of the art Nokia Theatre" stated Doug Loughrey, ESPN-Director Programming Acquisitions..
Goossen Tutor Promotions will present the marquee night of boxing and entertainment, and the Chambers-Peter Heavyweight Bout is being promoted in association with Duva Boxing. The ESPN special extravaganza will be the first ever boxing event staged from the world-class 7,100-seat Nokia Theatre L.A. LIVE, which is the centerpiece of L.A. LIVE, a 4-million square foot / $2.5 billion downtown Los Angeles sports, residential and entertainment district adjacent to STAPLES Center.
"This is undoubtedly the biggest and most anticipated heavyweight fight that does not have a world title attached to it, stated Dan Goossen, but the winner of this bout will once again be earning their right to fight for the prestigious World Heavyweight Championship."
Chambers knows the power that comes with a win.
"I can't wait for the big night," said an ecstatic Chambers, making his third appearance on ESPN, the giant cable sports network, on word that Peter accepted his challenge. Known as "Fast Eddie" for his tremendous hand speed, Chambers (33-1, 18 KOs) beat Ross Puritty and stopped Derric Rossy in his two previous bouts on ESPN.
"Pro basketball, football and baseball all on ESPN, and now "Fast Eddie. I'm in great company. I will beat Sam Peter, and do it convincingly, to get in position for my well-deserved World title shot. Peter is a big man, and a powerful puncher with both hands, and I give him his respect. But come March 27, he'll find out about my power and speed. This is a big fight for me and I promise an exciting fight for the fans. It's major heavyweight boxing."
The 26-year old Chambers was in the process of making a meteoric rise in the heavyweight division when he lost a decision in January 2008 against Alexander Povetkin in an IBF Heavyweight Title Elimination bout in Germany. A native of Pittsburg, Pennsylvania, now fighting out of Philadelphia, he was 29-0 when he stepped up to garner a split-decision over top contender Calvin Brock to earn the shot against Povetkin.
Now trained by the experienced and knowledgeable Rob Murray, Sr., Chambers has reeled off three straight wins: TKOs over Raphael Butler (for the USBA title) and Livin Castillo and, most recently, a unanimous decision victory over the gargantuan 6-4, 268-pound Cisse Salif two months ago in Cabazon, California.
Known as "The Nigerian Nightmare," Peter (30-2, 23 KOs) is a 6-1, 250 pound knockout machine who is no stranger to fighting in Los Angeles, having recorded the first of his two big wins over James "Lights Out" Toney at STAPLES Center in September 2006 and has a decisive weight advantage over Chambers who weighed 221 pounds for his last bout.
"I'm coming home to LA. I love the city of Angels," exclaimed Peter to the tune of Randy Newman's "I Love LA" theme and added a little message to Chambers, "Eddie, you better be ready for the Nigerian Nightmare."
Promoted by Dino Duva, managed by Ivaylo Gotsev and co-trained by Manny Massom and Shadeed Suluki, Peter, 28, was 24-0 and holder of the NABF Heavyweight Title before sustaining his first defeat as a pro in September, 2005 to current World Heavyweight Champion Wladimir Klitschko while knocking Klitschko down three times during the bout.
The powerful Nigerian went on to post five more wins (including two over Toney) before getting his opportunity at a World heavyweight title belt. In March 2008 Peter stopped Oleg Maskaev in the sixth round and claimed the WBC Heavyweight Title. Seven months later, in his first title defense, Peter relinquished the crown to the other Klitschko brother – Vitali – when he could not answer the bell for the ninth round
.
So both Peter and Chambers will be looking for the opportunity to immediately get back into the World title picture on March 27 at Nokia Theatre L.A. LIVE.
The boxing industry is giving Peter and his team credit for taking on what most experts consider a 50/50 fight against the dangerous Chambers. "Goossen has two fighters we want back-to-back, Chambers and (Cristobal "The Nightmare") Arreola. First, Sam will knock Chambers out cold," said a confident Duva, "and then the World Title or we may comeback to Los Angeles and do the same thing to Arreola."
"Nokia Theatre L.A. LIVE and everyone at AEG are incredibly thrilled to host our first ever-boxing match on March 27th," said Lee Zeidman, General Manager STAPLES Center, Nokia Theatre and L.A. LIVE. The theatre was designed to host a variety of events and now we can add World Championship boxing to that list, and are looking forward to a history making night."
"Matching two of the world's top heavyweights is only part of the story on March 27," Goossen stated. "The opportunity to bring this event to the amazing state-of-the-art Nokia Theatre is the other star. I believe an expanded and younger fan base will be attracted to this event and it will be the place to be that night, in part because of the extraordinary L.A. LIVE, and bringing the first ever boxing event to Nokia Theatre. The fans will definitely be treated to a World-class event at a World-class entertainment center."
The night is sure to be a knockout come March 27 — the only question is who will it be?
Ticket information and other televised and undercard bouts will be announced shortly.