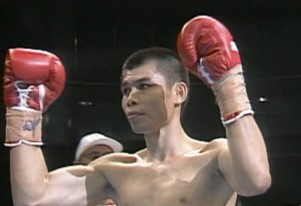 By Tony Nobbs: Next Saturday night WBA featherweight champion of the world Chris "The Dragon" John (42-0-1, 22 ko's) defends his belt for the eleventh time against hometown hero and Sydney Olympic silver medalist Rocky Juarez (28-4, 20 ko's) in Houston Texas.
John, 29, has been in Houston since the start of the month preparing for his long awaited American debut. I spoke to him today as he and trainer/manager Craig Christian were arriving at Lopez' Gym in Baytown, Houston. Here's what the humble champion from Indonesia had to say.
Tony Nobbs: Hi Chris, how has preparation and acclimatisation been?
Chris John: Everything is perfect. Spot on. We have isolated ourselves. I have been training very well, sparring some tough Mexicans. Wilie Kickett is here helping me too. There'll be no excuses.
TN: How important is it to put on a great performance?
CJ: I have to put on a great performance. I have to win. There's no rematch clause. This is not a mandatory. This is the most important fight in my career. I have a tough opponent in front of me. He will have support from ther crowd. If I lose, they will not want me back. This fight is everything for my career. Also this is a very important fight for Indonesia boxing. When I win, I will be the first Indonesian boxer to successfully defend his world title in the United States. I want to show world how good Indonesian boxers are.
TN:What do you expect from Juarez?
CJ: He will come to fight. He is strong but I don't think he can change much. I expect to out box him.
TN: You beat JM Marquez but it is controversial. With him fighting the main event is there any extra incentive?
CJ: No. I'm fighting Rocky Juarez not Juan Manuel Marquez. I have already defeated him. I expect to be Ring Magazine featherweight champion after this fight. (John is number 1 currently). Marquez is at lightweight and he is world champion. After this fight people will know that I am a worthy world champion who is up with the elite.
TN: What future opponents would you like to fight?
CJ: First I must defeat Rocky Juarez. He is an experienced fighter he has fought Marquez, Barerra. I will move up top super featherweight to get the mega fights if I have too. But there are fghts for me at this weight. Israel Vasquez, Rafael Marquez. I would love to fight Manny Pacquaio if it can get made. I will fight anyone who is put in front of me.