14-02.09 – By Vivek Wallace: – I'm ready for those Gatti/Ward type fights. That's what I love to do and that's what I train so hard for….those type of wars that bring out the best in both men until the last man's standing!
The island of Puerto Rico has been long known as perhaps one of the biggest natural sources of talent in the sport.. From 'Macho' Camacho, to Trinidad, to Cotto, and the host of others before them; fight fans all around the globe have always tuned in for the patented excitement generated by these countrymen for two reasons..….They come to fight, and they love to entertain! Many newcomers from the island remain in the shadows, anxious to be added to that legendary equation, and come Saturday night, fight fans in Sunrise, Florida will get the opportunity to witness one in particular whose emergence has quickly reached a falsetto high. That individual at the center of the spotlight is none other than Puerto Rican cruiserweight Francisco 'The Wizard' Palacios (16-0, 9KO's).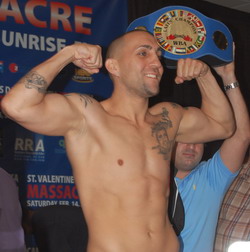 Palacios comes into Saturday nights contest against Lawrence Chapman (19-5-1, 13KO's) with not only a mission to perform, but also a point to prove while doing it. In a recent interview, the words of Palacios couldn't have been any more clear. When asked how he sees the fight unfolding, the far from bashful Palacios stated that he's "100% healthy with no injuries, and just ready to get in there and make this guy disappear"! Anyone who's ever seen the effects of his left-hook knows that statement can quickly become a reality if the reflexes of Chapman abandon him in the ring.
Similar to countryman Miguel Cotto, when Palacios started the sport it was primarily for physical fitness, but after less than 8 months, his raw talent would earn him a #4 ranking in the nation at the time. With great success in the amateur ranks and a growing buzz surrounding his name, the career of Palacios quickly took flight, sparked and fueled by his deceased brother who remains a primary source of inspiration, as well as the toughness Palacios displays in the ring. The most intriguing element to Palacios is perhaps his 'throwback' type mentality. In today's era of the sport, most fighters above the super middleweight limit generally shy away from 'blood-and-guts' type wars, instead choosing a more tactical way to land a victory. Palacios, on the other hand, relishes the opportunity to be part of such a ring moment. When asked what the near future holds for him, the brash Palacios quickly responded by stating that he's "ready for the Gatti/Ward type fights, because that's what [he] loves, and that's what [he] trains so hard for"! There are no immediate plans to enter the heavyweight ranks, but if the right opportunity crosses the table, to use his words "it's going down"!
Until that point, being ranked within the top 6 by two governing bodies – (WBA/WBC) – Palacios has apparently adopted the "taking-all-comer's" mantra, stating that everyone from Braithwaite, to Guillermo Jones, to Tomasz Adamek will all fall within the scope of his radar. To many, that may now appear to be a premature statement, but by the end of Saturday night, that perception in the minds of those in attendance will undoubtedly change. So it appears the island of Puerto Rico has yet another star to contend with, but standing at a solid 6'2" and being a natural southpaw that fights out of the orthodox position, this contender is far from the typical.
Remember the name. There's no question you'll be hearing it a lot more in the future!
Stay tuned.
(Got questions or feedback?: Contact ESB's Vivek Wallace at 954-292-7346 or vivexemail@yahoo.com, follow more of his work at 8CountNews and The Examiner, or show some love at Myspace and Facebook).