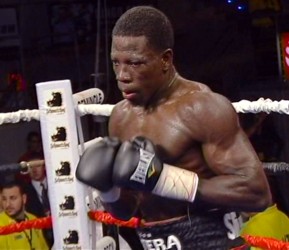 by James Slater – UK fight fans are in for a potentially thrilling night in March, when on the 20th of the month the big-punching Colombian, Edison Miranda, will make his British boxing debut in London. According to Boxing News magazine, the banger will fight at the legendary York Hall in Bethnal Green, London, and the 28-year-old's ultimate goal now is to get a big fight with Britain's Carl Froch, the WBC 168-pound world champion.
So far, no opponent has been officially announced or even chosen for the man who made a big name for himself in America with great, albeit losing fights against Kelly Pavlik and Arthur Abraham (who he met twice, once in the US, once in Germany). But, according to promoter Jim Evans, who, along with Robert Waterman and Miranda's Warriors team, has managed to get the fighter to come to the UK, "Pantera" could wind up facing Joey Vegas.
"I've thought about Joey Vegas [for Miranda]," Evans said. "It depends on how he gets on against Dean Francis (who the Ugandan-born journeyman meets tonight in the UK) and if the British Boxing Board pass it. Miranda's an exciting puncher. A rough, tough guy. He's targeting Carl Froch."
A Miranda-Froch fight would be a huge fight for Britain. Both men like to fight, and both men also like to talk. The build-up alone for a clash between "The Panther" and "The Cobra" sure would be something, and the fight itself couldn't help but be extremely explosive! As long as Miranda, 31-3(27) wins his UK debut on March 20th – and there's no reason to think he won't, especially if he does face the 11-4(4) Vegas – he will remain a possible future foe for the 31-year-old WBC champ. However, Froch must first win his intitial title defence, almost certainly now to be against former middleweight king Jermain Taylor – before he can even begin to think about squaring up with the chill or be chilled Colombian.
Still, it's exciting enough just having the trash-talker who can hit like a mule scheduled to fight against a selected opponent type here in Britain. For European armchair fans of boxing, there is further good news in the revelation that the March 20th card will go out live on the Eurosport channel.
According to Boxing News, Miranda will fight in a scheduled ten-rounder – presumably at super-middleweight (although 27-year-old Vegas is a light-heavyweight).
British fans will welcome the thrill-a-minute slugger with open arms, that's for sure.