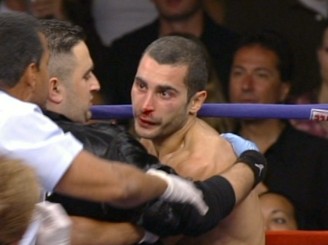 By Srithar Visuasam: 2009 is set to be an exciting year in Australian boxing with a number of fighters reaching defining stages in their careers and some hot prospects to be tested against the world's best. The fights outlined below present some ideal bouts that would really heat up Aussie boxing on both a local and global scale.
Vic Darchinyan v Nonito Donaire II
Vic Darchinyan is clearly the biggest Australian name in world boxing, claiming the WBC, WBA & IBF super flyweight crowns in 2008 and was one of the fighters of the year. 2009 can potentially springboard the Armenian born Aussie to become one of the biggest names in the sport pound for pound.
To kick off the year and already classed as the first blockbuster fight of 2009, is Vic's bout against Jorge Arce. A victory over Arce will see the WBC, WBA & IBF super flyweight champion defend his three belts for the first time. Next, could possibly be a unification bout with WBO champion Fernando Montiel, however more appetizing would be a rematch with the only fighter to defeat him in his 33 fight career, Filipino IBF flyweight champion Nonito Donaire.
Funnily enough, Darchinyan can have the opportunity to claim the WBO title and fight Donaire in the one hit, with Donaire set to take on Montiel on March 15. If Donaire prevails, a mega unification bout could take place later in the year. A victory over the Filipino would silence the contingent of critics who still doubt the super flyweight supremo.
Likelihood of bout (writer's opinion): 65%
Anthony Mundine v Felix Sturm
Anthony Mundine is at the defining point of his career. Close to two years ago, he captured the WBA super middleweight title for the second time and had the boxing world at his feet. A few months later a bicep injury and serious eye infection struck and his future in the sport became unclear. A return to the sport in December 2007 led to a few more optional defenses of his title and in May 2008 it was relinquished due to a change in career direction and move towards the middleweight division.
Mundine has yet to fight at middleweight, but since May has opted for a gradual move downward and has fought two bouts at a catch weight between the middle and super middleweight limit. He next faces fellow Australian Shannan Taylor in February 2009, his first bout at 160lbs. Already granted the number one ranking by the WBA, it's time now for the Australian to challenge for the world title and prove his worth in the division. Mundine has been roundly criticised for his choice of opponents in the past 12 months. WBA champion Felix Sturm presents the perfect opportunity to fulfill his aim of a world title in a second division and also silence his critics.
Sturm has grown in stature over the past six months, impressively accounting for Randy Griffin in their rematch and countryman Sebastian Sylvester in November. Mundine would go into the clash an even money chance and the bout would attract a great deal of mainstream sporting media attention down under. Being the mandatory challenger, Mundine is poised to tackle the German at some point in 2009. For the bout to take place, it would be most likely held on Sturm's home soil.
Likelihood of bout: 80%
Anthony Mundine v Sakio Bika
After Vic Darchinyan and Michael Katsidis, Sakio Bika would be the third biggest Australian boxing name in the United States. In the past 14 months, Bika has won series three of The Contender and defeated Peter Manfredo Jr. to capture the IBO Super Middleweight title. He has achieved both feats in great style, with his no holds barred fighting style and brutal punching power a fan's delight.
Anthony Mundine appears set to fight under the Golden Boy Promotions banner sometime in 2009 after a number of meetings with the Golden Boy camp this year. Assuming Mundine can fight Sturm by the midway point of 2009 and prevail, a highly marketable fight in the US would be a Mundine – Bika showdown as a defense of Mundine's WBA middleweight crown. This would appear the only realistic way of convincing Bika to drop in weight to fight Mundine with the WBA strap an alluring bounty.
A Mundine – Bika showdown would be quite a contest, with Mundine's speed and evasive skills tested against Bika's power and awkwardness. Mundine would go in as the slight favourite with Bika having much more than a puncher's chance.
Likelihood of bout: 30%
Daniel Geale v Sam Soliman
At 20-0 and IBO middleweight champion, Tasmanian Daniel Geale has carved out an impressive start to his boxing career. He has defended his title twice against middle tier opposition and is now looking towards fighting the bigger names of the division. A bout with compatriot Anthony Mundine has been discussed and is a real possibility in 2009, though one could say that it might be a little too soon for Geale.
A bout with another Aussie, Sam Soliman may be a better choice of opponent for a number of reasons. Soliman presents a very awkward proposition, throws punches from all sorts of angles, continually pressures and has the knack of illustrating the worst in a fighter. This may be a reason to decline the fight, but for Geale it should present the ideal opportunity to demonstrate that he is the real deal and boost his profile. Soliman still has a strong currency in the world middleweight scene and would love the opportunity of claiming the IBO title; therefore the match-up makes sense for both parties.
Likelihood of bout: 60%
Kali Meehan v Nikolai Valuev
Kali Meehan has been hovering around the top bracket of heavyweight contenders for the past couple of years and is currently ranked as the mandatory challenger for the WBA title. Since his defeat to Hasim Rahman in November 2004, he has fought six bouts for six wins albeit against average opposition, the biggest name of the bunch, fringe contender DaVarryl Williamson.
WBA champion Nikolai Valuev controversially defended his title on points against four time heavyweight champion Evander Holyfield last month and now must fight the 'champion in recess' Ruslan Chagaev. The Valuev – Holyfield bout is currently in the process of being reviewed by the WBA and the likely outcome will be a rematch to be held after Valuev's bout with Chagaev. If Valuev can get past Chagaev and Holyfield (which would be some effort after his woeful display against Evander) a bout with Meehan would make for an interesting clash.
The 38 year old Meehan is at the twilight of his career and would give the Russian behemoth a tough night at the office. If the cards can fall in his favour, a bout in late 2009 could be possible and by year end, Australia could have their own world heavyweight champion.
Likelihood of bout: 30%
John Hopoate v Shane Cameron
Not a major name on the global fight scene, John Hopoate has garnered a lot of attention within Australian sporting circles for many years. Beginning with his career in the National Rugby League (that will be more remembered for his anal poking antics on the field rather than his excellent skill in the game), where he earned both state and national representative honours.
Hopoate left rugby and made his debut in professional boxing in May 2006, quickly establishing a name amongst the Australian heavyweights. Last September, Hopoate accomplished his dream of capturing the Australian heavyweight title in a TKO victory over journeyman Bob Mirovic. In a brutal encounter, Hopoate received high praise from the Australian sporting public and is now gaining attention for his exploits in the ring.
The biggest heavyweight name in Oceania boxing apart from Kali Meehan would be New Zealander Shane Cameron. Despite being a tough ask, a win over Cameron would greatly enhance Hopoate's reputation and give him a real chance to crack it on the world scene. The bout would also mark another chapter in Australia and New Zealand's strong sporting rivalry and give fight fans across the Trans-Tasman a mouth watering encounter. This bout has already been discussed between the two camps and a clash mid year is quite a realistic possibility.
Likelihood of bout: 70%
Billy Dib v William Kickett
This fight may be 12 to 18 months away but deserves to be mentioned in this wishlist category. Local featherweights Billy Dib and Willie Kickett are two of Australia's biggest rising stars. In 2008, both fighters showed plenty of promise but ended the year recording the first losses in their careers. Australian boxing has lacked a genuine rivalry since the Mundine – Green rivalry over 2001-06. Billy Dib and Willie Kickett have the potential to bring back the rivalry in the Australian fight game.
Dib's 2008 ended with a crack at WBO Featherweight champion Steven Luevano. Dib was soundly beaten though never gave up in his 12 round points defeat, his low punching output the primary reason for not winning enough rounds. In his previous bout, Dib narrowly defeated South African Zolani Marali to capture his first world title, the IBO Super Featherweight title. Kickett had the biggest victory of his career in 2008 in a points win over former world champion Gairy St Clair in June but in November, was stunningly knocked out by compatriot Ahmed Elomar in the first round of their clash.
Both fighters are still some stage away from winning a major world title therefore a showdown between the two appears at least a few fights away. For starters Kickett should rematch Elomar, however a Dib – Kickett bout would be great for Aussie boxing between two quality featherweights and could be a rivalry that could go on for many years.
Likelihood of bout: 25%