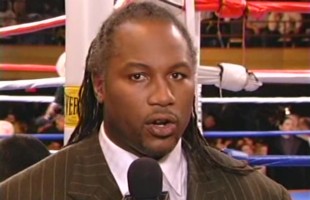 by James Slater – This scribe, like many other people, is grateful to 37-year-old Vitali Klitschko for coming back and adding some much needed excitement to today's less than thrilling heavyweight scene. Looking as good as he ever has, "Dr Iron Fist" proved way too much for Samuel Peter on October 11th – an admittedly poor-looking and very disappointing Peter though it was.
Reclaiming the world title he had been, for over three years, the "Champion Emeritus" of only, Vitali also regained his status as the best big man in the world. The elder Klitschko brother had been seen as the best heavyweight in the world since Lennox Lewis' retirement , in the eyes of a lot of people, anyway, and now the huge Ukrainian must be looked upon as such once more. But, speaking of Lewis, this article gets to the crux of its subject matter. Just what chance does Vitali Klitschko think he has of landing a return bout with Lennox?
This writer had the privilege of speaking over the phone with Vitali on the Monday after his fine win over the Nigerian who wound up having a nightmare of his own. Seemingly obsessed with a second fight with Lewis, who stopped him on cuts back in June of 2003, of course, Vitali brought the subject up almost as soon as he picked up his receiver over in Deutschland.
"I have big hopes, big hopes," he told me "of a second fight with Lennox Lewis. I want to give the world the fight they all want to see." and "It would only take Lewis a few months to get back in top condition. He will never lose his skills, you either have them or you don't."
Is Vitali nuts, or does he think Lewis Is? (actually, considering the recently revealed news about what Vitali wraps his hands in, maybe he is a few french fries short of a happy meal! – just kidding, Vitali!). Put simply, there is about as much chance of Lewis coming out of the well earned comfort of his retirement and tackling Klitschko again as there is of Manny Pacquiao entering the ring against Oscar De La Hoya in December and looking the bigger guy. Why is Vitali seemingly convinced Lewis will box him again?
It does make me wonder whether or not Klitschko made his comeback primarily in an effort to hopefully persuade Lennox to do likewise. But it ain't gonna happen, Lewis is too smart to risk coming back and losing. However, adding to the Lewis-Klitschko II "saga," promoter Don King has reportedly dangled no less than a staggering £25 million (approx $50 million) in front of Lewis, in the hopes of enticing him out of retirement and into a ring with the man he last faced. Big money this surely is, but why is King so anxious to get this fight on? Would it really be something the fans would want to see?
Lewis is now well into his forties, has gained a substantial amount of weight and would almost definitely be a mere shell of what he once was were he to come back. As such, even if Vitali got the revenge that, it seems, has been dominating his mind ever since June 2003's bout was stopped, it wouldn't mean all that much. And seeing one of our greats sent back into retirement, his reputation somewhat tarnished after having fought one fight too many, would be nothing we Brits would want to have forced upon us.
In the final analysis; Lewis was smart, got out on top at a time when he knew he was beginning to fade but had nothing more to prove anyway, and joined a short list of men who retired as reigning heavyweight champions. To undo all this good work in the name of nothing but money is just something the Olympic gold medallist and three-time heavyweight king will not do.
Vitali Klitschko, choosing as he has to fight on, must focus on real possibilities, as opposed to his own particular "dream fight."
Vitali Klitschko hints at Lewis return
Newly crowned WBC heavyweight champion Vitali Klitschko has fuelled speculation that British boxer Lennox Lewis is about to return to the ring. Klitschko reclaimed the WBC heavyweight title when Samuel Peter withdrew in the eighth round last Saturday night in Berlin. In an interview on Setanta Sports News during Steve Bunce's Boxing Hour Klitschko hinted that Lewis could be about to return. "Right now, after the Peter fight, a fight against Lennox Lewis is very interesting. Maybe Lennox Lewis is thinking about coming back.
"I'm very grateful to Lennox; he gave me the chance to prove my skills against the strongest heavyweight in the world. After the fight nobody knew who the winner was. I beat Lennox Lewis by points but the doctor had to stop the fight because I had a huge gash.
"In a couple of weeks I'll have more information about my next fight and my next opponent."