26.08.08 – by James Slater – It's been over ten months since former WBC heavyweight champion Oliver McCall fought. Losing on points over 12 rounds against tricky Cuban southpaw Juan Carlos Gomez in a rematch he didn't have to take, McCall saw his long unbeaten run come to an end..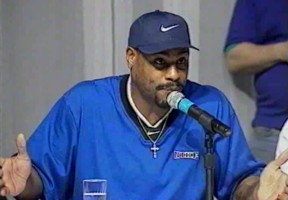 Before the rematch loss to Gomez (the two boxed a No-Contest in October of 2005, which was called such due to Gomez's failed post-fight drugs test), "The Atomic Bull" had been doing very well. Working his way, slowly but surely, towards another crack at the title, the 43-year-old won 10 in a row, with the No-Contest bout mixed in. Showing he was still extremely tough, dangerous and willing to work hard, McCall, quite amazingly, got himself back in the WBC top-five ranked heavyweights in the world. Were we about to see another George Foreman-style comeback?
McCall SHOULD have fought for the WBC crown sometime last year. In remaining unbeaten since his November 2004 points loss to DaVarryl Williamson, McCall was rewarded with an official WBC elimination bout in June of 2007. Going up against the extremely durable Turk, Sinan Samil Sam – and in Sam's backyard at that – the veteran who once had a mid-ring breakdown against Lennox Lewis won a unanimous decision and was a whisker away from being given the chance to regain his old WBC title. Or so it seemed.
After being given a verbal assurance by Jose Sulaiman that should he beat Sam he would get a title shot, two things happened with regards to McCall's future. Firstly, Sam demanded a rematch and it seemed that fight might happen and THEN the winner would get a shot. McCall said he'd be happy to beat Sam again and did not complain. The rematch failed to materialise, but McCall wound up boxing a second WBC elimination bout anyway – this one against Gomez. Just why McCall took this risky fight instead of waiting for the title fight he'd already earned I don't know. I'd hazard a guess that McCall, a very proud fighter, wanted to prove he could beat Gomez, who had originally been declared a points winner over him before his failed drug test. In any case, McCall should not have, didn't have to, but for some reason did, fight Gomez for a second time. Once again, as with the Sam fight, he boxed in the other guy's backyard. McCall lost on points, as we know, and any title shot he'd earned had gone up in smoke.
Unfair? A case of a bad career decision on Oliver and his team's part? Probably both. Which brings us up to date. McCall, now almost a year older than when he fought "The Black Panther" for a second time, has yet to give us any real indication regarding his future as a boxer. He's still a recognisable name, he's still able to lay claim to the fact that he's never once been down, either in a fight or in sparring – which is something precious few fellow heavyweights have ever been able to say – and McCall's still a fighter who looked far from shot last time out. So will we ever see "The Atomic Bull" in a ring again, in a capacity other than to assist his young son, Elijah, that is?
In a recent interview, McCall spoke about how he is sure his 20-year-old son will do well in boxing. Oliver also said he would fight again, he just didn't say when. I for one hope he does give it one last try. Let's be fair, the last time he attempted a comeback he got all the way to winning a final eliminator for a version of the heavyweight championship. Sure, it will be a long road back at age 43, and it's unlikely McCall will get that far again; but if he can win a couple of fights and get some momentum going, the old "Atomic Bull" just might get himself a big fight and a big pay day before he retires for good.
After all he's been through in his long and hard career, the former WBC heavyweight boss deserves to go out with a win, and a handsome pay check to go right along with it.