By Trish Kilcullen – Photos by Peter Mark Heintzelman – Camacho Decisions Espinal – Well, not all fighters and fights can burn bridges, as the six rounds at middleweight between Angel Camacho and Ariel Espinal revealed, during a full six round decision fight that had many a fan yawning, stretching, and retiring to the lobby to tip the waiters and waitresses for a double shot of some imbibing liquid..
<
Camacho retained his undefeated record with the judges' scores at 60-54, 58-56 and 59-55. Camacho's record remains unblemished at 11-0, 4 KO's, while Espinal, returns to Brooklyn, NY at 6-4-2, 2KO's.
Starnino and McCreedy End With Majority Draw!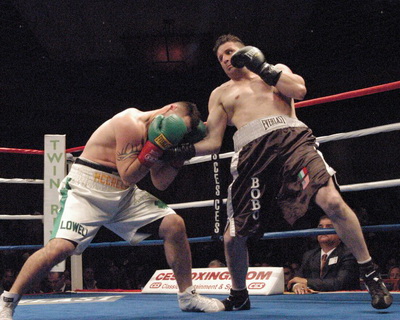 <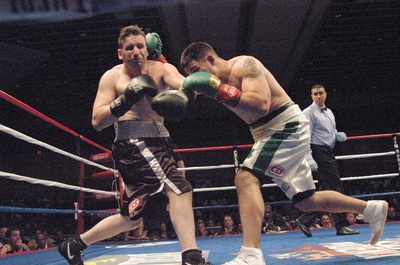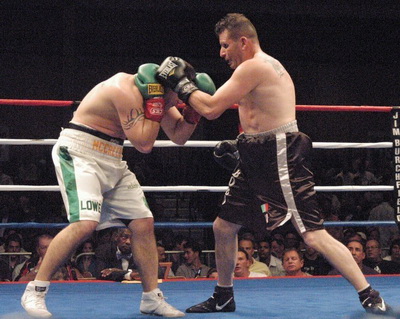 >
Ok, back to the action, and action the crowd saw, as Bobo "The Bull" Starnino, of Providence, Rhode Island and Lowell, Massachusetts', Joe McCreedy, turned it on for six rounds of excitement at super middleweight. At age 36, Starnino actually seems to be getting stronger, as evidenced by this fight and his last fight in June at the Connecticut Convention Center against 25 year old Brian Macy, whom he lost to, but whom many in the crowd thought he had beat, as he turned up the generators in the later half of that bout that he was enticed into at the last minutes because Macy's original opponent had fallen out. You gotta love a guy like Starnino, who is not gun shy to fight anybody, and who will mix it up with everybody; something must have rubbed off on him, from his long standing friendship with New England's finest, the one and only Vinny Paz, a long time best buddy of Starnino.
"/fotos/Starnino 4.JPG" width="400″ height="265″ />
Twenty-three year old "Irish" Joe McCreedy, came from Lowell with Norman "Stoney" Stone in tow, and is known as a crowd pleaser himself, but experienced his first draw of his career tonight against the game Starnino. The fighters gamely traded jabs and body shots throughout the entire six rounds at super middleweight, and the majority draw decision seemed righteous.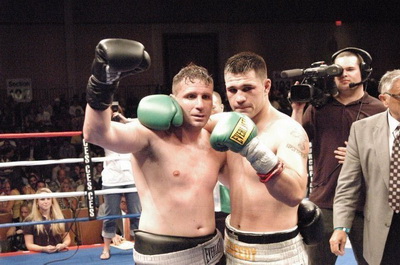 Starnino's record remains now at 9-4-2, 2 KO's, and McCreedy's at 8-2-1, 5 KO's. The crowd was crying for a rematch!
Tsagouris Decisions Lopez!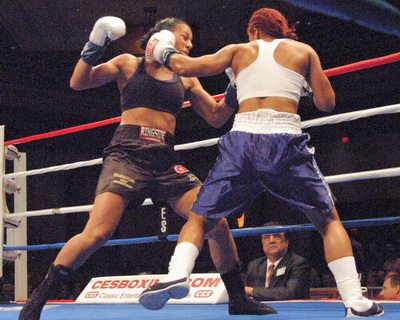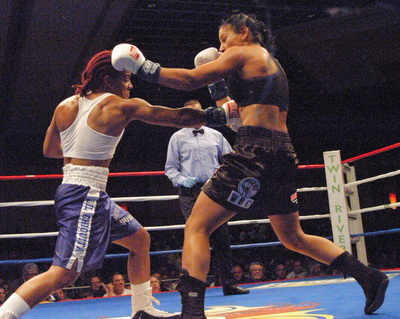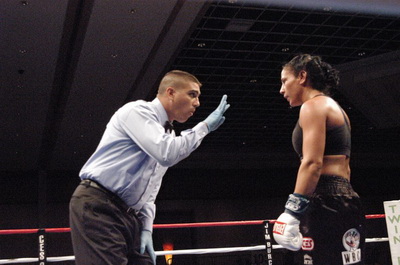 Jimmy Burchfield's new talent, the lovely Sandy Tsagouris, of Toronto, Canada, decisioned challenger Adawirky Lopez, of Tampa, Florida, at six rounds featherweight, in a special women's attraction this evening. Lopez had fought in the Pan American games, and earned the respect of the boxing crowd present this evening, as she showed experience way beyond her 1-0 record coming into the ring.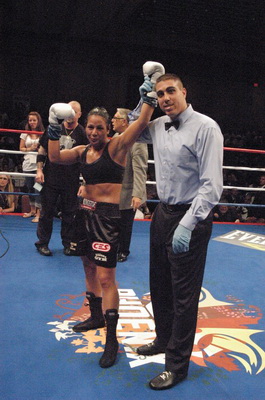 She even knocked down the Canadian in the third round. But Tsagouris, whom Burchfield signed after seeing Tsagouris fight like an Arturo Gatti on a German undercard of a Matt Godrey fight, reigned supreme after six rounds, and won by unanimous decision 58-55 thrice.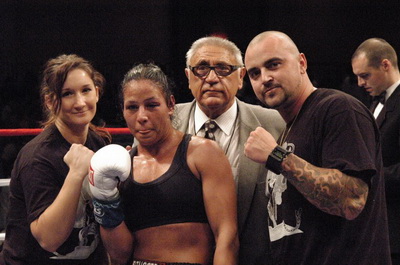 With the loss, Adawirky Lopez returns to Tampa, Florida, with head held high, leveling her record at 1-1, while New England fight fans will definitely look forward to seeing more of the very talented Sandy Tsagouris, whose record improved this evening to 8-1, 3 KO's.
Rodriguez Continues To Rise!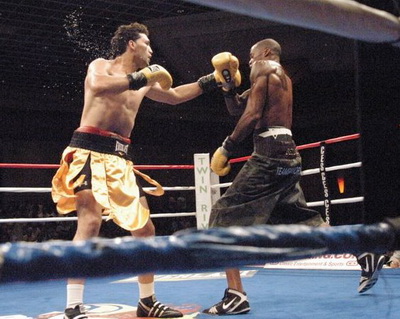 No one seems able to stop the 23 year old Edwin "La Bomba" Rodriguez, of Worcester, MA, as he extended his undefeated record against Marcus Upshaw after six rounds at middleweight this evening, in what may have been the fight of the night, showcasing the fighter of the night, Rodriguez. With a fandom second only to main eventer, Manfredo, Rodriguez is developing a fan base not seen in New England for years, and rightfully so, as he continues to show excellent skills and marked improvement from one fight to the next, under the tutelage of Peter Manfredo, Sr.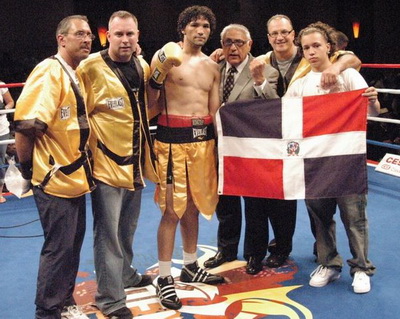 His opponent, 28 year old Marcus Upshaw, of Jacksonville, Florida, presented good and stiff opposition to the Worcesterite, that challenged Rodriguez in ways he hadn't been challenged in his first seven professional fights. Rodriguez saw opposition that required him to adjust his technique and game plan to come out on top of this bout by unanimous decision, 60-54 thrice.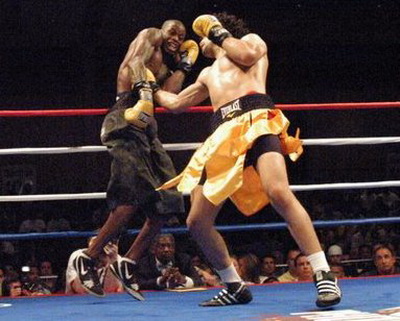 With the win, Rodriguez remains undefeated at 8-0, 5 KO's, while Upshaw settles for 8-3, 3 KO's.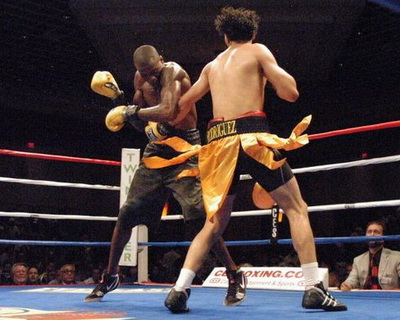 Rodriguez has fought all eight of his professional bouts in 2008. Eight wins in eight brief months, the kid with a great attitude and love for the sport, and with great management and training from the likes of Peter Manfredo, Sr. working his corner, not only does New England boxing fans have their eyes on this kid, but nation wide promoters were in attendance eying this promising prospect. Time to start a scrap book.
Caro KO's Smith!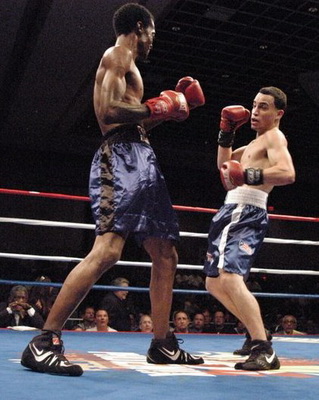 Another Peter Manfredo trained fighter, Jesus Caro, of Providence, Rhode Island, prevailed by technical knockout against Brooklyn, New York's Clarence Smith, at 2:01 of the first round scheduled for four, at junior middleweight.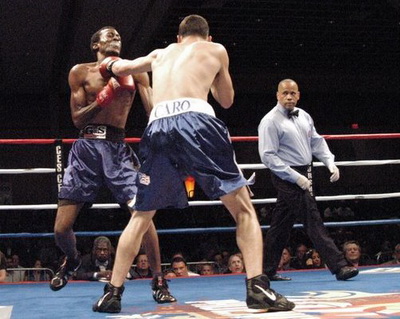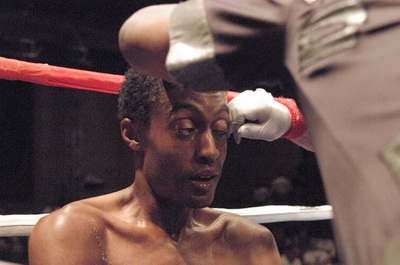 Jesus Caro is undefeated with two wins, both by knockout, while Clarence Smith lost his pro debut.
Pena and Shakoor Draw!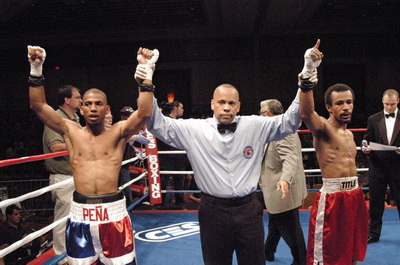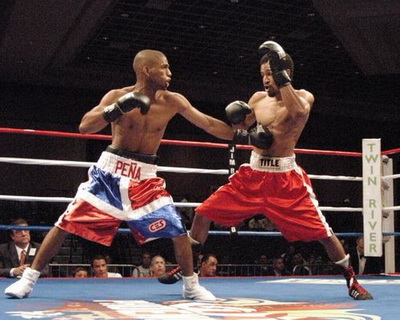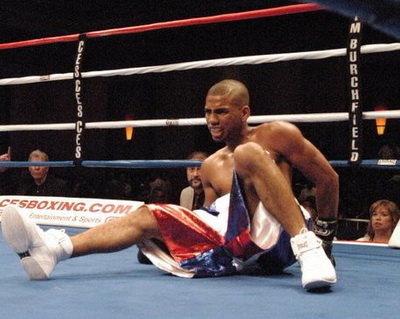 Former Golden Gloves champ Omar Pena, of Providence, Rhode Island received an early Christmas present during this fight, his pro debut, from the scoring judges, who gave him a majority decision, 38-37, and 37-37 twice, against Jackson, Missouri's Rasool Shakoor.
Fighting at junior lightweight for four rounds, Pena tasted the canvas twice in the second round.
With the win, Pena notches his first win again no losses, while Shakoor's record stands at 1-4, 1 KO.