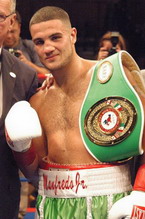 By Trish Kilcullen – Photos by Peter Mark Heintzelman – Last night at the Twin River Event Center, in Lincoln, Rhode Island, and before a packed and partisan crowd, Peter Manfredo, Jr. tamed Donny "The Savage" McCrary by a technical knock out decision in round two!
Both of "The Contender" fame, they had not before met in the ring. McCrary was not a challenge to be fluffed off, as he had fought the likes of David Banks and Sakio Bika, not to mention Yuri Foreman and Allan Green, and at the ripe young age of 25 years, has established himself in the super middleweight world.
Twenty-seven year old Manfredo, "The Pride of Providence" had to be pumped by the excitement of the boxing fandom, with standing room only left, and the sound was deafening, as he and his entourage entered his home turf forum. This man is the biggest draw in New England boxing, and Classic Entertainment & Sports' Jimmy Burchfield's eyes were gleaming..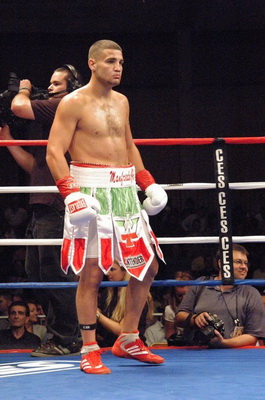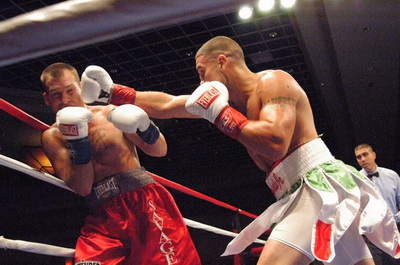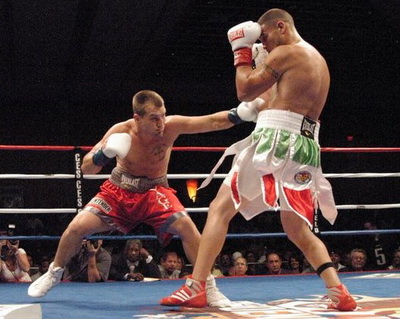 In the first round, the fighters went right to business, trading jabs and punching to the crowd's delight. McCrary had not come from Missouri to lose. Yet at 52 seconds of the second round, in a bout scheduled for twelve, referee Joey Lupina had seen enough, as McCrary wobbled on his feet after an infliction of Providence Pride, and shortly after, Joe Dwyer was wrapping the interim NABF Super Middleweight green and gold title strap around Peter's waist. Now it was trainer/manager, Peter Manfredo, Sr, whose eyes were gleaming, as his son continues his climb back into the super middleweight echelon.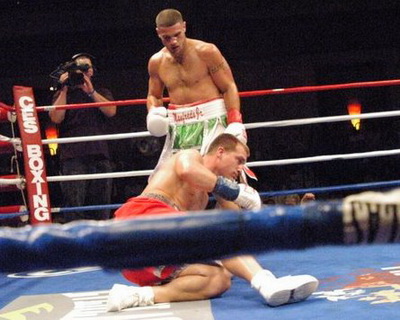 With the loss, Danny McCrary, returns to Saint Joseph, Missouri at 24-8-2,s 13 KO's.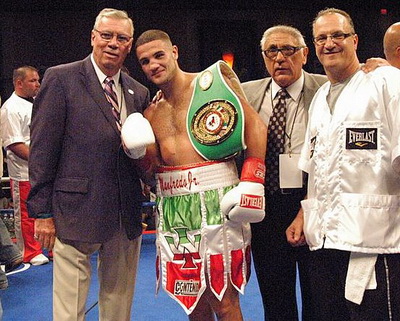 Peter Manfredo, Jr, now 31-5-0, 16 KO's, on a three bout winning streak, has lost only to the world class Jeff Lacy and Joe Calzaghe, in his last five bouts. At his press conference before the fight, Manfredo reflected that he feels revitalized and enjoys boxing again, and is looking forward to his continued climb up the super middleweight division. Any takers?
Spina Continues to Shine!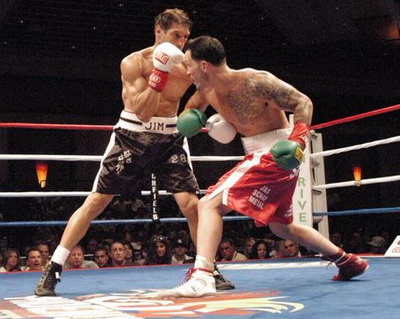 With only one loss on his professional record, and that being to, no other than, Peter Manfredo, Jr., super middleweight Joey "KO Kid" Spina, of Providence, Rhode Island made short order of his opposition, Jim Strohl, of Las Vegas, Nevada, by stopping Strohl at 52 seconds of the second round by a resounding knock out.
Before the first bell rang, as the fighters entered the ring, they both circled the ring like caged animals ready to attack, glaring at each other, flexing their muscles, and ready to pounce. These guys were ready to get it on.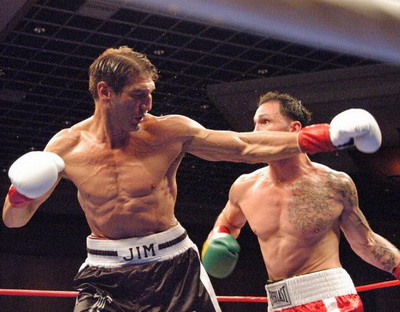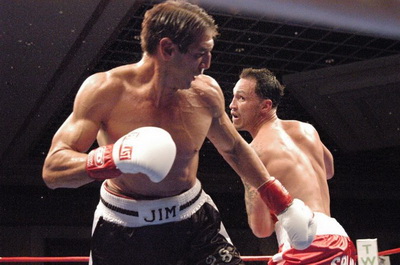 In the first round, as they circled each other and traded jabs, Strohl caught Joey with a resounding nose punch that would have put most pugilists down for a count on the canvas. It caught Spina's attention, but you could read in Spina's eyes his thoughts: "Oh, you want to play that game?" Then Spina turned it on. He changed his come forward and inflict body shots technique, and successfully aspired at taking lightening speed jabbing pot shots at Strohl's own nose, which transformed promptly into silly putty. Now that was a broken nose!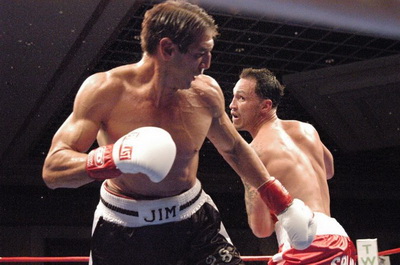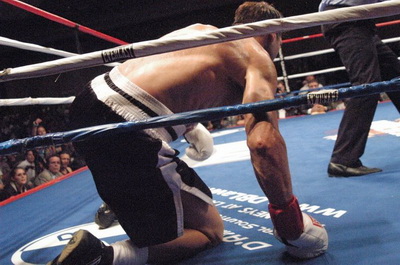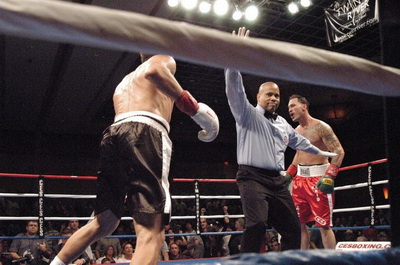 Fifty two seconds into the second round, Spina finished the job and landed Strohl down and out for the count at half way through the second round.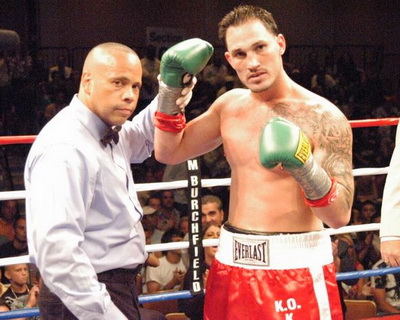 The "KO Kid" Spina is back! After a few more sluggish fights, his last couple of fights have marked significant improvement, and the super middleweight world in New England is better for it. Keep an eye on this exciting fighter.
With the win, Joey Spina's record elevates to 22-1-1, 16 KO's, while Jim Strohl takes his broken nose home at 27-7, 21 KO's.