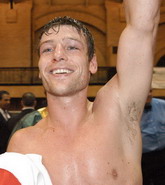 30.06.08 – Article by Trish Kilcullen & Peter Mark Heintzelman, Photos by Peter Mark Heintzelman – Irish John Duddy returned to the ring Saturday night at The Castle in Boston, Massachusetts, and returned in style, as he decisioned a durable Charlie Howe after ten rounds of rabble rousing middleweight action.
Thirteen hundred plus voices, mostly with an Irish drawl, drowned the traffic sounds on Arlington Street, chanting, "Ole, Ole, Ole, Ole," as their champion returned to Beantown to headline the Irish Ropes fight night. The capacity crowd was ablaze in green, orange and white, while Howe entered the ring, in simple black trunks, a determined mind, and maybe three or fans in his corner. That was soon to change..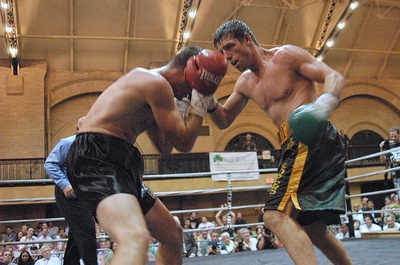 Not having fought since the punishing win he sewed up, literally in February of this year in Madison Square Garden, Duddy picked up a few stitches, and two Burns along the way, namely Patrick and Joe, who re-trained and conditioned him back into tip top form.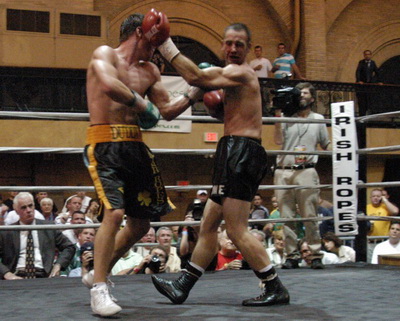 What may have appeared to some to be a picked opponent, in the likes of an Ohio auto salesman, Charlie Howe, turned out to be a not-for-joy ride for Duddy that most would not have guessed. "This fight will be over in one," predicted one ringsider before the first bell; a thought probably held by many in the Boston fandom.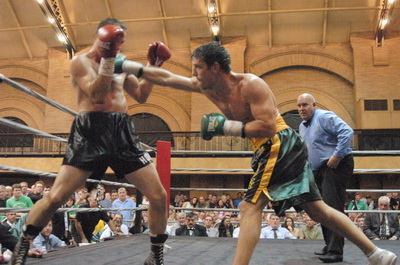 But, ten rounds later, Charlie Howe was still standing, and although losing by decision that night, the standing room only crowd applauded their Irish ring king, and admired a used car salesman. Charlie was fighter of the night in these scribes' eyes, for his determination and grit, having done the unexpected: going home with head held high, and without canvas dust on his trunks.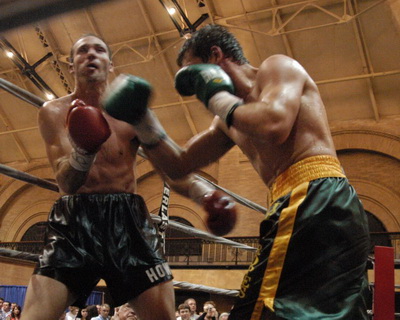 From round one through ten, Duddy commanded the ring, and his newly found defense, compliments of Patrick Burns, was evident from the get go. He patiently, but persistently asserted his ring generalship, delivering ear ringing body punches and jabs to his game opponent, who grinned and bared it. When the going got tough, as the pugilists fought inside, the conditioning training of Joe Burns shown through for the Irishman.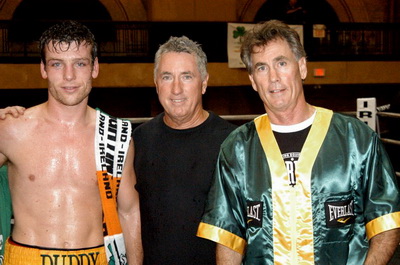 Charlie Howe did not come to lose, and counterpunched his way into the respect of his opponent, and the hearts of his new Boston fans. Howe, the underdog coming into the ring for sure, showed his own tenacity and determination in his attempted offense which, besides the opening of a cut over Duddy's eye in the ninth round, albeit by the clash of their heads, never otherwise seemed to open the judges' score cards in his column, beyond the column of admiration, for the Buckeye State journeyman, as the judges' final scores were unanimous at 100-90.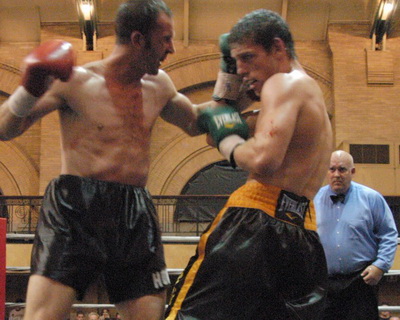 With the win, John Duddy remains undefeated at 25-0-0, 17 KO's, while Charlie Howe's record is 17-5-2, 9 KO's.
After the fight, as the flash bulbs subsided and the crowd dissipated, the fighters left the ring, to retire to the dressing room for their post fight presser. Two Irish fans stopped Howe on his way, draped him in their Irish flag , took his photograph, and told him he put on a great fight. You gotta love the Irish!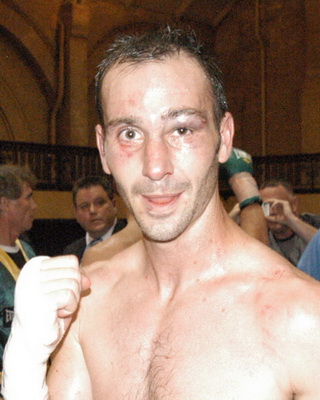 After the fight, before the fighters addressed the press, Duddy put his arm around Howe, who told John "Your defense so improved." Duddy replied, "Its easy to improve when I never had a defense in the first place!"
Howe: I wasn't sharp. It wasn't my best performance. I didn't want to fight a survival fight. Duddy's biggest problem for me was that he was stronger than I thought he was. He's a super fighter and a warrior, and he's a hard , hard chap to beat. I am in good shape, and I will recover. I was trying to show sharp hooks and catch him there. He fought different than what I expected. He drove me with some hard, hard shots. We watched tapes, but you can't go off the tapes. You shouldn't watch tapes. I can't take nothing away from Johnny. He's a super fighter, a warrior. His body shots slowed me down. I threw good body shots myself, but I wasn't working them. Its sad I was flat, because this fight could have really turned things around for me, and I had a lot of notice for this fight."
Duddy: " It was probably my best performance to date. He covered up and lasted the distance. He had an iron cast jaw. At this stage of the game, you can't be surprised by anybody. You just can't do that as a professional fighter. You use your jab, and try and break down your opponent. He took some great body shots. I thoroughly enjoyed the fight. I got in too close sometimes, the head clash in the 9th was accidental. Did I feel rusty? Do you think I could get rusty in four months, huh? Four months isn't that long in boxing. I was active a good four weeks in Ireland before training here in the States. I'm the busiest fighter there has been in the past ten year. Rusty? Not the way theses guys (the Burns Brothers) have been working me in Florida!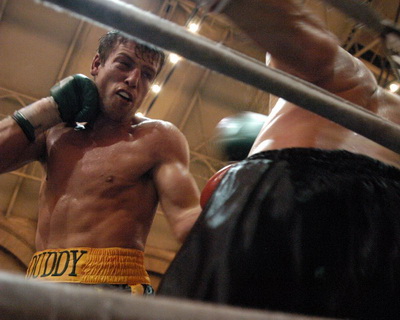 Concerning his future, Duddy replied: "From here it should be big plans for me. As far as I'm concerned, everybody wants to fight me. Its nice to be in that position, you know, they are thinking if they can't beat me they can get other fights. For me, I'm just doing what I can control."
When asked by EastSideBoxing Duddy's "reason why?" Duddy replied:
"Well, you heard it: It's a nice experience when you get in the ring, and everybody's shouting your name. Its my main goal since I came to America to find out how good I am. And that's my journey, and if I can get a title or a world title, and if I get paid along the way."