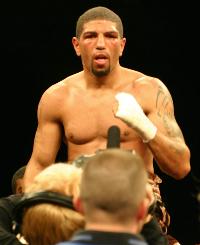 30.05.08 – By Vivek Wallace, photo by Wray Edwards/ESB – In this weeks 'Call em Out Fridays' session we take an in-depth look at a man viewed by most in the boxing world as an enigma. Easy to read for some, while consistently hard to understand for others. Typically in the weekly 'Call Out' sessions we blow the whistle by exposing fighters or key figures in the sport who don't always give the fans what they want. This week is a different type of 'Call Out'. This 'Call Out' is being done for the sole purpose of reminding fight fans of a guy whose inactivity – coupled with a non-fan friendly fight style when he is active – allows many fans and fighters to frequently forget him. The fighter at hand is the talented and currently hidden 'Winky' Wright. In standard 'Call Out' fashion, we lay out the positives and the negatives, and when it's all over, we let the great debates begin……
THE WINKY UPSIDE PERSPECTIVE: For those out there who are totally non-biased, there's certainly no denying that 'Winky' Wright is as solid a fighter as any found on the current top 10 Pound for Pound ledger. His main claim to fame, a solid text book jab, coupled with an amazing counterpunching ability and a defense that remains as impenetrable as any in the sport.. Despite having to take the non-scenic route in his career, fighting his way up the ranks by making a living overseas and in small boxing holes around the globe, his talent allowed him to eventually land on the big stage where he was able to prove his mettle against future Hall of Famers like Shane Mosley and Felix Trinidad to name a few. The victory over Puerto Rican great Felix 'Tito' Trinidad in particular was the one that eventually gained him the true acclaim among fight fans that those closer to him knew he always deserved. Coming into the fight, the odds against him were pretty stiff, and boxing scribes all around the globe had suggested that the ever raging Trinidad would eventually walk him down and knock him out. To the contrary, he would rise to the occassion and deliver a performance for the ages. The victory on the scorecards was a landslide, with Wright tallying scores of 120-107, and 119-108 on the other two scorecards. The true irony came after the fight when very few members of the media gave the respect due to 'Winky', stating that Trinidad's previous layoff was the deciding factor, despite the fact that he was touted so strongly after being able to destroy brute Nicaraguan Ricardo Mayorga in his tune-up fight prior to. Had a lopsided victory over a legend like Trinidad come at the hands of a Floyd Mayweather Jr. it would have catapaulted him higher into the realm of greatness, yet for Wright, there was barely any further interest supported. With two indisputable victories over Shane Mosley and a clear uncontested victory over Trinidad under his belt, Wright continued to show his worth by facing then undefeated Middleweight Champion, Jermain Taylor. Many in attendance felt his effort was good enough to garner a victory but in the end, he would have to accept what resulted as a very contested draw. Despite losses to Bernard Hopkins and Fernando Vargas, his total body of work – to include his solid amateur background – is one of greatness, and has currently allowed him to amass a ring record of 51-4-1, 25KO's.
THE WINKY DOWNSIDE PERSPECTIVE: All of the great ring moments withstanding, the one element to 'Winky' Wright that continues to plague him is that categorically, he sits in a spot along that proverbial road less traveled, where most in the sport who matter find him to be a far greater risk than reward. It doesn't help that his ring style is considered by most to be a bit dull because the main premise of his effort is a sustained impenetrable defensive stance with a 'peek-a-boo' jab that's only employed as a counter attack. The non-fan-friendly style and the fact that few fighters have been able to figure it out have continued to plague Wright throughout his career. Even in his early days, bigger American promoters like Don King would not acquaint themselves with him, forcing him to sign with the French based Acaries Brothers, who kept him predominantly in Europe and France, where he lived up to the potential he knew he always had. The unfortunate thing is that after having to take the non-conventional route of fighting overseas and enduring the pain of minimal notoriety, even the wins over future Hall of Famers will not help turn the fortunes of Wright. His current inactive period of nearly a year is living proof of that. Jermain Taylor was conquered by Kelly Pavlik, yet NO THOUGHT or true effort was ever given to a Pavlik/Wright fight. When Wright campaigned as a Jr. Middleweight where he shared top billing with Oscar Dela Hoya, there was never any true effort given to make a fight with him on behalf of Oscar for the same reasons. As it stands, Wright remains too good to face the non-contending, but too good to be given a shot by the perinnial. It's a catch 22 as formidable as the NBA's #23. As the days slip past, so does the window of opportunity which has closer and closer to actually closing shut!
THE BOTTOMLINE: In my humble observation, there is no way to accurately deny 'Winky' Wrights pure skill and ability. The fact that so many in his path today continue to overlook him and fail to extend valid offers to face him is a travesty in its highest form. Wright has every right to be named in the same breath as the Floyd Mayweather Jr.'s and the Roy Jones Jr.'s of this era. From an overall talent standpoint he may not be as polished, but fundamentally there are few in the sport over the last decade who could argue to be more solid. The flipside of this argument is the fact that Wright and his camp can be a bit more active (or proactive) finding him more challenges and including him in the mix. This is arguably one of the best times in the sport in years, and one of it's most formidable talents is rarely on the bill. Kelly Pavlik, Arthur Abraham, Gary Lockett, the list goes on…..Even a trip back to 154 lbs would be nice if it would have been able to help him garner a catchweight fight with Mayweather Jr., but none of these fights have materialized and it appears that his camp is doing very little to explore those options which is a bit odd, knowing that few opponents are knocking at his door. The unfortunate storyline here is that within a few years Wright will decide to hang the gloves up for good and his true worth to the sport will never be measured accurately. A man whose potential could have yeilded him legendary status, will unfortunately go down as another good that was never formally ordained as great. Fortunately, there's still time to add to the last chapter. I can only hope that the effort to finish on a high note parallel the skill that allows him to fight at one. It appears that Wright may never get his due, and the unfortunate politics of the sport prove this theory as we watch this matter evolve from an initial case of "WHO'S WRIGHT AND WHAT'S WRONG?, TO A MATTER OF WHERE'S WRIGHT AND WHO CARES? As a huge fight fan and someone who appreciates the sweet science and his ability, I do, but as it relates to the masses, the question remains unanswered, and the debate continues.
(Got Feedback or Questions?: Write ESB's Vivek Wallace at vivexemail@yahoo.com or show some love at www.myspace.com/anonymouslyinvolved)