By Ted Sares:
I've seen Ezra Sellers KO people with range finders, and I mean dead asleep. I've seen Ezra Sellers nearly kill IRON CHINNED Johnny Nelson. I've seen Ezra Sellers fold Carl Thompson over, and nearly kill him as well, and that mother —– is as tough as they come.
–on-line poster named
With a record of 29 (KO 26) – 8 (KO 8), cruiserweight Ezra Sellers has an excitement factor of almost 92% (total knockouts divided by total fights). That puts him up there with such scintillating fighters as Julian Jackson, Julian Letterlough and Ratanapol Sor Vorapin. Herbie Hide has a 98% factor as well.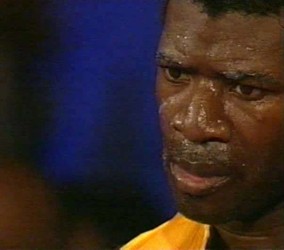 (Carl Thompson in photo) But Sellers is different from the others in that he participated in many closet classics; that is, fights that flew under the radar but were classic for their incredible action. As aficionados will recall, a few stand out including his brawls with Carl "The Cat" Thompson (one of my very favorite fighters of all time), rugged Englishman Johnny Nelson, and bomber Alex Stewart.
His fight with Stewart was reminiscent of Foreman-Lyle or Moorer-Cooper in that Sellers decked "The destroyer" several times before being iced in the third round. Stewart, a super exciting fighter in his own right and the man who left George Foreman's face unrecognizable, won the battle but clearly lost the war as he was never the same after this savagery.
His war with Carl Thompson in 2001 involved 8 knockdowns in all (Thompson was knocked down four times, Sellers twice)! This was no boxing match but rather a no- holds-barred fight between two of the most exciting punchers in boxing. Both men had been decked and staggered before Sellers finally knocked out "The Cat" in the fourth round and ended a winning streak started after Thompson lost to Johnny Nelson in 1999. Thompson has been knocked down many time, but he always gets up. This time he was separated from his senses and in Feline Dreamland. Again, this fight showed what can happen when two chill-or-be-chilled types face off.
The Cat would go on to win several more important fights including the superb closet classic against David Haye when, after taking early punishment, he caught the gassed upstart and finished him with a clean stoppage.
Sellers would next fight Johnny "The Entertainer" Nelson for the WBO cruiserweight title in Denmark. Once again, it was an exciting duke as Ezra decked Nelson in the 4rth round. It was the first time Nelson had hit the deck in 10 years, and only the second time in his entire career up to that point. Sellers eventually succumbed to the long reigning champion but not before engaging in a fight win which he was giving Nelson all almost more than he could handle.
After losing two to O'Neil Bell and Kelvin Davis, Sellers retired in 2004, but made a comeback last year and stopped two lower level opponents. However, he was knocked cold by Emmanuel Nwodo in January 2008 and it appears his days in the ring are over. In all fairness, it should be noted he took a brutal shot to the back of the head against Nwodo before the series of bows that took him out. The foul was missed by referee James Santa.
Ezra Sellers is a great sportsman and a class act outside the ring who works regularly with special needs kids. But he was also an ultra exciting fighter who thrilled fans wherever and whenever he fought. He will be missed.