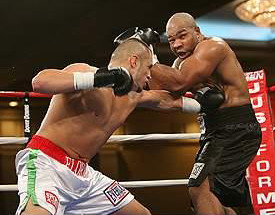 PHOENIX, AZ (May 25, 2008)Undefeated cruiserweight contender BJ Flores watched intently this past Friday night as prospect Aaron Williams battled Columbian veteran Jose Luis Herrera on ESPN2 in the main event from the Twin Rivers Events Center in Lincoln, Rhode Island.
Speaking after a Sunday morning training run in Phoenix, Arizona, Flores stated; "It was an outstanding win for Herrera and I congratulate him. He stayed in the fight after he was hurt by Williams in the first and was able to earn a terrific victory.
I was mostly watching to see Aaron Williams fight. His side had called me out earlier this year after their win over Andre Purlette and I hadn't seen him fight past the two rounds.."
Continued Flores, "Aaron had him out in the first round and really should have finished him in the last twenty seconds but he seemed to back off. He's only 22 but his inexperience really showed in this fight. He can definitely come back but it's important not to get ahead of yourself in this game.
He needs to realize that early knockouts are not always going to come and there will be times when you'll have to box your way to a decision. In boxing things can always change quickly in the ring."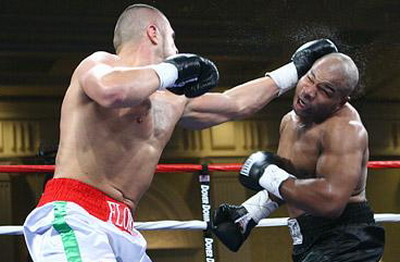 In regards to Herrera, Flores said, "I'd love to fight him; it's a great ESPN2 level fight for the summer. With us both coming off big wins (Flores beat Darnell Wilson by unanimous decision on February 8th on ESPN2) it's a natural for us to get in the ring together and fight for my USBA title."
The cruiserweight division is heating up, Herrera is now a new player and the fans would see a terrific fight between the two of us. I guarantee his record of never seeing the "finish line" would continue."
BJ Flores, 21-0-1 (13KO's) is currently worked ranked # 2 by the IBF, #7 by the WBO and # 8 by the WBA.