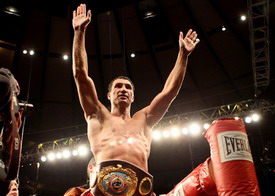 25.02.08 – By Wray Edwards: Photos (c) Wray Edwards/ESB at the apron Madison Square Garden — large photo gallery — Wladimir Klitschko and Sultan Ibragimov waged tentative war against each other for a full twelve rounds. The big murmur ringside was when is Wlad going to throw the right. I think it was the third or fourth round when he first rolled out the hammer. Before that Klitschko was content to score average points with his quick jab.
Sultan stayed low and back responding with counter attempts to head and body. Many times when Sultan rushed in Wlad would respond with arm-wraps to the point that some were respelling his name "Clinchko. Really though, Sultan was also prone to poke and choke. They both spent the first six rounds in largely ceremonial boxing postures. But then, Wlad began to time Sultan and dropped the hammer quite effectively. The following photos pretty much tell the story.: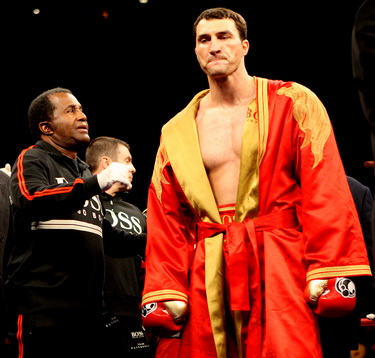 The big man entered the ring looking confident and formidable,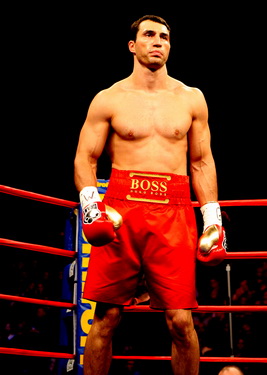 and even more so as he stood in his corner to begin Round One.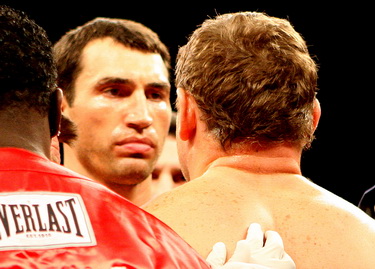 There are few people in the world who would want to see that look up close.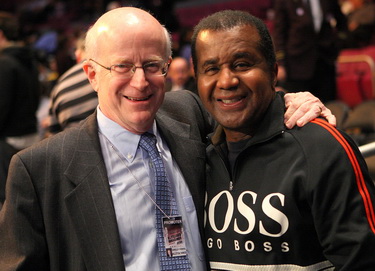 Shelly Finkel and Manny Steward discuss their battle plan.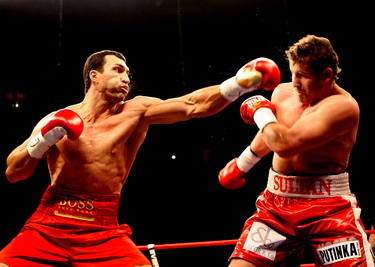 In the early rounds Wlad kept Sultan outside with his ever-present, excellent jab.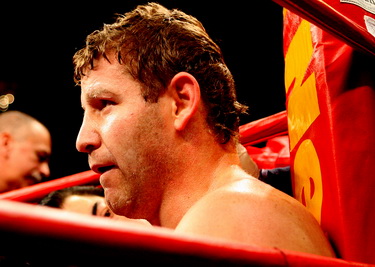 Here we see Sultan contemplating just what he might be able to do with this challenge.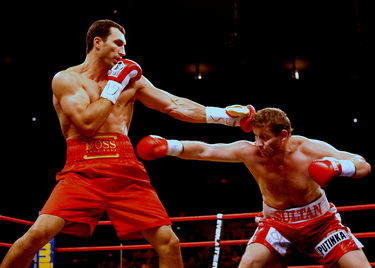 Ibragimov made many attempts to go to the body but the obvious difference in reach proved to be insurmountable.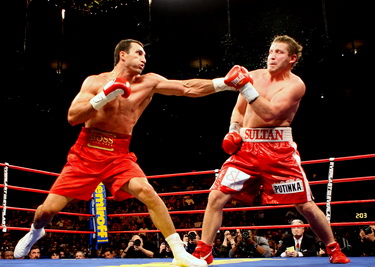 Then, God forbid, Wlad got the timing wired into his right and Sultan's day began to look kinda dicey.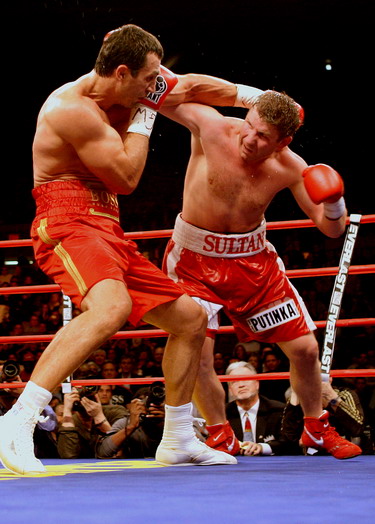 So Sultan tries a few rights of his own with only a very few hits on target and little or no damage done.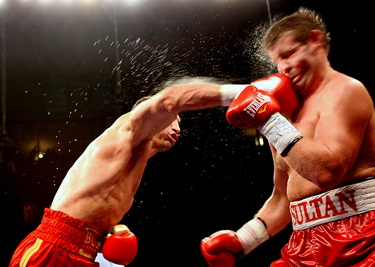 Klitschko, however, had the range to deliver some very disturbing energy to Sultan's face.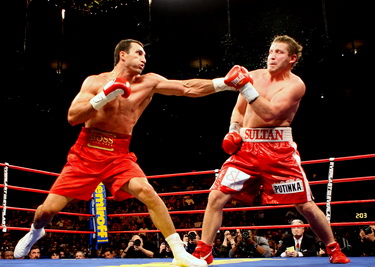 Wlad also continued the range-finding left jabs.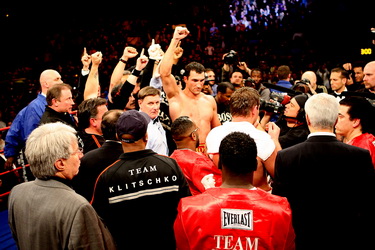 In the end, Klitschko earned the UD with scores of 110/119, 111/117 & 110/118 from the judges.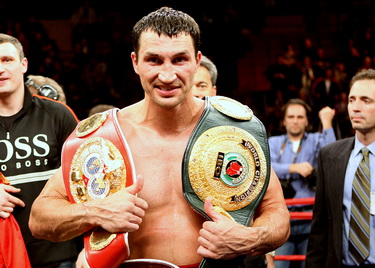 This brough him a unification victory and more leather for his mantle.
Wlad justified the confidence shown here.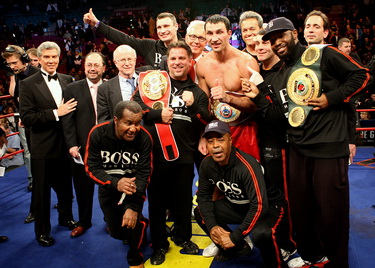 Then, of course everybody was smiling.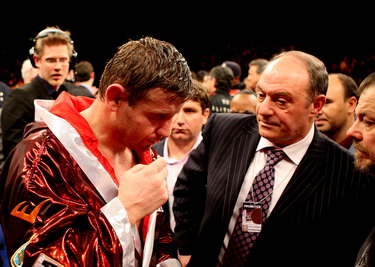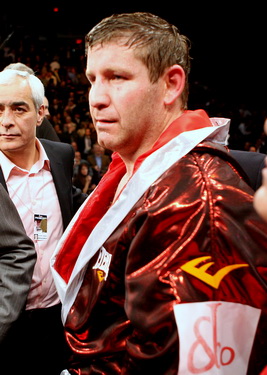 Well…almost everybody.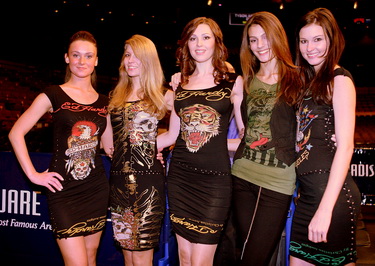 More smiling by (from left) Elena, Wlada, Olga, Anna, and Kira. You'd smile too if you looked like these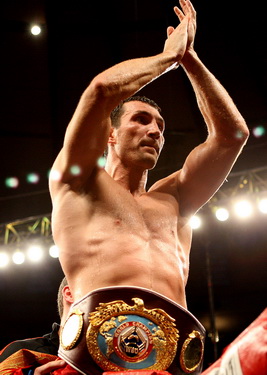 Meanwhile, Wlad encourages the fans to clap for him…they did indeed.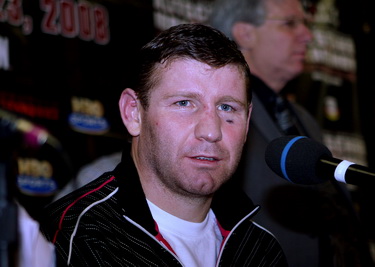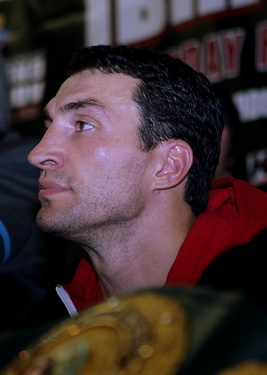 Both fighters took a seat at the news conference. Sultan congratulated Wlad and said that he did his best. Wlad commented on the good thing that unification would be for the sport and the division. We all agreed.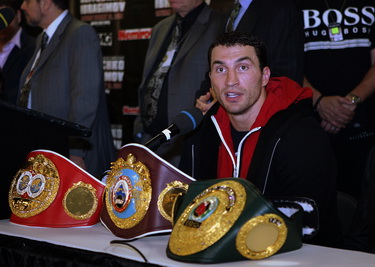 Klitschko displayed his unification leather.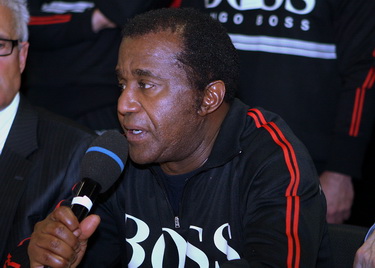 Mr. Steward said he felt that the fight was not as exciting as it might have been because of the defensive postures of Sultan…especially "leaning back."
The contest was marred by many boos from the near full-house crowd. It was especially evident as they had just seen a really bloody slug-fest between Duddy and Smichet (have plenty of photos of that fight which will be included in the under-card report).
In terms of a mismatch, the physical size differences between Sultan and Wlad made a good dance all but impossible. Size does matter, and is as important as styles in the makeup of a good contest.
IMO, Sultan should continue to fight, as he would probably do well against Toney, Peter, Chegaev and others. He's a real scrapper when not over matched by, what we must admit, is an unusual specimen.
Thanks to Cima G. of Redline, Mr. Keenan, and Seminole Warriors Boxing for providing us with access to the apron in Sultan's corner.
Next report in a few hours…the Duddy-Smichet fight. See you at the fights.