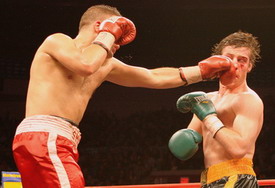 By Wray Edwards: Photos (c) Wray Edwards/ESB from the apron at Madison Square Garden — large photo gallery — It was a shame that this fight was not televised because Middleweight Walid Smichet (17-3-3, 13 KO's, 160 Lbs.) from New York gave John Duddy (23-0-17 KO's, 158.5 Lbs) from New York and Ireland, all he could handle. John's agressive, focused style did not intimidate the seemingly slower but effective puncher in Walid. Smichet demonstrated a tight, short inside offence which proved to be very effective versus Duddy.
About half way through the fight, John sustained a serious cut in the left eyebrow. At this point the word "team", in relation to single combat, had great meaning as "Big George Mitchell" did a remarkable job of keeping the bleeding to an absolute mimimum. The following photos show what,
in my opinion, will probably postpone any chance for Duddy to get a title fight soon due to the necessity of having to wait for the cut to heal properly..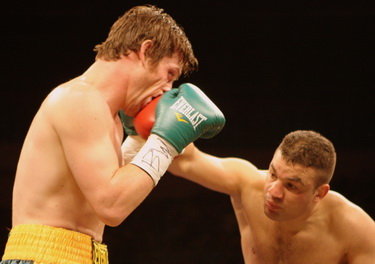 When John got hit, it was usually as a result of not keeping his guard up and showing little head movement. Walid showed a good ability on the inside to tag John with short, stiff punches which he did not even have to aim, because after the third round, he pretty much knew where Duddy's head would be.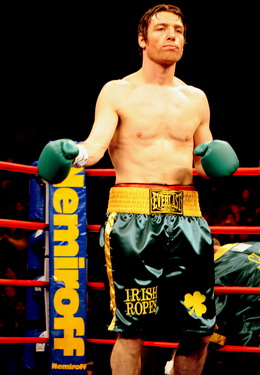 The confidence shown here…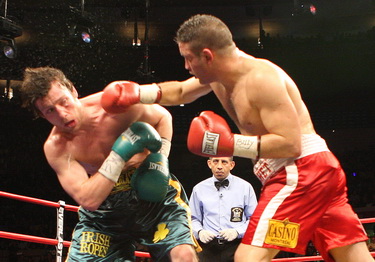 soon gave way to a really dangerous give-and-take struggle to keep from being chopped to pieces.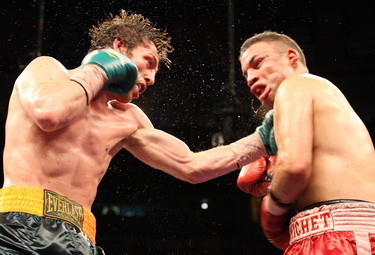 Duddy, of course, is no slouch in the pain-bringing business and his left is a great tool for that purpose.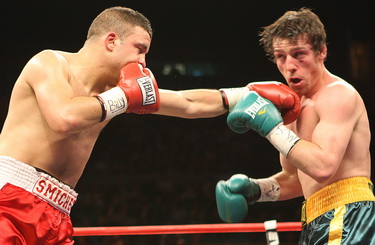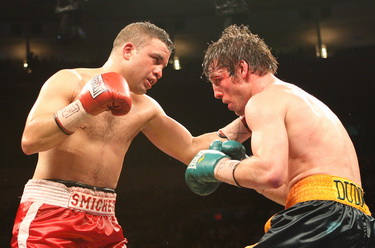 Walid also used his left to good effect.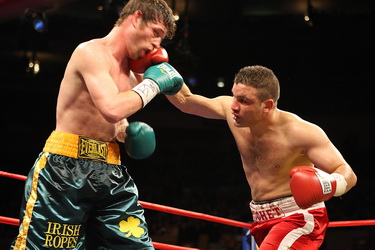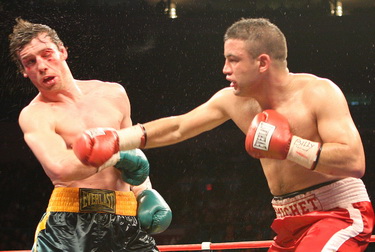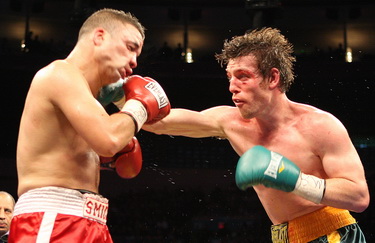 They both went to crakin' for most of the fight. it was very exciting and there were lots of ooos and ahhs from the crowd.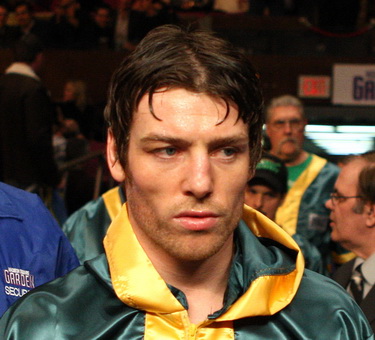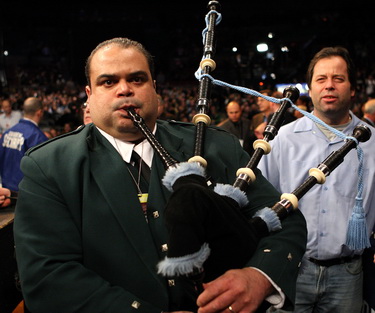 John entered the arena, to the sounds of bagpipe music, with his (unmarked) game face…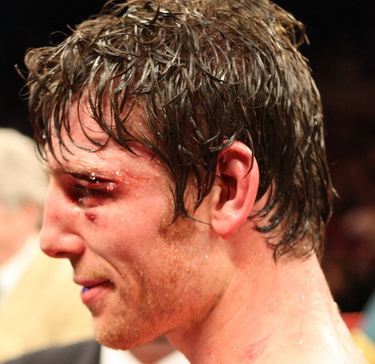 but that was soon to change to the appearance of a guy who had been in a real slugfest.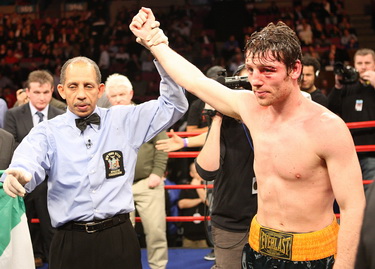 John got the win 95/95, 98/92, 98/92. I had it 96/94 as it was pretty close. John did run up better numbers, and if the fight had been scored for toughness of facial skin Walid would have been the winner. Smichet is a solid boxer with good potential. I hope he moves on in the sport.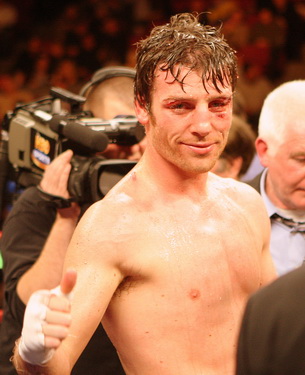 John will move on.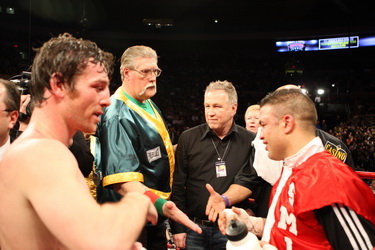 As John and Walid meet in sportsmanship after the fight, it is fitting that "Big George" (in the green, background left, is in sharp focus because without him in Duddy's corner, the fight would have been stopped. This fight turned out to be a gut check for Duddy. Time will tell if he is to get a title shot…but not until that nasty cut heals. See you at the fights.