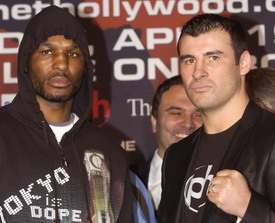 photo by Hoganphotos.com/GBP – Joe Calzaghe showed the first signs of winning the psychological war against Bernard Hopkins as the two squared up in LA on Wednesday. Calzaghe repeatedly taunted Hopkins about twice losing to Jermain Taylor at middleweight, and promised to repeat the trick on April 19 at the Planet Hollywood Ring, The Thomas & Mack Centre, Las Vegas, when the pair clash at 175 pounds. There was plenty of glamour at Planet Hollywood in Los Angeles, with Sylvester Stallone and Oscar De La Hoya throwing their weight behind the fight.
" These guys are legends at what they do," said Stallone, who was representing fight sponsors Planet Hollywood. I'm really excited to be part of the big night on April 19. You are going to witness drama and spectacle and it will be one big party.."
De La Hoya, whose Golden Boy promotional is involved in the showdown, added: "This fight is one for the ages.
" These are two super fighters. They are the best in their weight classes. It's going to be an unbelievable evening and one for fight fans to savour."
Proceedings nearly kicked off two months early when Calzaghe and Hopkins went head to head, with the American continually asking his opponent who he had beaten.
" Who have you beaten?" asked Calzaghe, 35, to a visibly angered Hopkins. "You got your arse kicked twice by Jermain Taylor."
Earlier, Hopkins, 48-4, had once again gone into verbal overdrive, as the trash talking that has been present at press conferences in London and New York continued.
" You are now seeing me as a fighter, not a promoter," said the former middleweight world champion, and current light-heavyweight number one.
" This isn't a corporate guy, I'm going to be fighting like a poor man. Never underestimate me. There is no style that I can't unravel.
" What you are going to see on April 19 is greatness. I'm going to reduce Joe Calzaghe down to what I want him to do. I don't care how many punches he throws, I will win the fight.
" Joe Calzaghe is not like Winky Wright, who I called the turtle because of his guard. Joe throws lots of punches and that will be his weakness.
" I'm 43-years-old and a living legend, the best fighter ever. Calzaghe has never seen anything like me before or my style, and I'm going to reduce him to a typical European fighter.
" 30 million people will watch me execute the British guy. I'm going to show you what greatness is."
Calzaghe, 44-0, who has continually shrugged off the worst of Hopkins' excesses, said: "He can talk all he wants, but I don't think he'll be running his mouth after I've kicked his butt on April 19.
" He's trying to get under my skin, but I've been a world champion for more than a decade and I've seen it all before.
" The harder the fight, the more pressure there is, the better I perform. Agreeing to fight me was the biggest mistake he's ever made."
Calzaghe and Hopkins will meet head to head for a third and final time in the States with a Las Vegas press conference on Thursday.