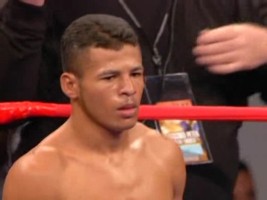 30.01.08 – Jaime Castro-Núñez: WBO Junior Welterweight titleholder Ricardo Torres is well-known in the boxing world for two things: heavy hands and a circumspect personality. Respectful to other boxers, the 27-year-old champion is not the kind of pugil who uses phrases like "I'm gonna knock you out," "you've made a mistake accepting this fight with me," or "I'll make you pay in the ring." Indeed, he professes respect for his colleagues not only by remaining silent, but also by talking what is strictly necessary. This is his boxing philosophy: "I let my fists do the job that belongs to my tongue"
But Ricardo, who is back in the gym after a two-week recess, broke yesterday that personal philosophy to call out British contender Ricky "The Hitman" Hatton. "I want Hatton, I want Hatton," he said. Initially scheduled to fight Mike Alvarado (19-0-0, 13 KOs) on February 16 in Las Vegas, NV, the charismatic boxer stressed that he is more than eager to lean his fists on Ricky's nose..
"I want to fight a brave boxer like Hatton, so I can display once again my punching power and my abilities. I'll give Ricky Hatton the same medicine that I gave to Kendall Holt. If he [Hatton] doesn't want to exchange punches with me, that means he's avoiding my medicine, like a little kid running away from his mom."
His manager, Mr. Billy Chams, agreed with his protégé: "Ricardo wants a big fight as soon as possible and we strongly believe that Ricky Hatton is the right opponent for him," said the 58-year-old promoter. Ricardo Torres's trainer, Orlando Pineda, also took the opportunity to speak about Torres-Hatton: "I've been with Ricardo since he was an amateur and I know he'll defeat Hatton. Hatton is a great boxer, we respect him, but Ricardo is smarter and much more powerful. I'm pretty sure that they both will give a tremendous spectacle."
Much has been said, gossiped, and written about Ricardo Torres's third defense, but the real panorama is not clear yet. Some names have been brought, such as Mike Alvarado, Alex "El Pollo" De Jesús, and a rematch with Kendall Holt, but none of these names seem to get the attention of "El Mochuelo." "I want a big fight!" Clearly, the only contender that is in his mind right now is Ricky Hatton. "Hatton defeated my compatriots Carlos Maussa and Juan Urango, but it'll be a different story with me. I have a lot of punching power and good boxing skills. I'm eager to defeat a great boxer like him."
Ricardo Torres has made a statement: he wants to fight the best in the category and he will do anything in order to trade punches with "The Hitman," even if he needs to put aside his personal philosophy: fists instead of tongue. "I want Hatton, I want Hatton," said the champion.